No Bake Superfood Energy Bars (vgn)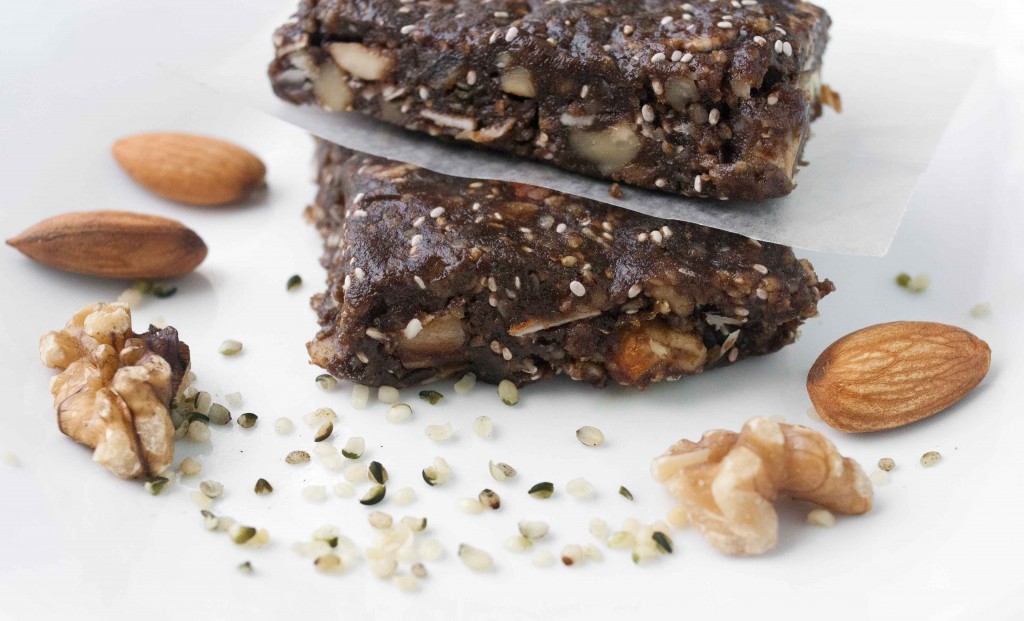 Staying in tune with my vegan and majority raw lifestyle, it comes in handy to be able to produce my own healthy, antioxidant-filled energy bars as needed.
So delicious, chewy, crunchy, addicting.
Ever since my juice cleanse, I've been wanting to veer away from gluten and wheat products as I feel my stomach is not too partial to them. So these are gluten-free

. I adapted this recipe from the lovely blogger, Katie, over at Figgy and Sprout. Katie has a beautiful website with mouthwatering recipes.
These bars aren't your traditional flakey and hard energy bars. They are soft, chewy, and moist with crunchy surprises from the chia seeds and nuts.
They are grain-free, dairy free, no bake, and vegan energy bars. Not to mention no hydrogenated oils or other preservatives we all would rather stay away from. These can be made paleo-friendly easily! Such healthy additions too. Hemp and chia seeds for omega 3 and 6 and wonderful plant based protein source, raw cacao for antioxidants, iron, magnesium, fiber, maca powder for a boost of energy, almonds, walnuts, and coconut oil for some healthy fats, vegan dark chocolate chips for happiness. There's not one ingredient here that I'm not pleased with, and if I wasn't then I could simply sub it out. Benefits to being creative in the kitchen.
What you shall need:
Dry:
1/4 cup walnuts
1/4 cup almonds
1/2 cup unsweetened coconut flakes
1/3 cup hemp seeds
1/4 cup dates, pitted and chopped (about 5 or 6 whole dates)
1/4 cup vegan chocolate chips or raw cacao nibs
Wet:
1/4-1/2 cup maple syrup
2 tbsp coconut oil
1 tsp vanilla
1/2-1 tbsp grated ginger
Stir-ins:
1/2 cup almond flour
3 tbsp raw cacao powder
3 tbsp chia seeds
2 tbsp maca powder
2 scoops organic hemp protein powder (optional)
1. Combine all dry ingredients in a food processor and pulse minimally until all is combined. Don't over process it, you want there to be chunks of nuts and dried fruit. Remove from processor and set aside in a medium bowl. Should look like this: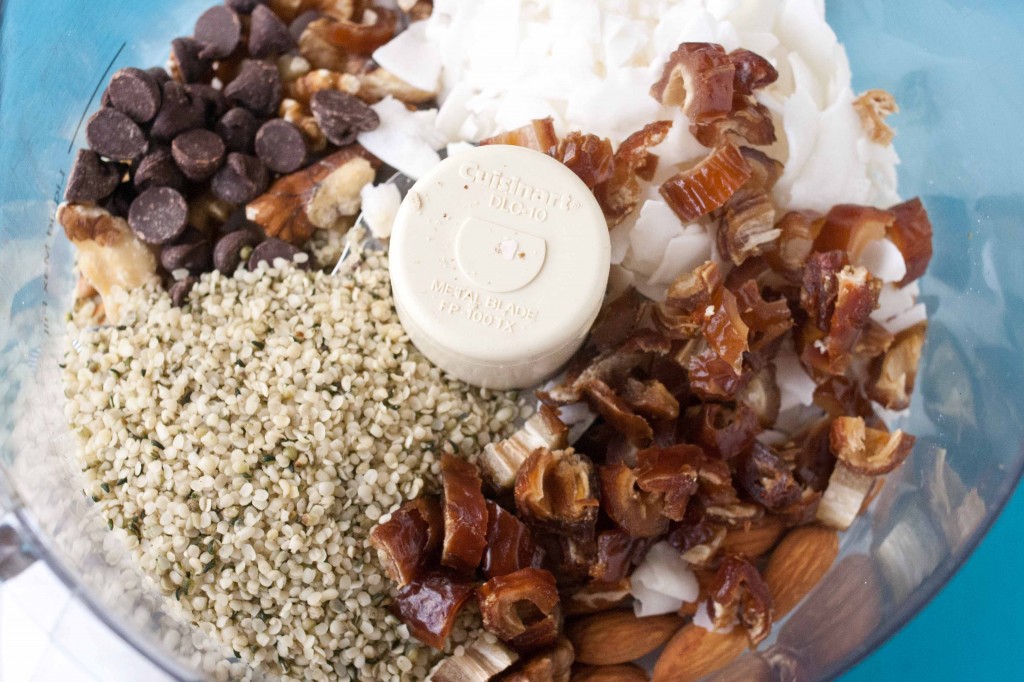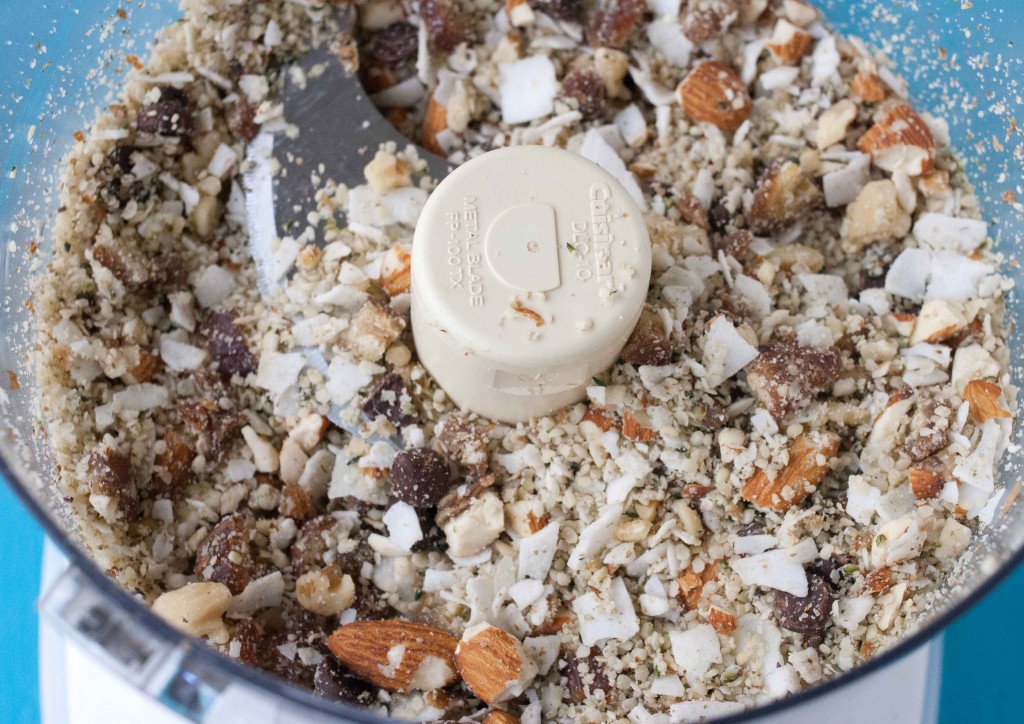 2. Add wet ingredients into food processor or blender and mix until all is combined.
3. Pour wet mixture over dry and fuse.
4. Incorporate all the stir-ins into mixture until all is combined.
5. Spread mixture evenly with preferred thickness into a dish or baking pan and place into fridge.
6. Once hardened, cut into desired shapes and store in an air tight container in the fridge.
Keep in mind that the texture hardens up quite lovely after being situated in the fridge for a few hours.
Customizations: (endless possibilites!)
I will be using sprouted buckwheat as well as an addition of dried apricots, goji berries, and who knows what else next time. These kinda remind me of Probars!
-Use any sort of nuts you'd like
Cashews, brazil nuts, pumpkin seeds, sunflower seeds, pistachios, peanuts, etc.
-Add in dried various dried fruit to sub for the dates/coconut flakes or simply as additional treasures
golden raisins, goji berries, cranberries, blueberries, apricots, pineapple, banana, cherries, apple, figs, etc.
-Use yacon syrup, brown rice syrup, honey (non vegan), or any other liquid sweetener or even whole dates instead of maple syrup
-Use hempseed oil, flaxseed oil, or any mild-tasting oil in place of coconut oil
-Sub sprouted buckwheat or other gluten-free oats for the almond flour
-Leave out/sub the maca, cacao, protein powder, chia seeds
Add in flaxseeds, mesquite powder, camu camu powder, any plant-based protein powder, wheat grass powder, etc.
-Any sort of spices or flavorings in place of ginger
cinnamon, cloves, lavender, nutmeg, coffee, almond extract, orange extract, peppermint extract, lemon zest
Swell flavor combos:
Mint Chocolate Chip: peppermint extract or fresh mint leaves, raw cacao powder, nibs, or chocolate chips
Mocha Chocolate Chip: coffee extract, raw cacao, chocolate chips
Lemon Cranberry: dried cranberries, lemon zest
Peanut Butter and Jelly: peanuts, dried strawberries/raspberries/raisins
Lemon Lavender: dried lavender, lemon zest
Chocolate Orange: raw cacao, orange zest
Tropical Delight: coconut flakes, dried pineapple, dried mango, lemon/lime zest
Orange Creamsicle: orange zest, vanilla
Spicy Chocolate: cayenne pepper, raw cacao, cinnamon
What's your quintessential energy bar flavor?