Vegan Sea Salt Raw Cacao + Caramel Cups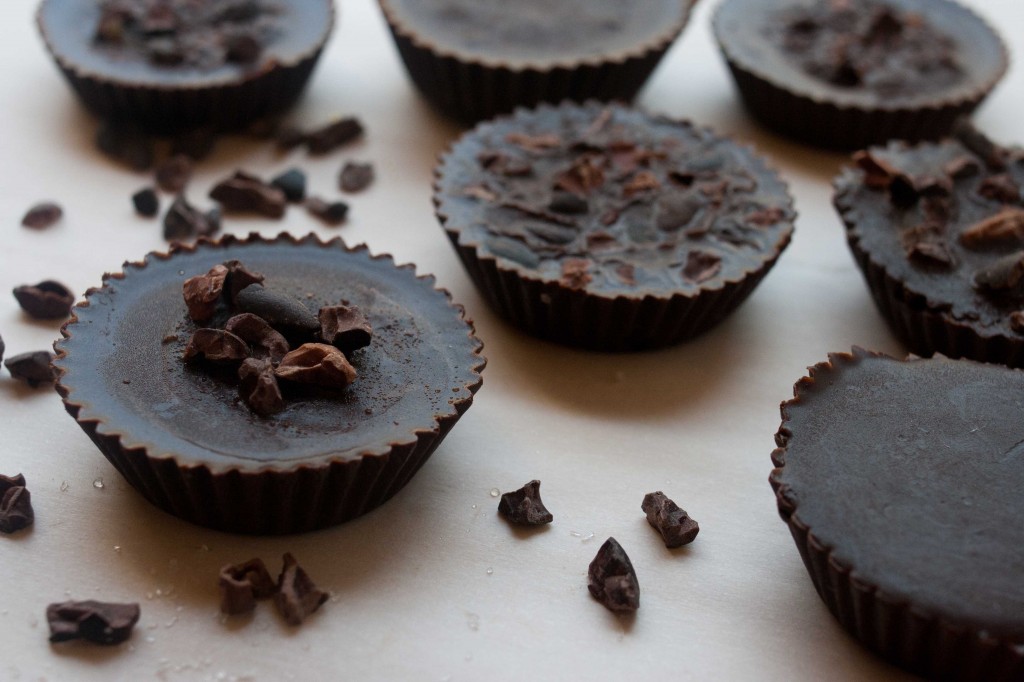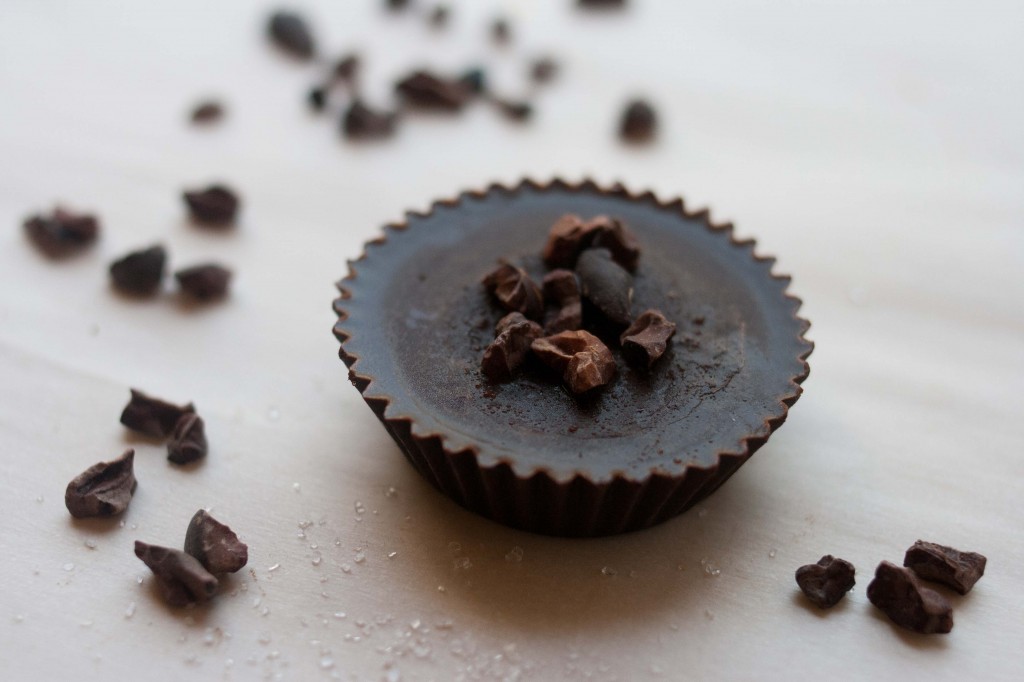 I am thankful for this piece of raw cacao placed upon my tantalized taste buds.
So how does one recognize an infatuation vs. true love? Well, I suppose at this current moment in time that question is irrelevant because I am captivated by these lovely dark chocolate wonders and will have it no other way.
I feel as if the name speaks for itself. How could dark chocolate, sea salt, and caramel go wrong?
If you are in opposition I highly suggest that you venture out and create these delightful cups of happiness.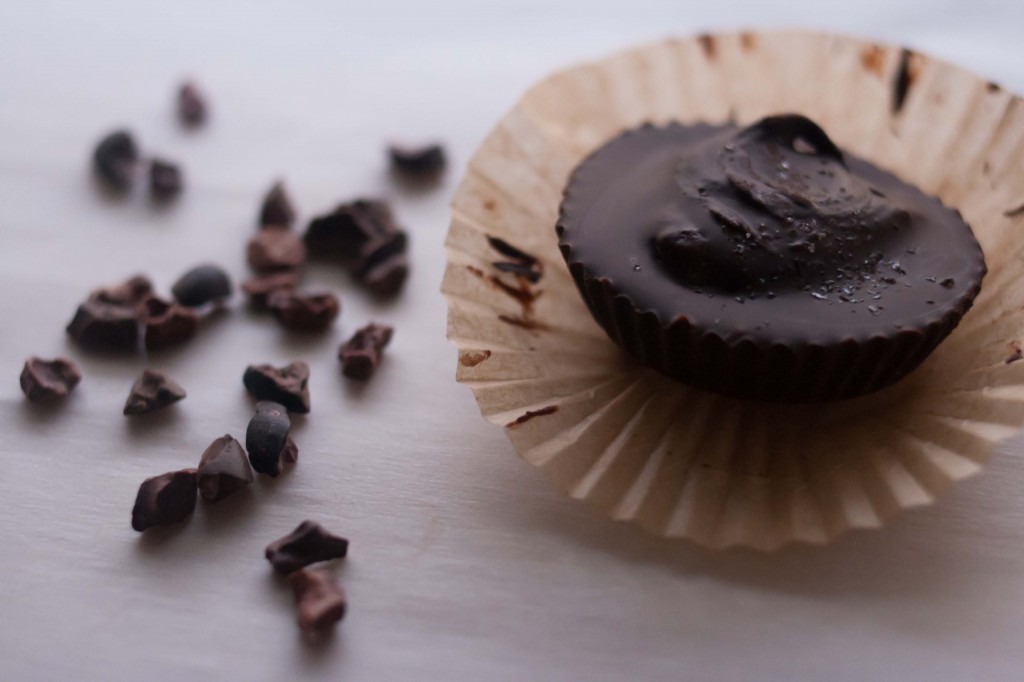 I had inspiration for these cups, which I shall share shortly, but first off I feel as if it's important that you my friends have a recipe for a homemade caramel alternative. Store bought caramels are filled with corn syrup, sugar, and synthetic who knows what…Not too friendly to our bodies. I've been seeing a lot of pseudo-caramel recipes, via various bloggers, made from dates and decided that I must make my own version and utilize it in a chocolate cup recipe.
First batch of this caramel= gold star. Whether spread on fruit or my fingers, this caramel is now my goto recipe for the future.
And I hope you enjoy it too.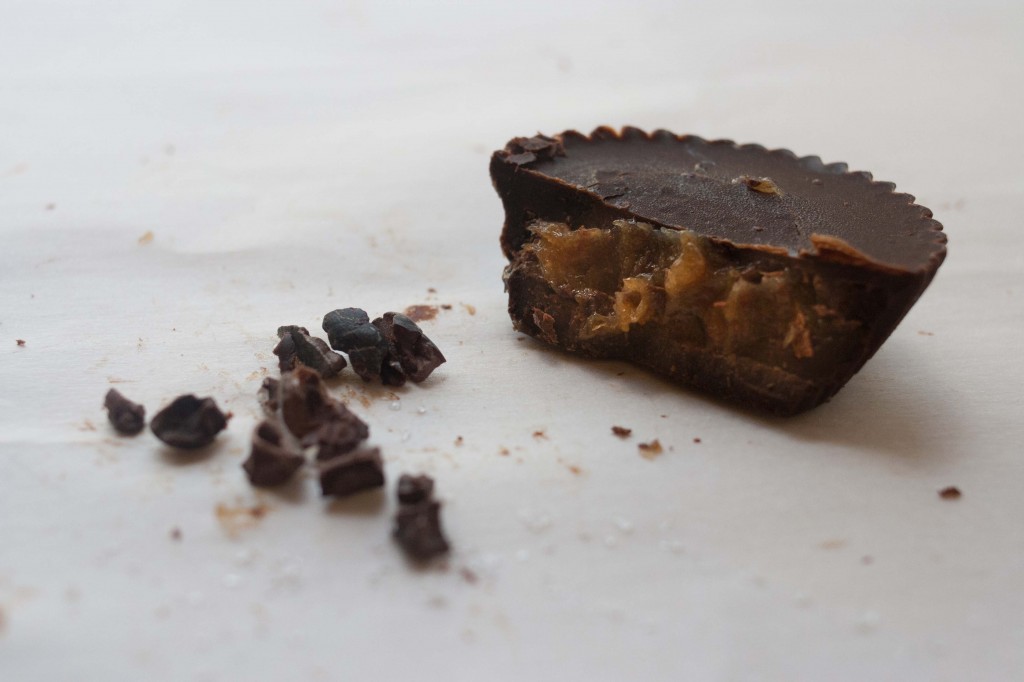 I made these two different ways, for specific reasons. I wanted to make these for my roommate, as she has been obsessed with sea salt chocolates lately, which initiated the brainstorming and motivation for the utmost delectable chocolatey and salty treat. But alas, Danielle is allergic to coconut oil (NEAT THANKS, DANIELLE). So I had to find an alternative route to my typically raw cacao cup creations, which ended up turning out great and a tad simpler/quicker too (grand for when I'm in a hurry!). Although she said it probably wouldn't kill her, I felt the splendid holiday spirit resonating inside myself and decided to not take any chances. (Next time Danielle you may not be so lucky…). So for this reason you shall see the option to simply melt chocolate chips in addition to the made-from-scratch raw cacao recipe. Yes, I specified to add 1 tsp coconut oil to the melted chips, because that helps to ease the layering of the chocolate, but incase you were wondering I left this out for Danielle. So yes, she is still alive…if you were wondering…
The second reason I made another batch of these darlin' cups was because HELLO I wanted my own damn batch to be a monster about. I could only sneak probably one or two from Danielle's gift batch (hehe), while still being generous with her portion and that is definitely not enough for this ol' gal. (Danielle if you're reading this I only ate one, ok? Had to taste test…Forgive me.) ALSO I wanted these to be the most best chocolate creations I have ever made thus far so I had to incorporate raw chocolate into the mix. I enjoy more intricate and effortful approaches when it comes to perfecting a lovely chocolate treat that I can call my own.
My baby raw cacao.
Plus, nothing beats raw cacao, organic unrefined coconut oil, and my favorite sweetener, coconut palm sugar. Incredibly divine and elegant.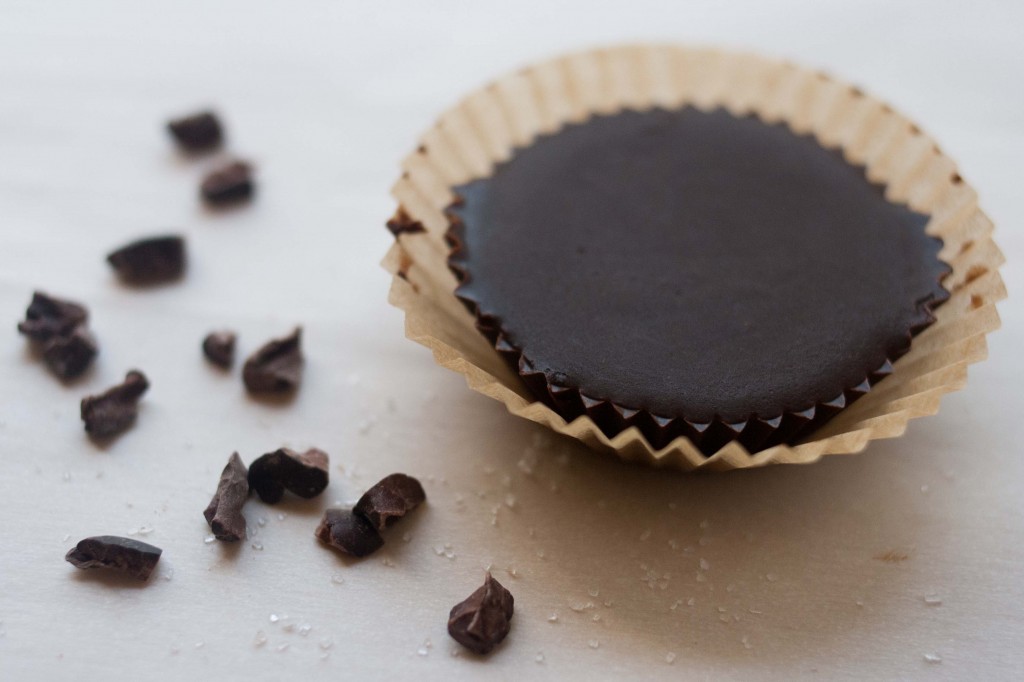 Moreover, I enjoy eating the least processed foods that I can and am partial to homemade versions of anything.
So, I have provided you with two ways to make this dandy addicting creation because everyone should be able to have these in their lives.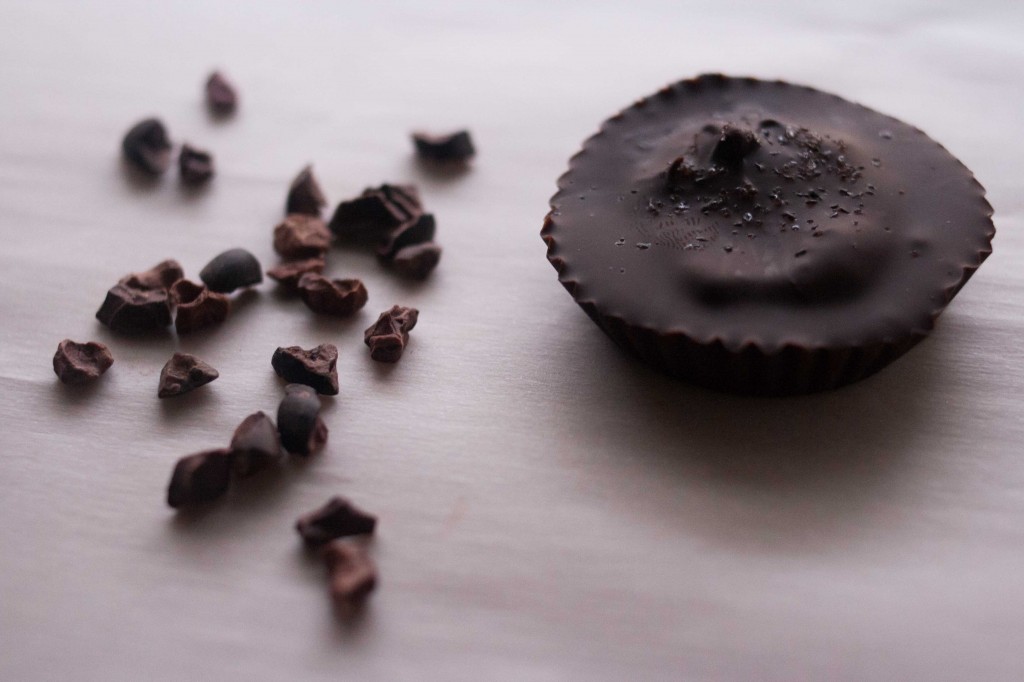 Enough talking, let's get to the recipe shall we?
For the sea salt caramel:
HEED: This will give you a lot left over! I made this amount because I wanted excess to spread on fruit for a few days. Halve or even 1/4 the recipe if you'd rather not have much leftover. (It's so tasty though I do recommend!)
2 cups pitted dates (try and soak for 2-4 hours..reserve the soaked date water when finished!!)
1/4 cup soaked date water
1.5 tsp vanilla extract
1/2 tsp sea salt
For the homemade chocolate:
1/4 cup unrefined/virgin coconut oil
1/4 cup raw cacao powder (or unsweetened cocoa)
2 tbsp coconut palm sugar (or other sweetener works too)
1 tsp vanilla extract
*OR you may melt 3/4 cup vegan chocolate chips + 1 tsp virgin coconut oil
Garnish with sea salt + cacao nibs
*Note: melting 3/4 cup chocolate chips makes about 15 mini cups, you may use less or more chocolate chips to make your preferred amount. Same goes with the above recipe for the DIY raw cacao + coconut oil chocolate method, yields about 7 mini cups. I wanted to make less, double the recipe to produce more.
-The coconut oil is added into the melted chocolate chips to thin out the chocolate and make it easier to layer in the paper liners. You don't have to do this, but it may probably make your life a tad easier.
Directions (raw chocolate):
1. Add all ingredients in a bowl and mix thoroughly. If coconut oil is still solid, place the bowl in a bigger bowl (DIY double boiler) filled with hot water. This will melt the coconut oil without destroying the nutrients. I would not recommend heating in a microwave.
2. Line 7 mini paper cups with a thin layer of the chocolate mixture (I place lined cups in a dish platter so it was easily transferable)
3. Place in fridge or freezer to solidify
OR
1. Melt 3/4 cup vegan chocolate chips in anyway you please (I usually place chocolate chips in a small glass bowl and place that in a larger bowl filled with hot water)
2. Stir in coconut oil
3. Line about 15 mini cups with melted chocolate
4. Place in fridge
In the meantime, let's start on the caramel.
Directions (sea salt caramel):
1. Drain soaked dates, but reserve the soaked water!
2. Place all ingredients listed in a food processor or high speed blender and blend until smooth, thick, and creamy.
You may need to scrape down the sides as necessary.
3. Set aside
Back to chocolate:
1. Take chocolate out of fridge and layer with caramel, like so: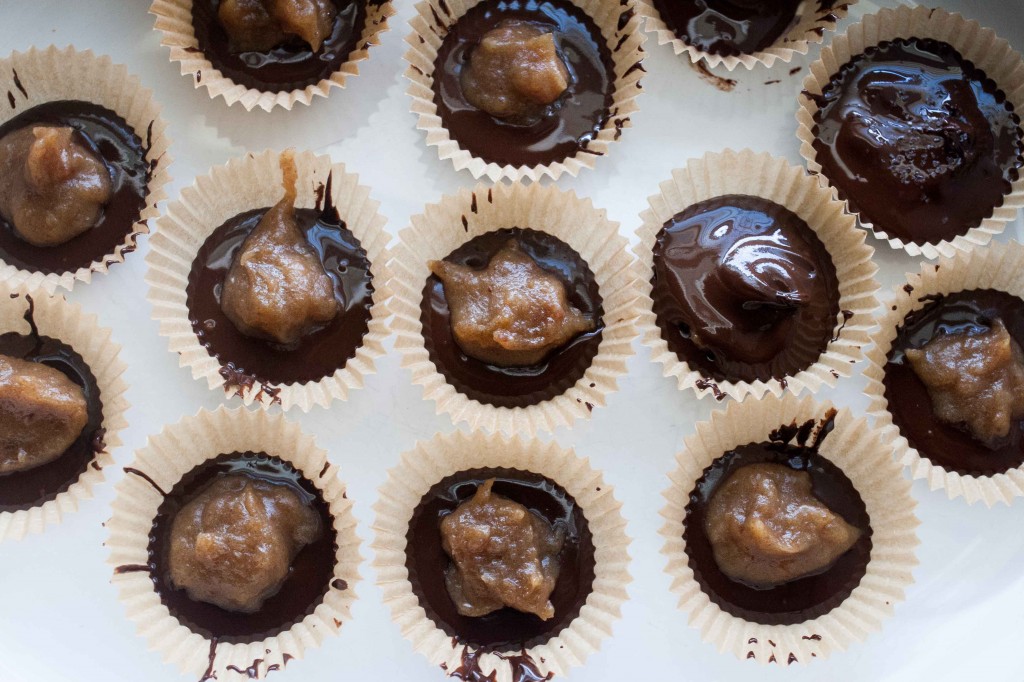 2. Add another layer of chocolate on top to cover up caramel and garnish with more sea salt and cacao nibs (optional) and love (not optional), like so: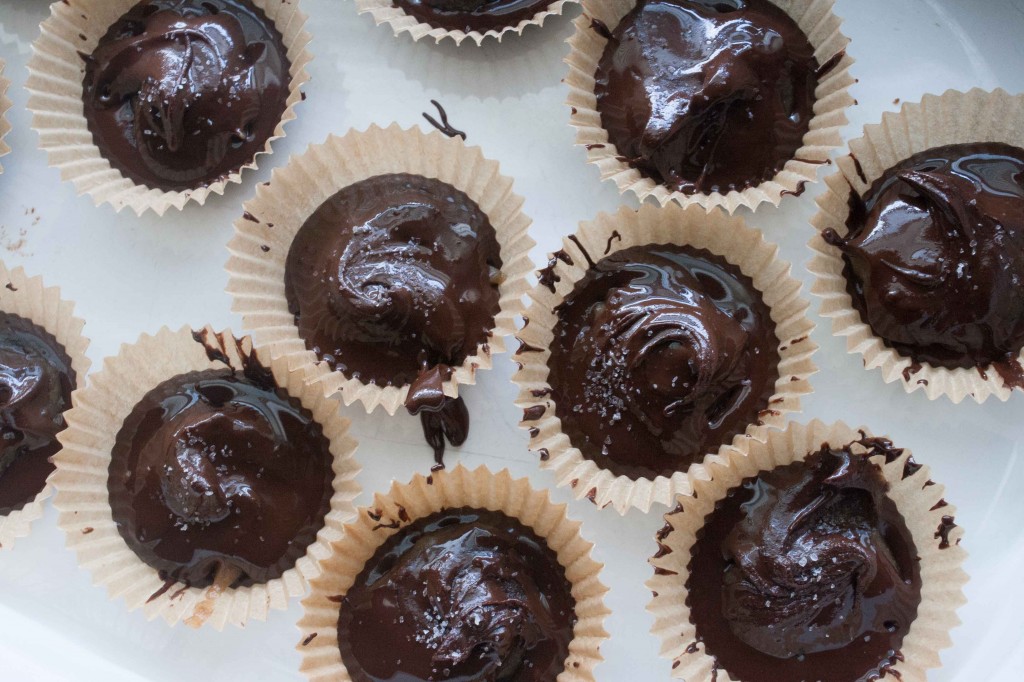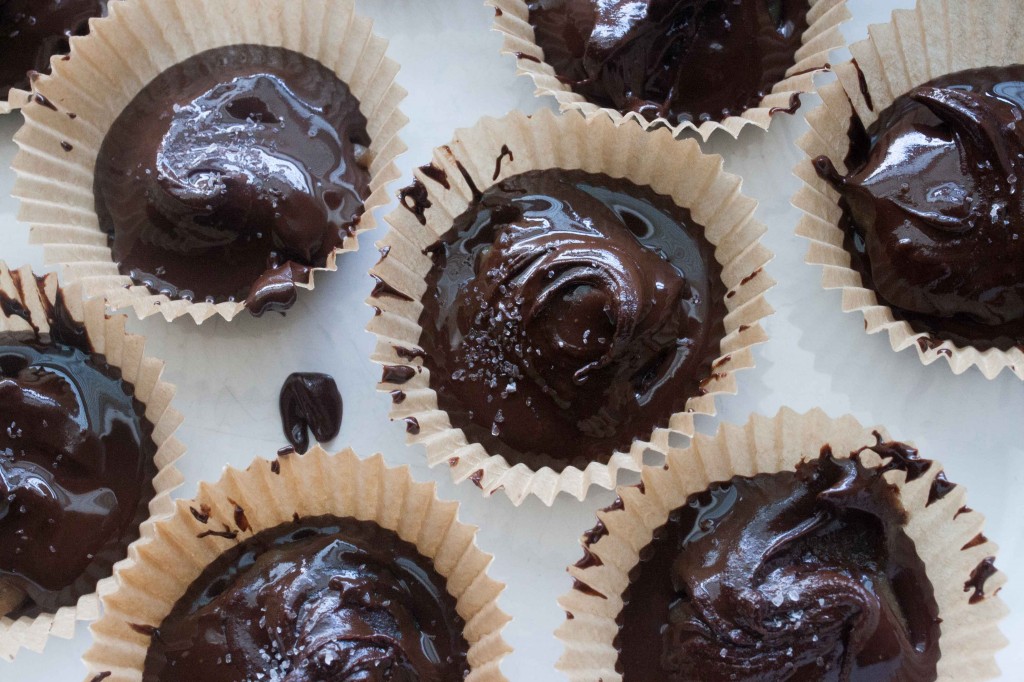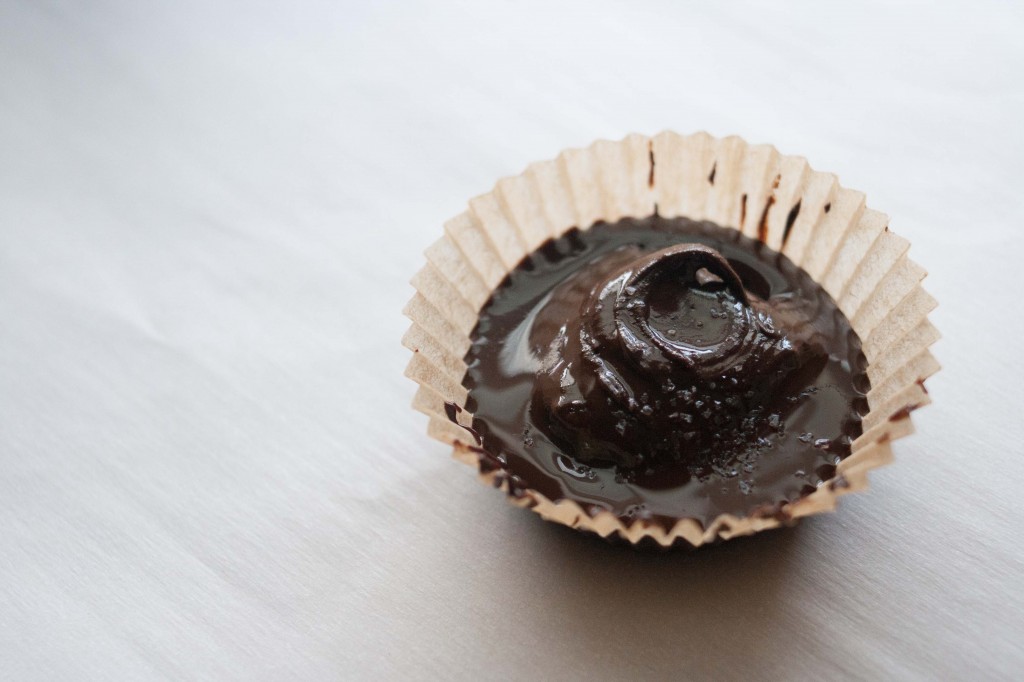 3. Place back into fridge to solidify
4. Eat once solidified, but always store in fridge
Note: The coconut oil chocolate will eventually start to melt once out of fridge for a long time since coconut oil melts under 76 degrees F. Simply pop back into fridge if it stays out for a bit too long, no worries.
The melted chocolate chips will hold a bit better out of the fridge, but still you should keep 'em in there.
They both should last if you were to take them on a car ride to a friend's house though :).
If you used melted chocolate chips, once solidified it shall resemble this: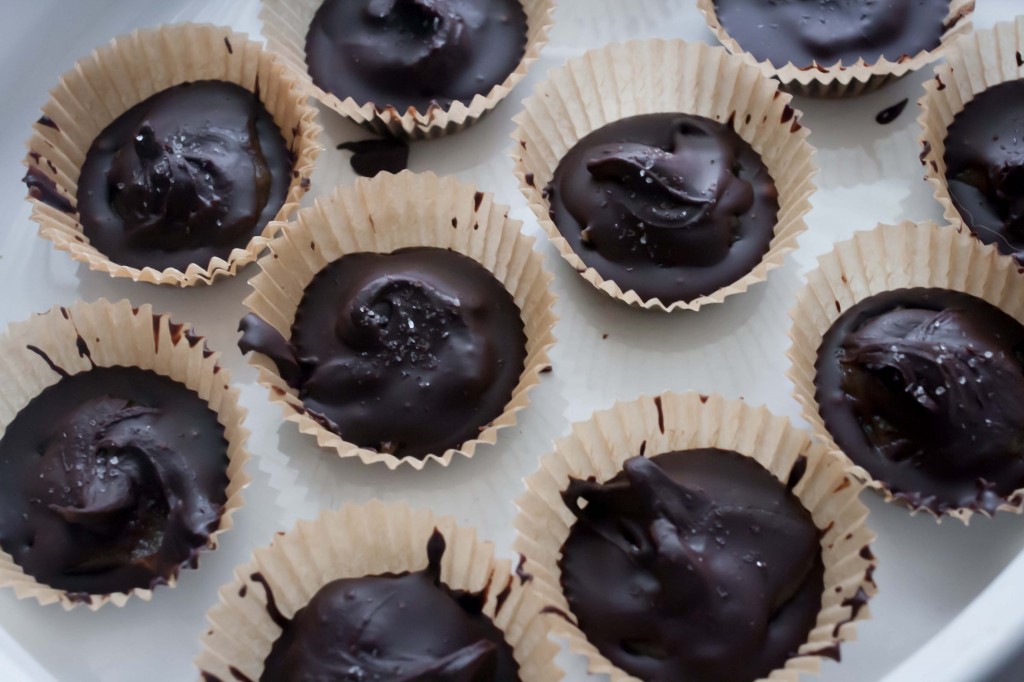 If you went the raw cacao + coconut oil route, they shall look similar to these babies: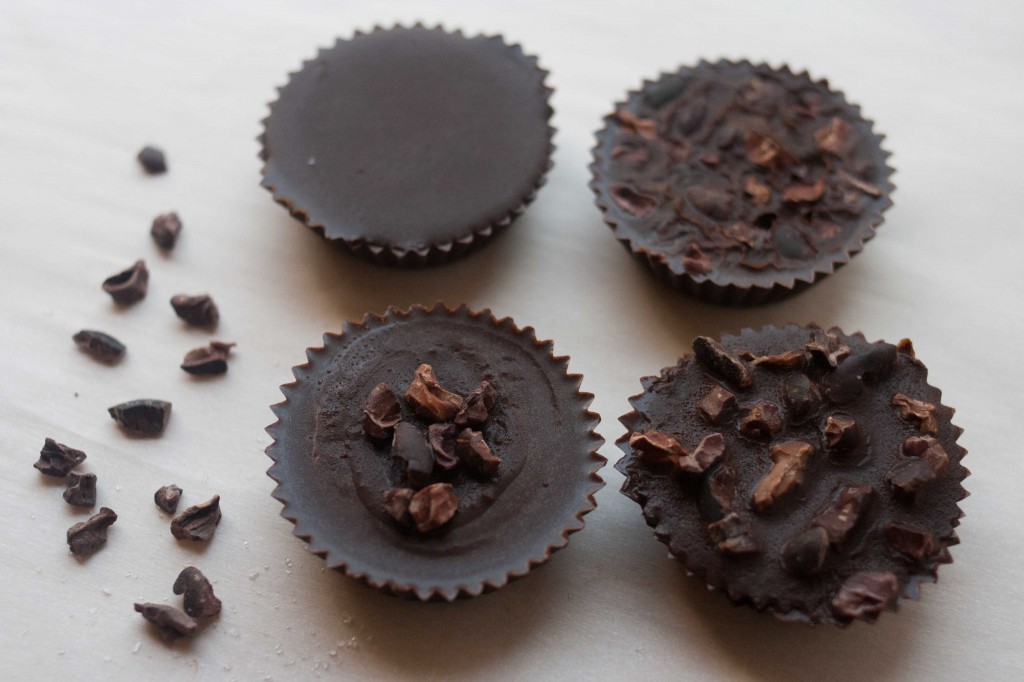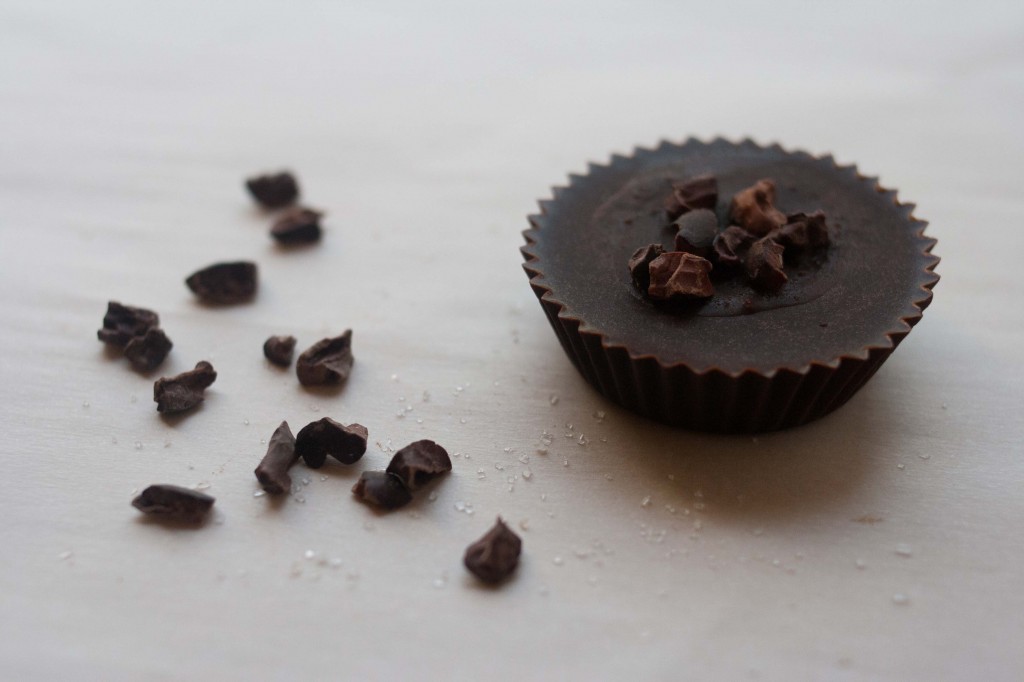 So I'd have to say that Danielle was enamored with these cups, and of course I as well.
I think you should be too, and I certainly hope so as it's always nice to fall in love 😉 …