Raw Hemp Sunflower Seed Butter Cups (vgn)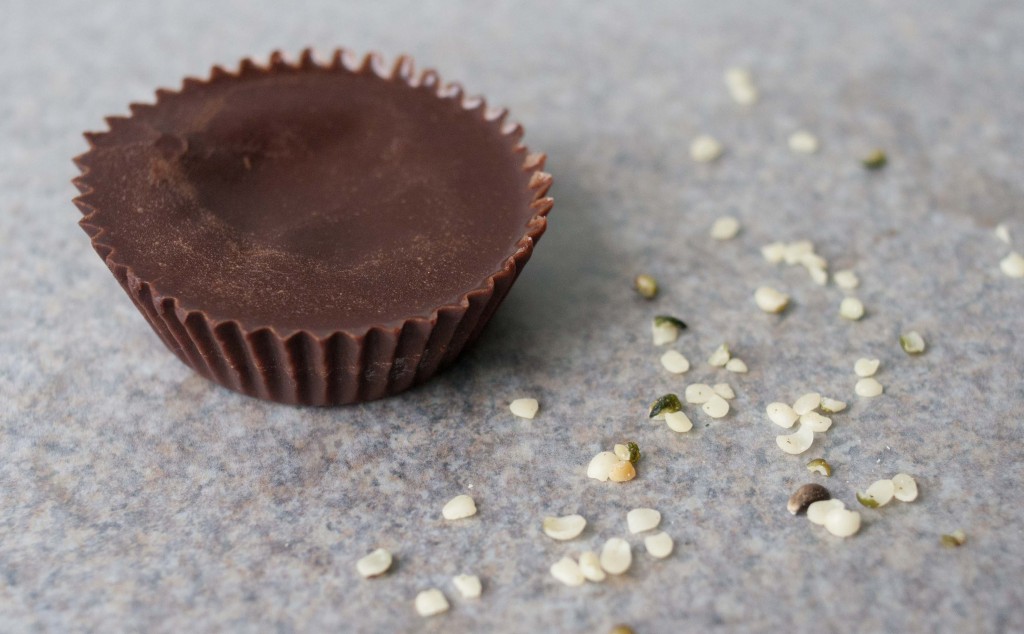 I've done it. Finally made my own nut butter cups! I've been wanting to do this for quite some time now and I'm pleasantly pleased, if I do say so myself. After making my own chocolate many months ago, I wanted to get on the more diverse spectrum of raw chocolate treats. I must say these are delicious and the chocolate came out to perfect texture, in my opinion. Melt in your mouth! (Literally)
I'm a huge fan of dark chocolate and these were spot on.
Speaking of my love affair with dark chocolate, I've been eating a piece or two of 90% cocoa dipped in sunflower seed butter quite frequently and it was just a matter of time before I created these babies.
So perfect.
And accompanied by my love of hemp seeds, ah yes bliss.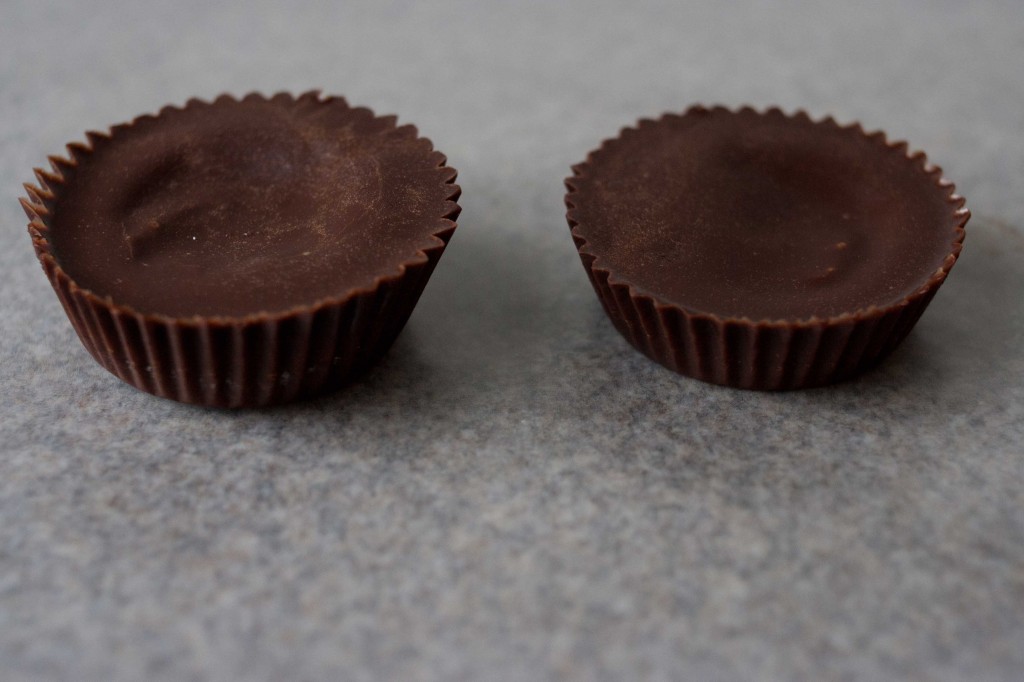 I tried looking up a recipe for the original reeses pieces cups for inspiration and boy was that a laugh. A bag of chocolate chips, more sugar, butter, a bit of peanut butter. To say that's a healthy alternative to the packaged Reese's loaded with sugar, preservatives, among other things..Hmm no thanks. I found it intriguing how Hershey's didn't even list the ingredients of Reese's on their website. What does that tell you? Hmm… I used to eat these all the time as a child. Every halloween I would try and get as many Reese's as I could, whether that meant trading with friends or changing costumes and revisiting houses that gave them out. A girl has gotta do what she has to do ya know..I recall never liking peanut butter though, but Reese's were always a favorite of mine. I suppose anything filled with sugar could make it taste better to a child…
Moving on, my favorite chocolate is dairy free and is sweetened with lower glycemic options. I decided to use coconut palm sugar because that is one of my favorite sweeteners. Low glycemic and the taste is just bar none. You may use honey or maple syrup too. These liquid sweeteners may be easier to work with actually, but all will be swell.
I decided to make these into mini cups because 1. less for me to eat and be a monster about and 2. I simply did not have large muffin liners. Hah.
You may double this batch to make more minis or even to make larger cups, pretty versatile.
The liners help make them have the pretty and distinctive ridges along the outer edges. I love that, makes it look more legit.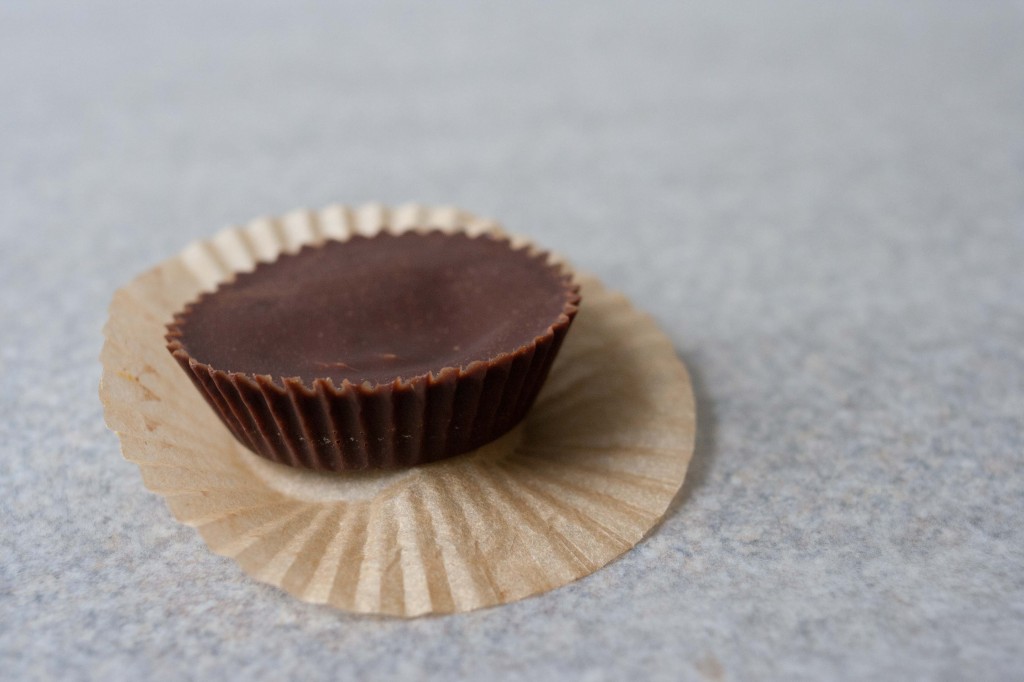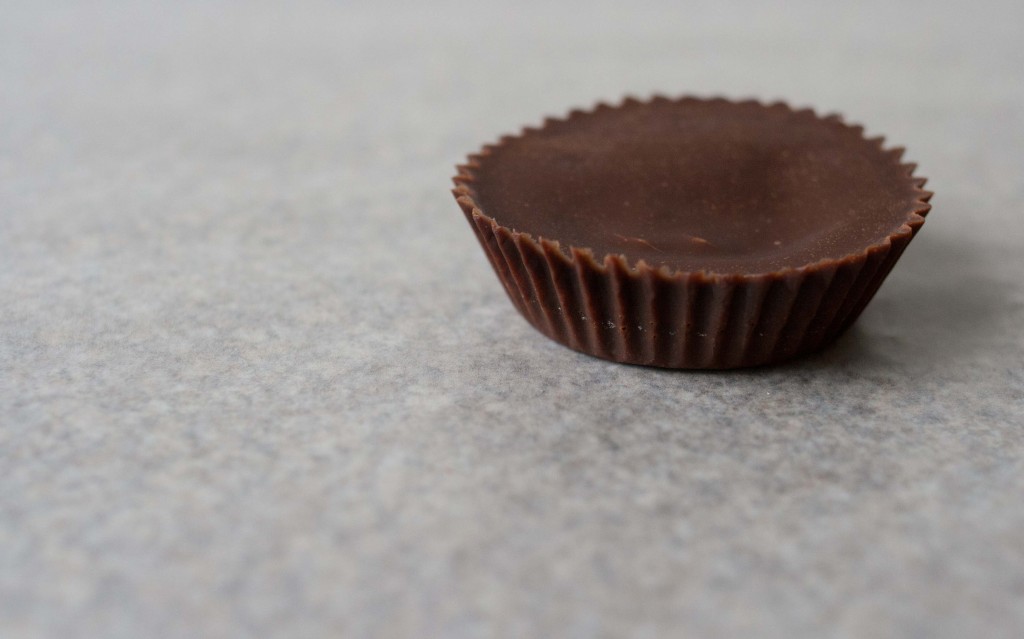 You can take this recipe for the chocolate and apply it to whatever really. Drizzling it over berries, raw banana ice cream, chocolate chips, or even in overnight oats for a lovely morning chocolate swirl surprise. I have so many ideas in store!! Can't wait to share with you guys.
But for now…
Makes: 6 mini cups
What you shall need my friends:
6 mini cupcake liners
For the chocolate:
1/4 cup unrefined/virgin coconut oil
1/4 cup unsweetened cocoa/raw cacao powder
2 tbsp coconut palm sugar (maple syrup or honey works too)
1 tsp vanilla extract
Nut butter filling:
2-3 tbsp nut butter
2 tbsp hemp seeds
Place all ingredients for the chocolate in a bowl. If the coconut oil is still solid, place the current bowl into a larger bowl filled with hot water. This will melt the coconut oil without being detrimental to the nutrients, as for example a microwave would. Stir really well until all is mixed. Don't waste the coconut oil! Rub the excess in on your arms or legs, wherever really.
If you're not as much of a sucker for dark, bittersweet chocolate as I, then add in 1 tbsp more of sweetener until your preference has been reached.
Spoon a thin layer of chocolate into each cup. Make sure to mix the chocolate in the bowl each time before transferring to the cups. The fact of the coconut palm sugar still being raw, it has a tendency to separate. If you're using a liquid sweetener, you may not have this problem. A quick mixin' never hurt anyone..
Place all filled liners in the freezer for a few minutes until hardened.
In the meantime, mix nut butter* with hemp seeds. You may have some leftover after all the cups are filled. In that case, Eat Save for another time to spread on apples, in a smoothie, oatmeal, etc.
*Note: you may use any nut butter you wish!
Remove from freezer once chocolate has solidified and put about 2 tsp of the nut butter mixture into the middle of each cup. Make sure none of the nut butter touches the sides of the liner, also try and make the filling as flat as possible. Like so…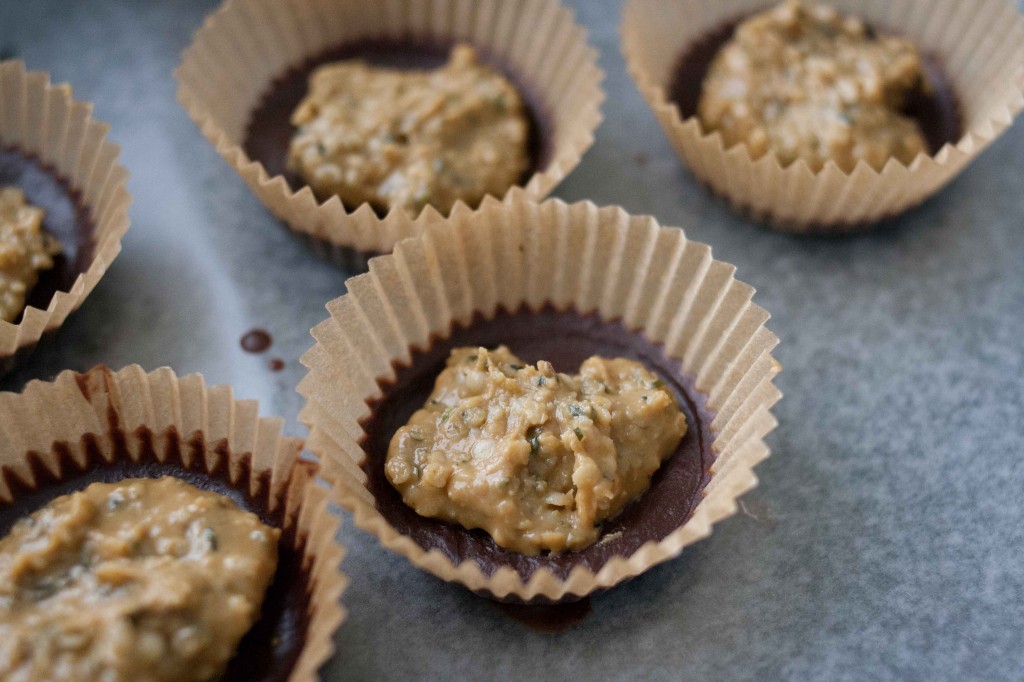 Layer more chocolate over, to hide the nut butter filling…hidden treasure!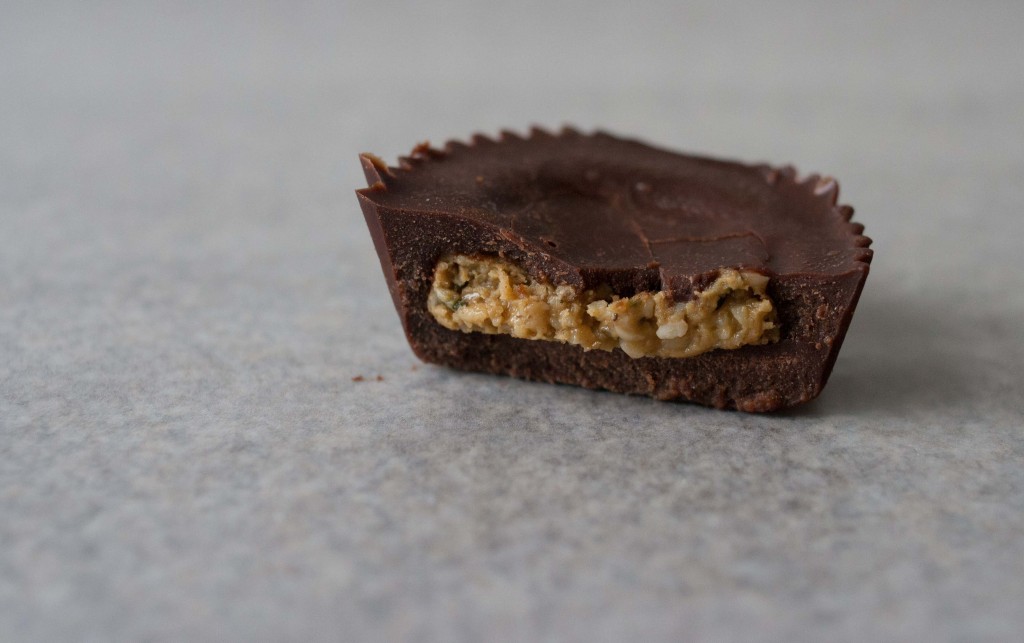 Place back in the freezer for a bit to harden. Once hardened, I stored these in the fridge to avoid frost bite. (Keep in mind that the coconut oil has a melting point of 76 degrees F, so if you take them out of the fridge for a while they will probably start to melt. Just put 'em back in to solidify.)
Once chocolate has set, eat!!!
Most importantly, share. Although these are healthier versions of peanut butter cups, one must remember that all six nut butter cups in front of you that want to be devoured oh so effortlessly have a lot of fat. Healthy fats of course! From the sunflower seed butter, coconut oil, and hemp seeds, all lovely. Everything in moderation though.
Let's keep this as a healthy indulgent, shall we!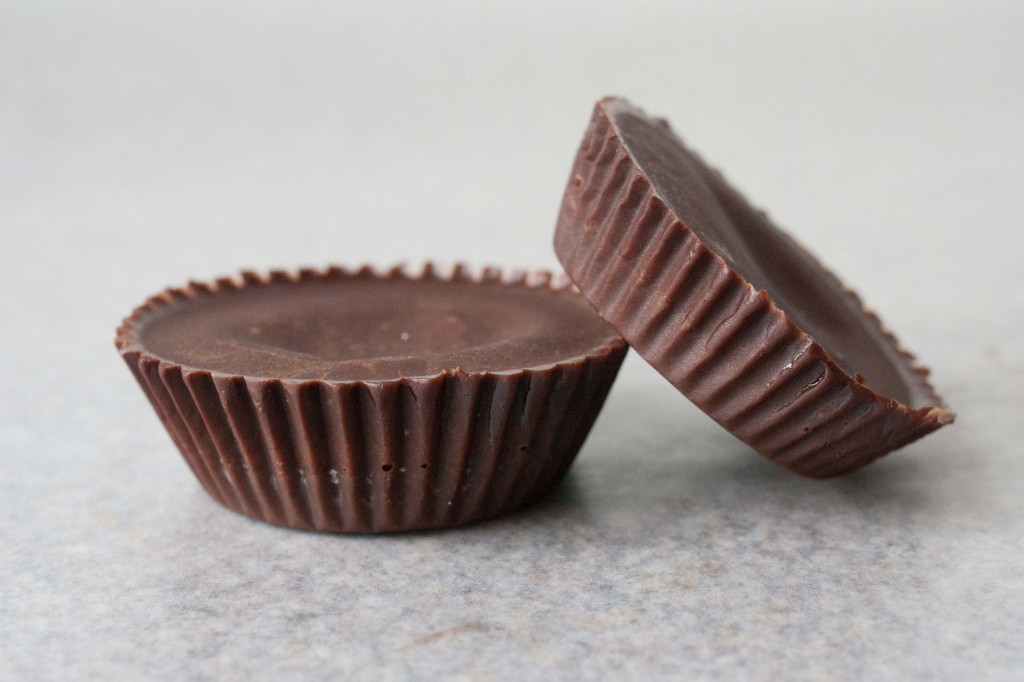 Nutrition facts for your pleasure:
Hershey's Reese's Peanut Butter Cups:                                         My Hemp Sunflower Seed Butter Cups:
Look at that sugar difference!! Remember, in my nut butter cup the saturated fats are all from the coconut oil's medium chain fatty acids. The sodium content will vary depending on your nut butter. Try and get salt free! My Trader Joe's sunflower seed butter had a bit of sodium, but nothing harmful.
Enjoy, enjoy!