Chocolate Black Bean Quinoa Oblongs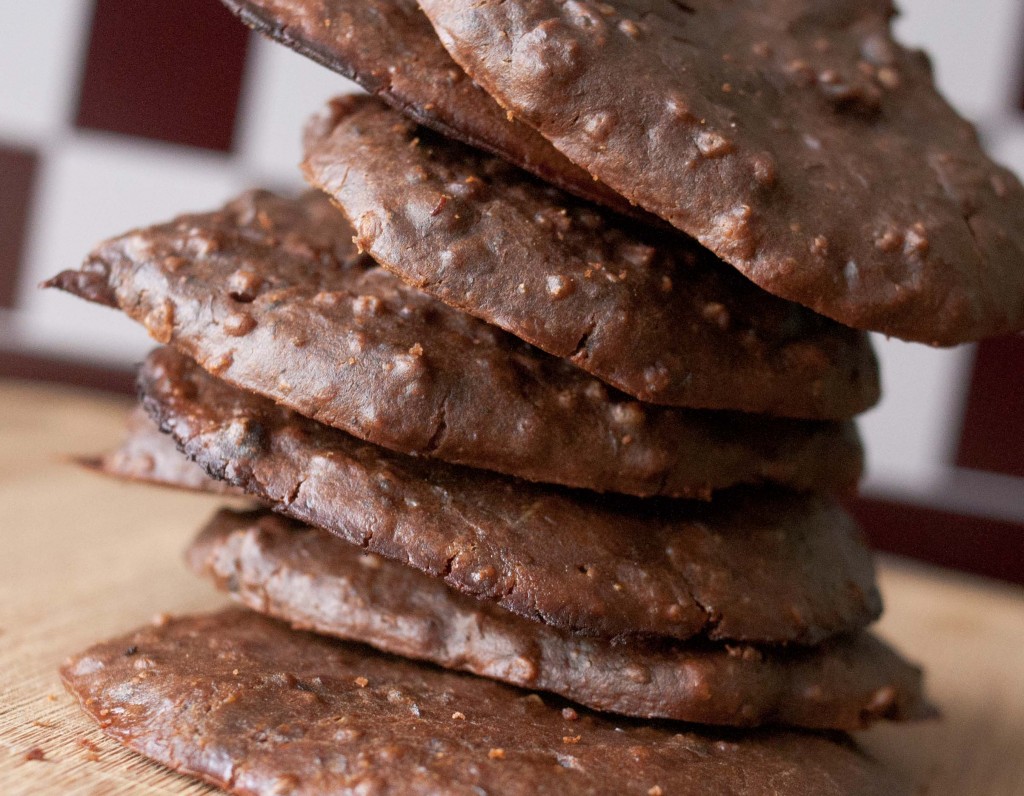 I didn't particularly want to call these cookies, because well they're a peculiar kind of treat. These are moist and kind of chewy. Similar to cookies, yes, but I preferred the word "oblongs" as it is amusing and suites the character of these goods.
I seem to be on a legume kick, whether it's savory or sweet. And yes, these cookies do have black beans in them. You cannot taste them whatsoever and the beans add a lovely moist and dense texture. I decided to throw quinoa in here because well why not?! The quinoa also adds to the unique texture. Don't forget about the health aspect too. Fiber and protein, not to mention vitamins and minerals, from both the legumes and seeds.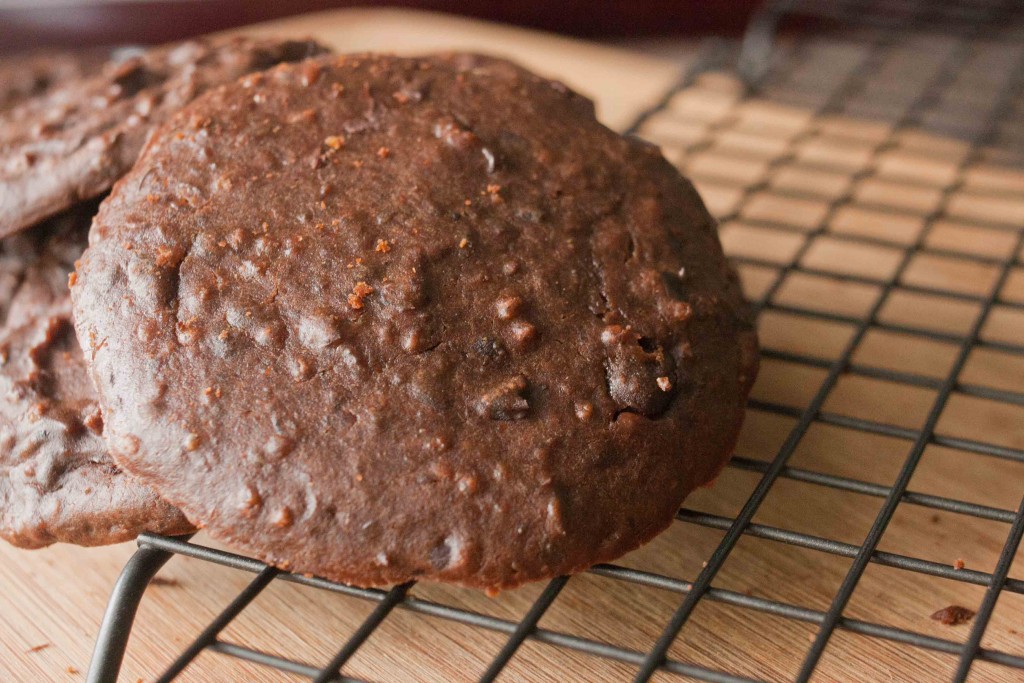 These are reminiscent of a chewy chocolate version of my recent creation, nut butter chickpea cookies. Likewise the chickpea cookies, these black bean oblongs can be made as cookie dough (or should I say brownie dough) dip. Just leave out the baking powder and eat your feelings. Happy feelings of course…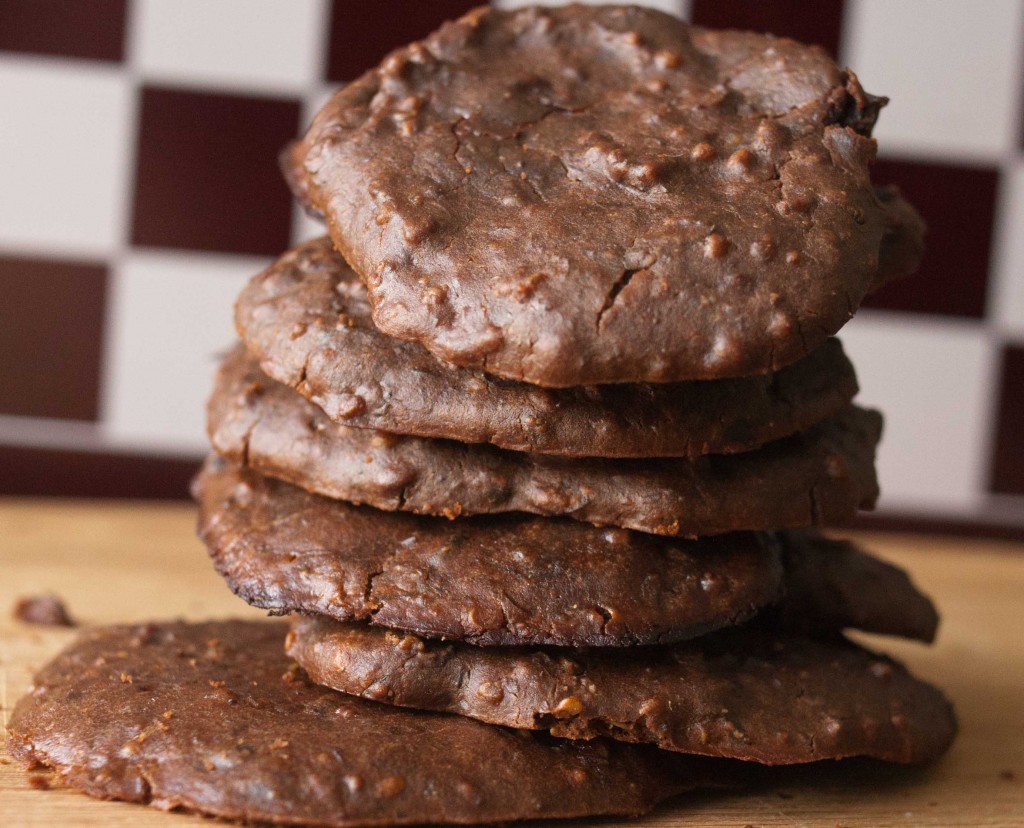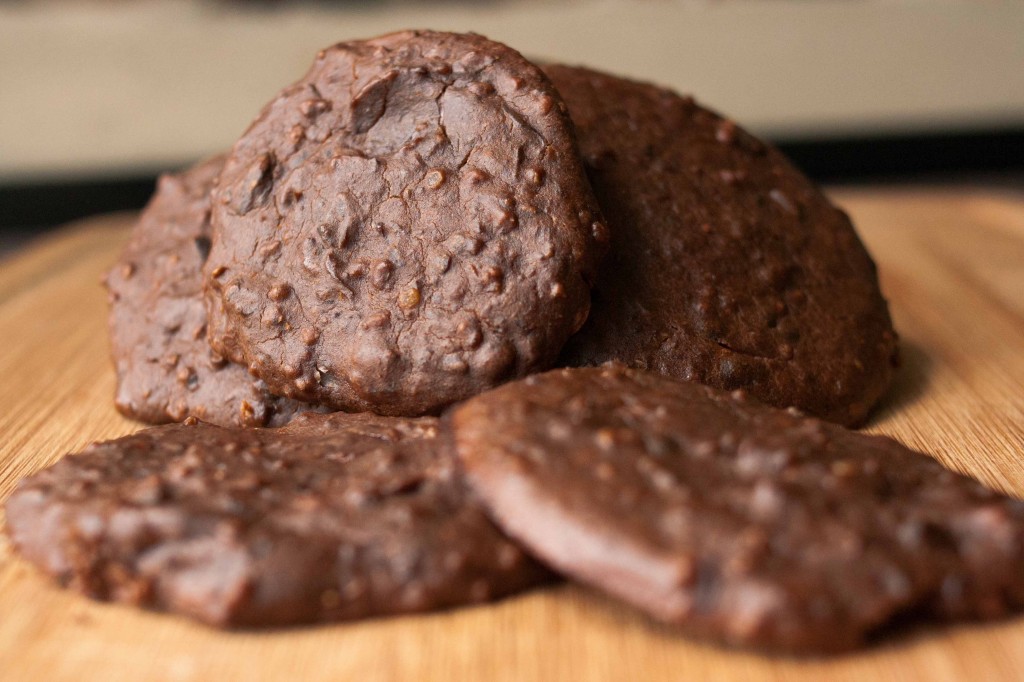 Ingredients:
1 can black beans, drained and rinsed well! (I used no salt added)
1/2 cup raw honey (use maple syrup to make vegan)
1/2 cup all natural almond butter (no salt/sugar added)(you may also use cashew or peanut butter)
1/2 cup quinoa, cooked and cooled
1/4 cup cocoa powder
2 tbsp ground coffee
2 flax egg (2 tbsp freshly ground flaxseed, 6 tbsp water)
1/2 tsp baking powder (I used gluten/sodium free)
2 tsp vanilla
1/4 cup semi-sweet chocolate chips (optional)
Grind up the flaxseeds in a blender/mixture type deal and place in a bowl. Combine 6 tbsp of water and whisk thoroughly and place in the fridge. I usually just grind up 1/4 cup whole flaxseeds and save some for later. Remember to only use two tablespoons of ground flaxseed.
Drain and rinse the black beans. I am repeating/emphasizing this step because it's crucial to rinse all the bean juice out to maintain a neutral tasting cookie. Place black beans in same blender and blend until no whole pieces are left. Add in the rest of the ingredients except the chocolate chips and flax egg and blend well. I tried combing all ingredients with the black beans at once and my magic bullet was overwhelmed. It's worth the extra step. Unless of course you have a blender that's not crappy…
Mix in the chocolate chips and flax egg to the batter.
Preheat the oven to 350 degrees.
Line a baking sheet or two with foil and non-stick cooking spray.
Drop batter into balls onto the cookie sheet. Evenly spread them out and make sure there's adequate space between each. They don't alter too much in the oven so make sure to shape them how you'd like them to turn out.
Mine came out rather thin, I'd recommend to make them a bit thicker so you get maximum chewiness and texture.
Bake for approximately 15 minutes. A bit longer if they're super thick, but take note: they solidify once cooled.
Take out of oven and leave on cookie pan for a minute or two before transferring to a cooling rack (provided you have one of course).
Let cool (if you can muster up the restraint) and then eat. These store marvelous in the fridge for a few days.
I must say the texture and taste does improve once cooled and even set in the fridge for some time.
Now's a good time to work on your patience skills.
I will never perfect mine. Fact. So until then I will end up eating my baked goods scalding hot, burning my mouth, as well as at the proper cool time.
I've accepted this.
But I do have faith in you.