Nut Butter Chickpea Cookies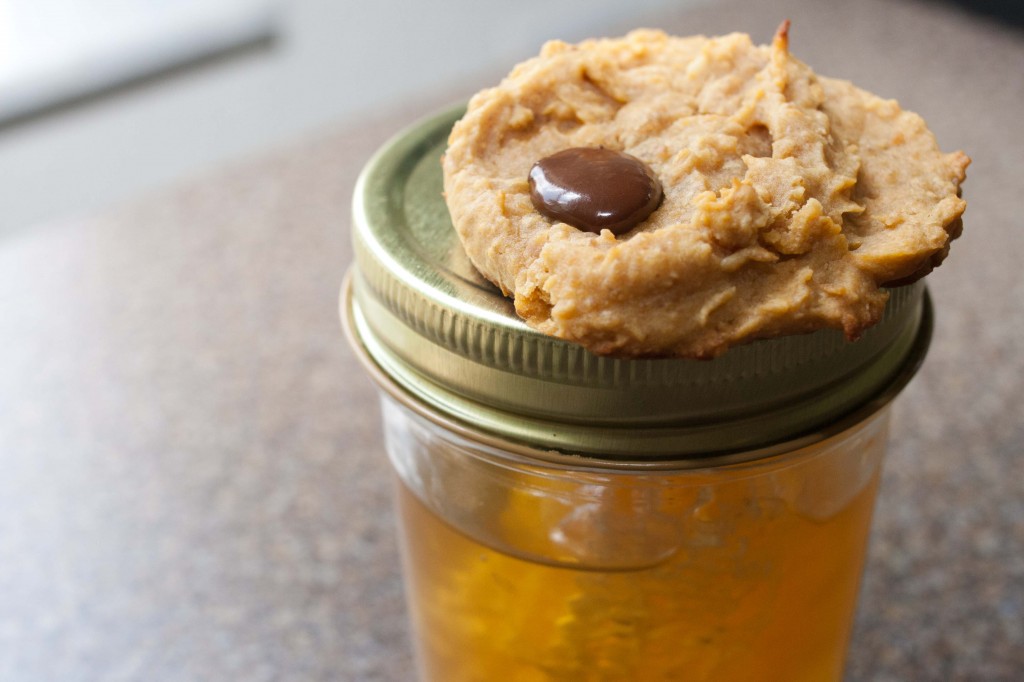 Ah, versatility at its finest. I love baking. I love food. I love creating.
I love creating food that's healthy and delectable at the same time.
Most importantly, I love devouring eating.
These cookies are a fine creation indeed. YES. I wanted to make a healthy snack-type-dessert and these definitely followed through well. These essentially can be edible cookie dough dip too, as some may be familiar with the ever so popular chickpea cookie dough substitution. If you'd like to just make the cookie dough dip, leave out the baking powder as it would be unnecessary. Then eat immediately

I added some freshly ground flax seeds for nutritional content, plus I wanted to open my new bag of flaxseeds from Trader Joe's.. I grounded up 1/4 cup and saved the rest in a sealed container in the freezer. I'll use them later in my yogurt. You may omit these if they are not making an appearance in your kitchen at the moment. Read more on flaxseeds here.
I used 6 tablespoons of raw honey and I found that to be a tad too sweet for me, so next time definitely 1/4 cup will happen. 6 tbsp is 1/4 cup plus 1/8 cup. You may use another sweetener if you wish, to make vegan or simply just because.
Check out the awesome raw honey comb my parent's brought me back from North Carolina..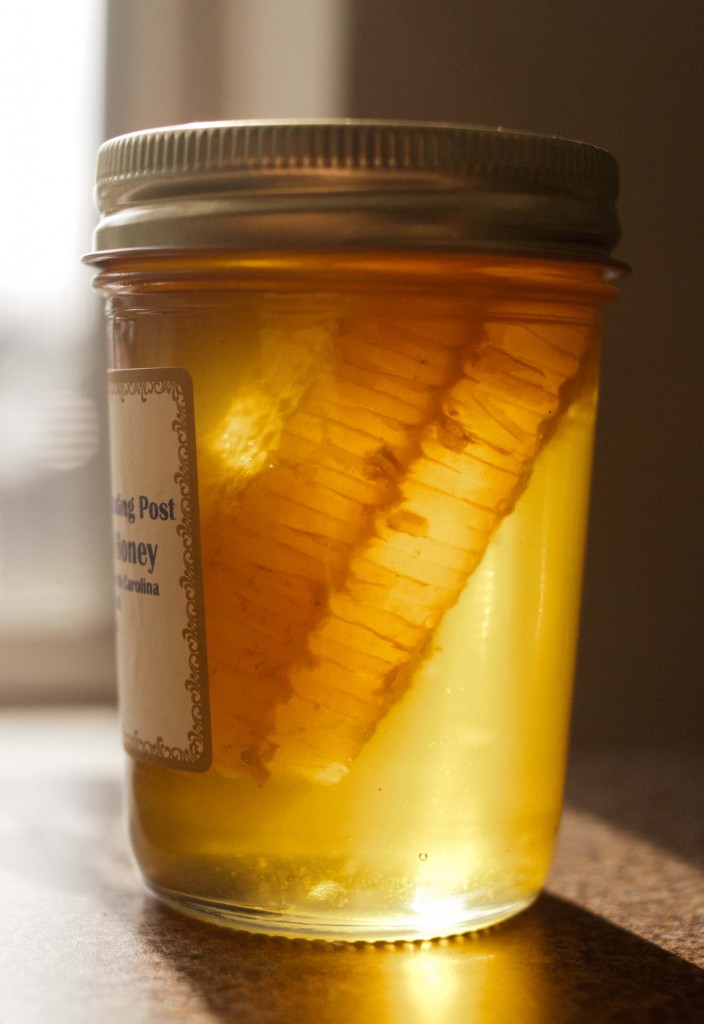 For the chocolate chips, I decided to use a healthy version of M&M's that I purchased at Whole Foods as a random ingredient that I wanted to inspire me in baking.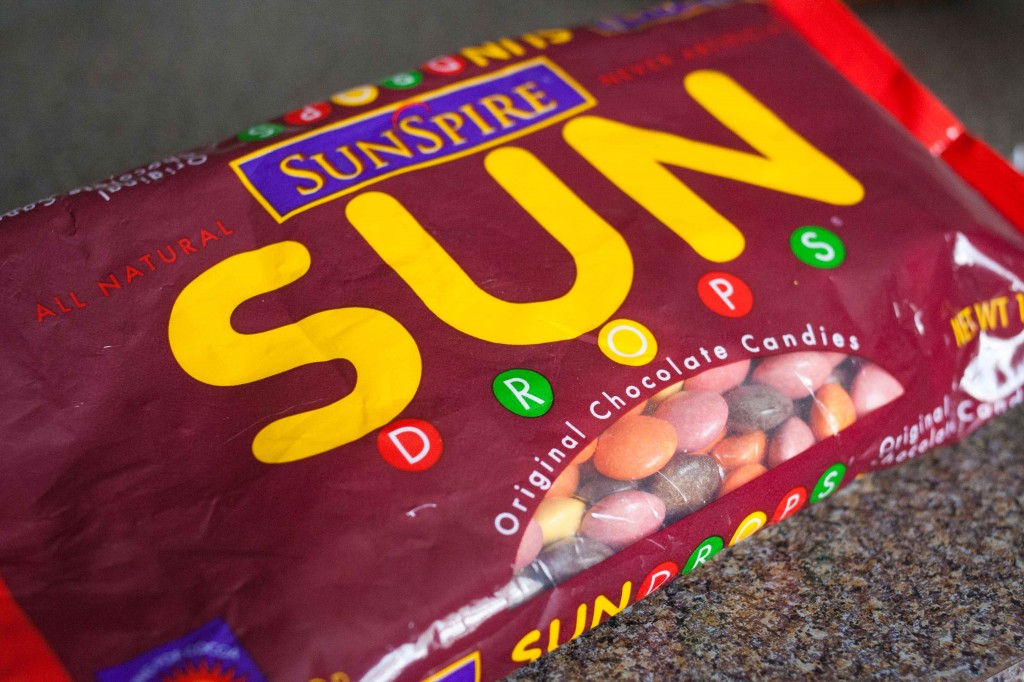 These Sunspire Sundrops (sounds so lovely) are colored with beet juice, beta carotene, and caramel coloring. Beta carotene is an antioxidant that our bodies take in as Vitamin A. It is also the source of color that is provided to yellow and orange fruits and vegetables. There is no palm oil or other common hydrogenated oil in these candies. The only downside about this more natural M&M is that the color is a tad faded (as you can see) and in baking does not come out the most visually appealing, but honestly I'd take nutrition over appearance any day. They tasted perfect in these cookies and taste superb in general. You may use normal chocolate chips or even leave them out completely. I think the cookies tasted wonderful sans the chocolate too.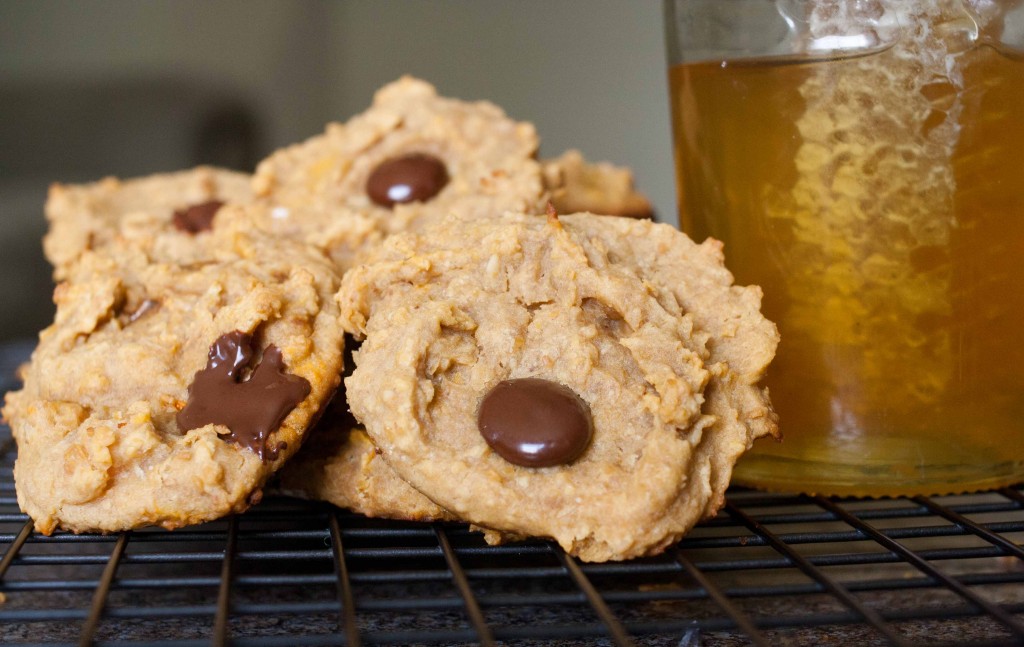 Ingredients:
scant 2 cups cooked chickpeas (garbanzo beans) or 1 can chickpeas, drained and rinsed well! (no salt added)
1/4-1/2 cup raw honey (I used 6 tbsp)
1/2 cup nut butter (no salt/sugar added) (almond, cashew, sunflower, peanut or any nut butter would be perfect)
2 tsp vanilla
1-2 tbsp whole flaxseed, freshly ground (optional)
1/2 tsp baking powder (I used gluten/sodium free)
1/4 cup chocolate chips (I used Sunspire Baking Sundrops) (optional)
Add whole flaxseeds to a mixer, blender, or even magic bullet (yes I had to use one of these and it worked swell) and grind until all seeds become ground. Should be fairly quick. If you have any flax leftover, store in an opaque, sealed tight container in the freezer.
Combine the rest of the ingredients except the chocolate chips in the mixer and blend well. You may need to stir a few times to get everything blended equally but it's not really an issue.
Add in chocolate chips and stir manually.
Preheat the oven to 350 degrees.
Line a baking sheet with foil and spray non-stick cooking spray. Then take the batter and form small, round cookie-shaped circles equally spread apart on the baking sheet.
Flatten them down a bit as they don't really rise/spread out. So what you see is what you get.
Bake for about 15-20 minutes and then let cool. The bottoms will be the only thing really turning brown. These cookies harden up a bit once cooled, so don't worry about how they're still soft once out of the oven.
Eat!!! You can certainly add these to ice cream as a healthy cookie dough add in, or even yogurt or anything you think cookie dough/crumbles would be good in.
Oh so basically everything..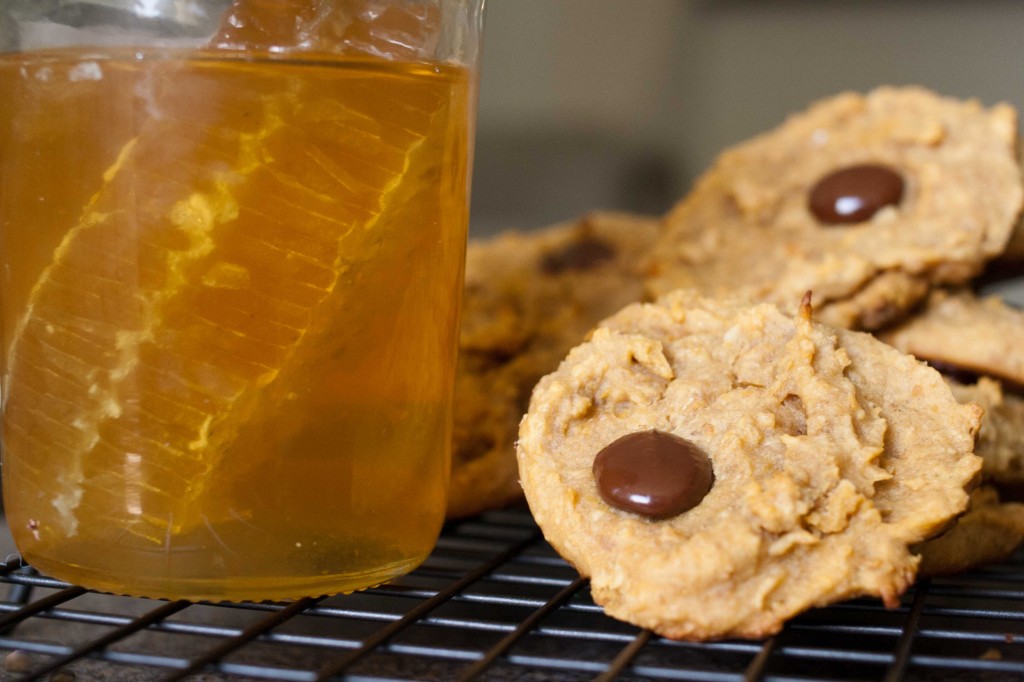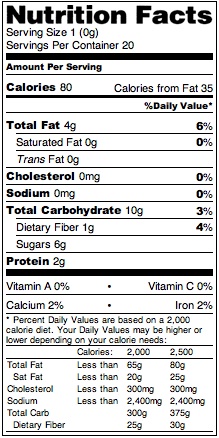 Health stats include chocolate!