Healthy Baked Sweet Potato Fries (No Oil!)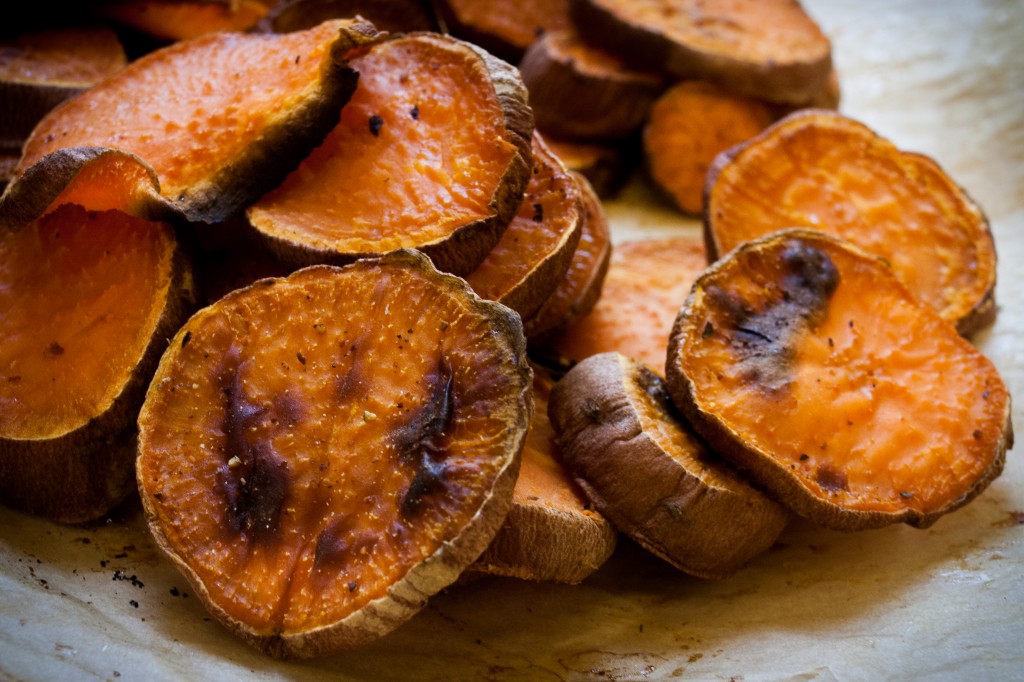 These sweet potatoes!! The above statement is the only way I could describe to you how I felt whilst consuming these yam gems. A soft, thick, sweet inside surrounded by a burnt crisp caramelized edge. No oil added, baked sweet potato fries are one of my favorite healthy snacks.
I've made several batches of sweet potato fries in my days, but these receive the gold star label in my book. I have to thank my father for tuning me on to using the broiler to get the nice, burnt tips. I shall never go back. You should really try these out and see if you're as much as a fan as I.
Depending how you cut these you can have thick, soft fries with a slightly burnt top/edge or if you cut 'em really thin you can get 'em to have a nice char, which resembles baked sweet potato chips. My favorite is cutting them in wedge shapes, so that a portion of them is thick, soft, and chewy and the opposite side is burnt. Play around, you can't really go wrong here.
You can make these sweet or savory woooo.
Ingredients:
parchment paper + baking sheet
sweet potatoes
imagination and an appetite
spices (sweet): cinnamon, cloves, nutmeg, pumpkin pie spice, coconut palm sugar
spices (savory): cayenne pepper, black pepper, red pepper flakes, cajun seasoning (I used this one!), curry powder, smoked paprika, garlic, onion, etc.etc.etc.
Directions:
1. Preheat oven to 350 F.
2. Line baking sheet with parchment paper
3. Thoroughly wash sweet potatoes and cut into desired shapes
4. Place sweet potatoes on baking sheet, add spices, and place into oven for about 20 minutes*. You'll want the sweet potatoes to have acquired some softness. It's ok if they are not fully cooked yet, this will happen in the next step.
5. Take out of oven and mix sweet potato fries around so they achieve thorough baking
6. Set oven to low broiler** and bake for 10 minutes, or until tops are slightly burnt
7. Take out of oven and mix around again. If fries aren't slightly burnt yet, then follow step #8:
8. Place oven on HIGH broiler*** and cook for 5 minutes, or until tops are slightly burnt.
9. Let cool slightly and eat.
Recommendations:
For sweet: drizzle some raw honey on top
For savory: drizzle unrefined coconut oil
Regardless you should a little fat source, such as virgin coconut oil, cold-pressed extra-virg. olive oil, walnuts/pecans etc., avocado, as the fat-soluble beta-carotene (Vit. A) can be assimilated by the body with said fat source.
NOTES:
– *You may need to cook for more/less time depending on how many sweet potatoes you're using, as well as the thickness of the fries.
-**You can probably skip the low broiler step and just bake for less time on the high broiler, but I do recommend keeping a careful eye as baking on high broiler can cause foods to burn swiftly.
-***The cooking times listed are subjective guidelines, you just want to be able to soften the fries at 350, then get a nice burnt edge in the broiler step. Experiment.
If for some reason these are not devoured after baking, they shall store well in the fridge. Reheat 'em in the oven for a few minutes to avoid sogginess.