Chocolate Stout Brownies
We all deserve a moment to feel elegant, a moment to savor the tastes on our palate and appreciate the unique flavors dancing around on our tongues.
Or, perhaps we just need an excuse to devour a bunch of brownies.
Whatever your reason may be, these brownies are definitely grown-up versions of traditional sugaroverloaded sweet treats. I find them to be sophisticated.
But then again I did eat three in one day…
It's these brownies that make you say "I'm only going to have a bite" to "I'll stop at brownie number two three."
It's these brownies that deserve some time taken out of your busy schedule to relax and enjoy the world we live in and reflect on life's little wonders.
They don't need to be accompanied by anything, no frosting, no sprinkles, no accessory sugar pairings that may make or break other certain brownie recipes.
Editing pictures of these brownies made me go grab one from the fridge and savor each and every bite. I would have to say that these are the best damn tastin' brownies I've ever made, in my opinion of course. I do acknowledge that my palate may be different than yours, but nevertheless these brownies are fudgy, chocolately, and filled with stout goodness. Wouldn't hurt to try 'em out

The coffee flavor was very subtle here, so add a bit more if you want a stronger mocha taste.
I used Young's Double Chocolate Stout, I'm sure any could be used. No, these brownies will not get you tipsy (sorry).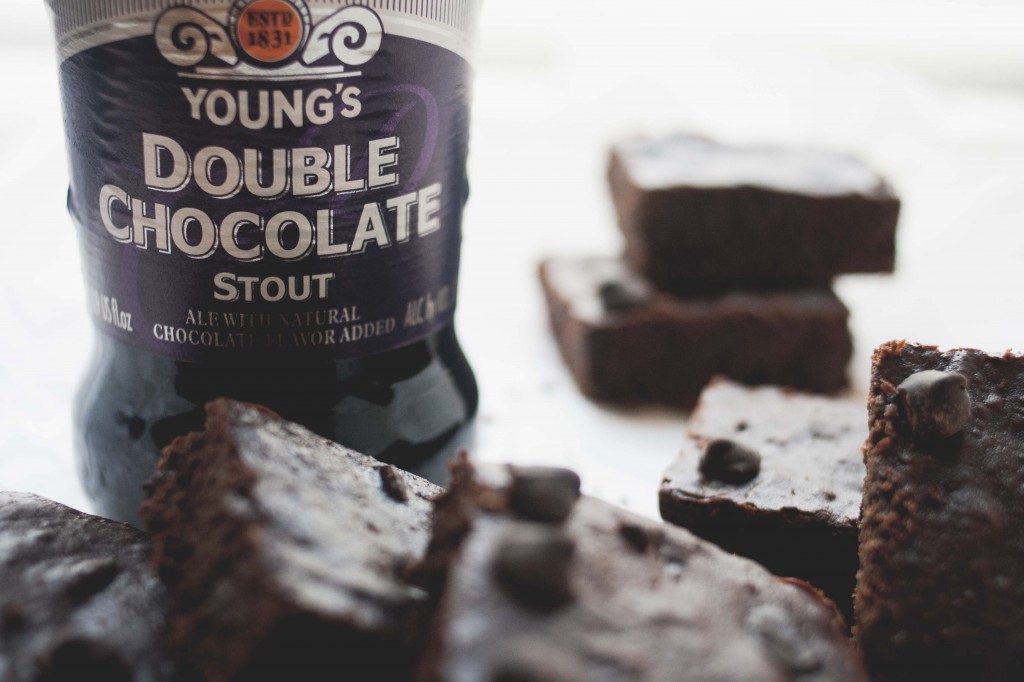 As adapted from: Vegetarian Ventures (Much, much thanks Shelly for posting this recipe!!!! Her picture makes me crave another one right about now)
Ingredients:
Dry:
1 cup whole wheat pastry flour
3/4 cup unsweetened cocoa powder
1 cup coconut palm sugar
1/4 teaspoon sea salt
1.5 tsp ground coffee
Wet:
1/3 cup virgin/unrefined coconut oil
1/2 cup soy yogurt*
1/2 cup chocolate stout
1 teaspoon vanilla extract
Mix in:
1/2 cup vegan chocolate chips
*If you use vanilla yogurt you can omit the vanilla extract.
Directions:
1. Preheat the oven to 325 degrees F
2. Line an 8×8 pan with parchment paper
3. Combine all dry ingredients together in a large mixing bowl.
4. Combine all wet ingredients in a separate mixing bowl.
5. Carefully incorporate the wet ingredients into the dry, then add in the chocolate chips.
6. Spread mixture into pan and bake for approximately 30 minutes
7. Let cool a bit and eat! May be served warm or cold. I found the flavor gets more awesome after being in the fridge for a day or two.
*Heed: these will be very fudgey so don't mistake that for being undercooked! I did at first and baked for 40 minutes, still came out wonderful (which means they will taste even better for you when you don't overcook them!!) but next time I would bake for only 35 minutes max. They will still be hot when you take 'em out of the oven, thus cook for a bit longer too.
These taste best shared with another <3