Lavender Lemon Cake Larabars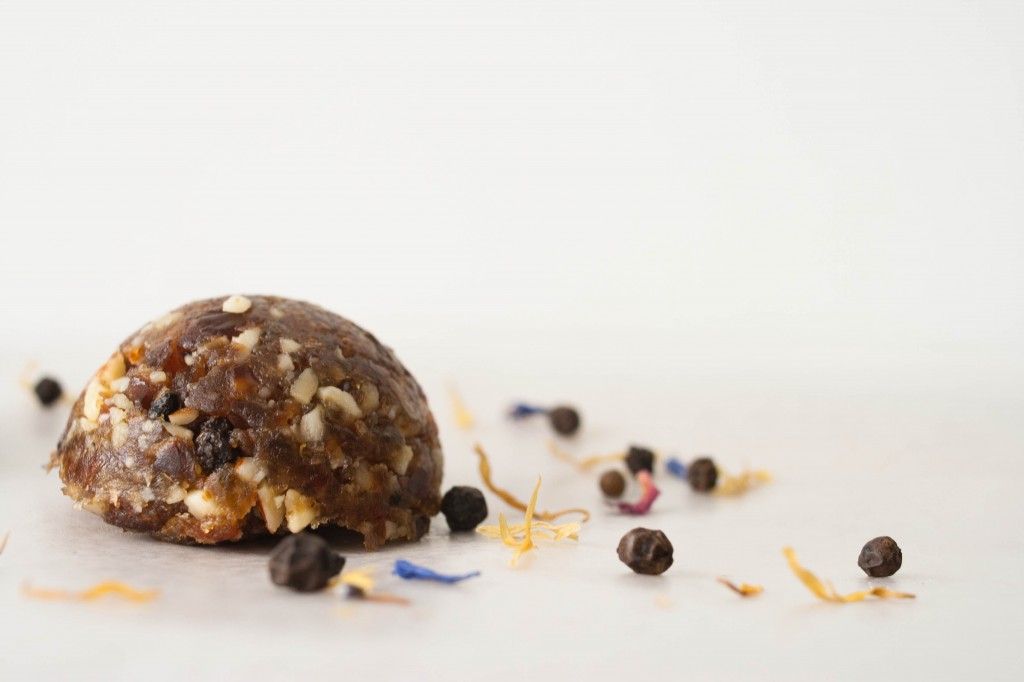 So this sorta happened as an accident…I really meant to make these with an added spice of pepper, but my silly self did not think to grind the peppercorns up prior to throwing them in the food processor, to which they got hidden and snatched up by the date and nut combo.
So these still have peppercorns in them, but they are whole. Have you ever eaten a whole peppercorn? Haha well, it's tasty but definitely sorta intense. I wouldn't really recommend anyone do it because it's very spicy and although I enjoy the spicy of the spicy, it doesn't flow with the rest of this lovely larabar.
I'd recommend grinding the whole peppercorns prior to adding them to the food processor, or you can even leave them out. I do want to mention though how I think the addition of ground pepper to these would be awesome! Don't get scared away by the sound of it. Even with the crunching of a whole peppercorn the peppery taste added a unique flavor that added some spice to the sweet and mellow tones of lemon, vanilla, and lavender.
The lavender aspect was apart of the "flower pepper" my sister got me from Trader Joe's. It's really wonderful and tasty. Fortunately, the lavender and other dried herbs got mixed in well and each flowery bite was as pleasant as it sounds.
The lavender was not too strong here, so if you have some lavender on hand (or would even like to buy), I would definitely recommend to add it! Lavender is one of my favorite smells, and it tastes so calming and pleasurable.
If you do not want to add in pepper and/or lack lavender, then feel free to make these without 'em! These lemony energy bars are another addition to my larabar creations. They taste like a lemon cake and are so refreshing!
The vanilla extract really does a number here. Thank you, vanilla.
I could imagine chamomile would be awesome here too! I'll have to get some and add it in next time.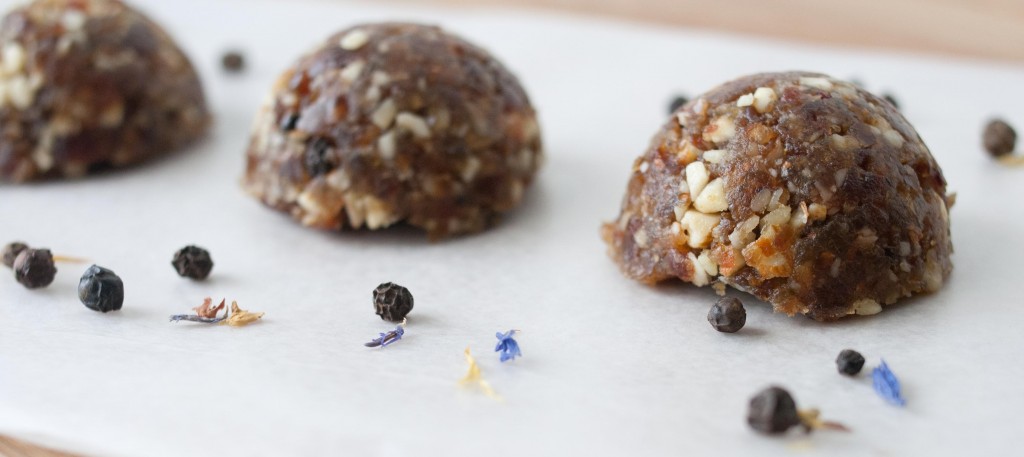 Ingredients:
1/2 cup almonds
1/2 cup walnuts
1 1/4 packed cup dates
Zest of one lemon (and a few juice squeezes too)
1 tsp vanilla extract
1/2 tbsp lavender pepper, ground!! (optional)
OR 1 tbsp dried lavender (optional)
Add nuts and dates into a food processor and process! Agh, I hate that word, process sounds so unhealthy to me, but of course here we are just doing the action that a food processor does

.
Blend until the dates and nuts are broken down a bit and then add the vanilla and lemon. I just added one light squeeze of lemon, but I recommend you taste it sans juice (only zest) before any juice is added. Your preference, always.
Blend and then add in the lavender and/or lavender pepper. Blend a bit more until the mixture is moldable.
Form your preferred shape! I've realized my favorite is making these into spherical halves. They are they easiest method for me and are the perfect bite-sized snack. It helps with portion control as well.
Store these in a sealed container in the fridge.
Let me know what you think! I love coming up with new larabar creations…