Black Bean Brownies Round 2: Veganized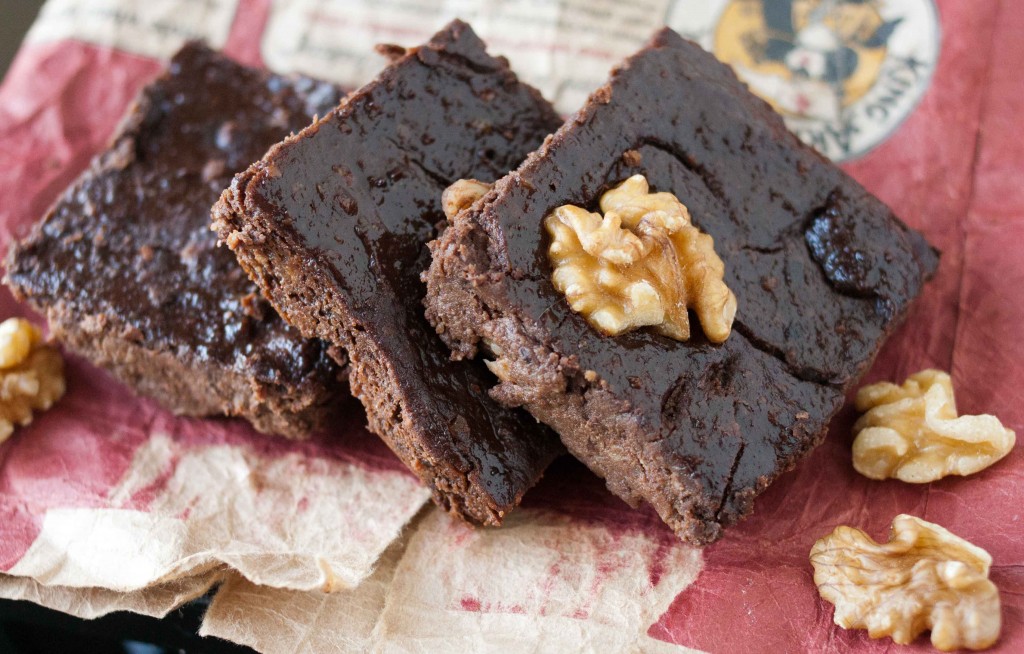 I've become fairly acquainted with my new food processor.
I just can't quit.
Pureeing my recipes oh so quickly right in front of my eyes.
It's awesome. And to continue the magic, I decided to make some vegan black bean brownies.
I've been in the market for a good vegan version of my last black bean brownie recipe for quite a while now. It was a hit and I wanted to make sure the next recipe version I posted was just as wonderful, if not better.
Not to mention keeping it up to my healthy standards as well as taste!
I was looking for a vegan black bean brownie base and I came across one from Happy Herbivore. I tried out her recipe and it was definitely yum but there were a few tweaks that I decided must be done to suit my taste buds. I was not a fan of the cinnamon with my chocolate brownies. The cloves I added in were a last minute impromptu thing, sorta "why not" in my head. My senses seemed to have placed the two together and in the end produced a brownie that's unique with some added spice…Kinda exotic. I enjoy things of that nature.
I loved it.
If you're wanting to stay on the plainer side of black bean brownies, leave out the cloves…To each his own. They will be just as delicious, but honestly I ask of you to make these with cloves at least once and tell me that you don't like it

.
The instant coffee/espresso is optional as well. I've made these brownies without it and they're superb, but I feel as if the coffee adds in the last piece of the puzzle to these brownies. I've also made these sans vanilla (since my pantry lacked it) and it turned out good too. I recommend adding in both of these things though if you have them.
Please use ripe bananas here. In the second batch, mine weren't as ripe and they turned out great but the riper bananas will produce the best brownies. The riper bananas also allow for the minimal amount of added maple syrup to do the perfect job of sweetness! Less sugar, le better =).
Honey honey honey. I still enjoy a prime local, raw honey but I decided to use maple syrup to keep it 100% vegan. You may certainly use honey here if you're ok with doing so. I bet using a darker, different flavored honey would make the flavors super intense and awesome. I.e. wildflower honey, orange blossom honey, etc.
I've been on a walnut kick lately and love the walnuts in these. I'm sure most nuts would work here. I'm a fan of walnuts here because they're a softer nut and these brownies are fairly tender and fudge-y. Clearly you could not go wrong with adding in some chocolate chips, If you're feeling up to it. An addition of 90% cocoa chocolate would be swell without adding in excess sugar. I'll have to remember that for next time.
The almond flour adds some thickness and stabilizes the fudgy brownies. The original recipe calls for instant oats instead, so you could use that or even another flour would work. Just keep in mind the taste of certain wheat flours and how that may affect the overall outcome of the flavors.
I really enjoyed how the appearance resembled fudgy brownies. The tops were shiny and sorta crackly like traditional brownies! I could probably eat a whole pan of these things. At least it's a healthier alternative I suppose…
They store very well for a few days in the fridge and taste better cold. Keep in mind these turn out even better the next day (or two!), so try and have some patience.
I know it's a challenge.
If you're planning on making this for some sort of gathering, try and make it the night before so the texture gets dense and so moist.
Spreading some sunflower seed butter on is soooooooo incredible. Man. Try it.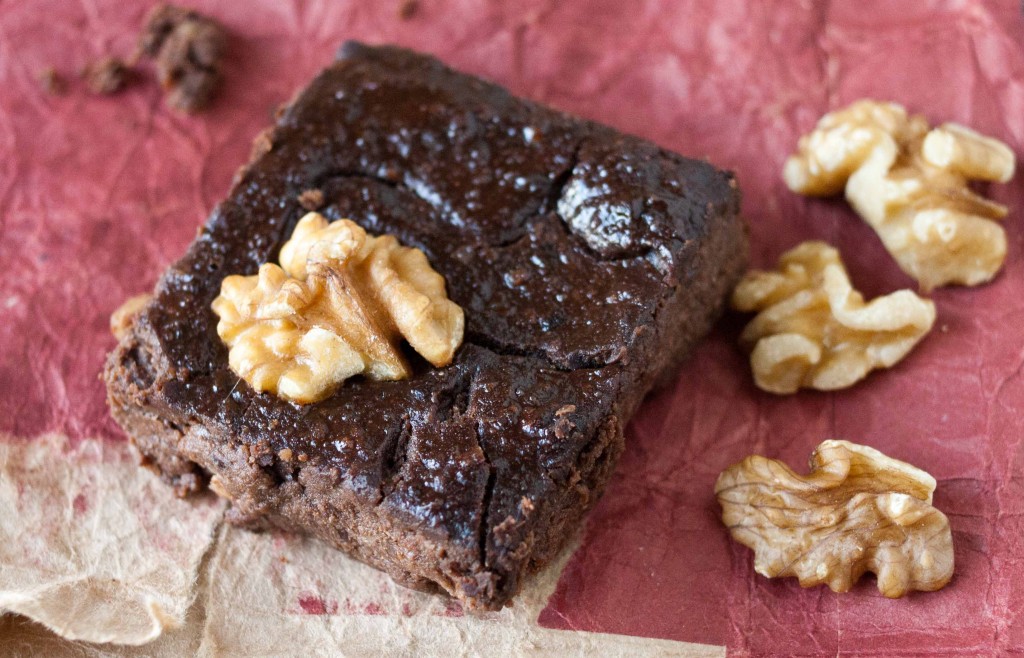 Ingredients:
1 can black beans, drained and rinsed very well (I used no salt added)
2 whole bananas, very ripe
1/3 cup maple syrup (honey works but not vegan anymore..coconut palm sugar should do the job too)
1/2 cup almond flour
6 tbsp unsweetened cocoa
1-2 tbsp instant coffee
1 tsp vanilla extract
1/4 tsp cloves (optional)
1/4 walnuts, chopped (optional)
Combine all ingredients in food processor except flour and nuts. Blend until smooth and well combined.
Preheat oven to 350 and grease an 8×8 pan.
Stir in flour and nuts into batter and then pour into greased pan.
Cook for about 30 minutes or until a toothpick comes out clean.
Let cool before you slice/eat entire thing.
Store in fridge.
*Note! I've made this with 1/4 cup coconut palm sugar, thrown oats into the food processor instead of almond flour, (sans cloves) for an ever healthier, dark chocolate treat! Very good, chocolatey snack for the sugar conscious.