Chocolate Avocado Quinoa Muffins (Vegan)

Let me just say that contests have been the best thing for me lately. Extremely motivating, plus my creativity seems to be at the utmost prime levels when I'm trying to produce something delicious, healthy, unique, and of course beautiful.
The latest contest was presented by one of my favorite places ever, Trader Joe's. I had to incorporate one of my favorite seeds, quinoa, into a new recipe. This seemed too fun to pass up. I had to do it.
Unique and nutritionally appealing baked goods being my speciality, I decided to incorporate quinoa into something of similar nature. But what sweet baked good would quinoa taste good in? I thought about it and this seed is fairly mild tasting on its own. I figured it would just add texture and perhaps even some moisture, to which I was definitely correct about!
These muffins are incredibly moist and rich, and who would've thought they were healthy?! Made with healthy fats from the avocado and virgin coconut oil, and banana and honey (or maple syrup) as the natural sweeteners.
You cannot even taste the avocado! So do not worry my friends, this muffin is all sweet and delish.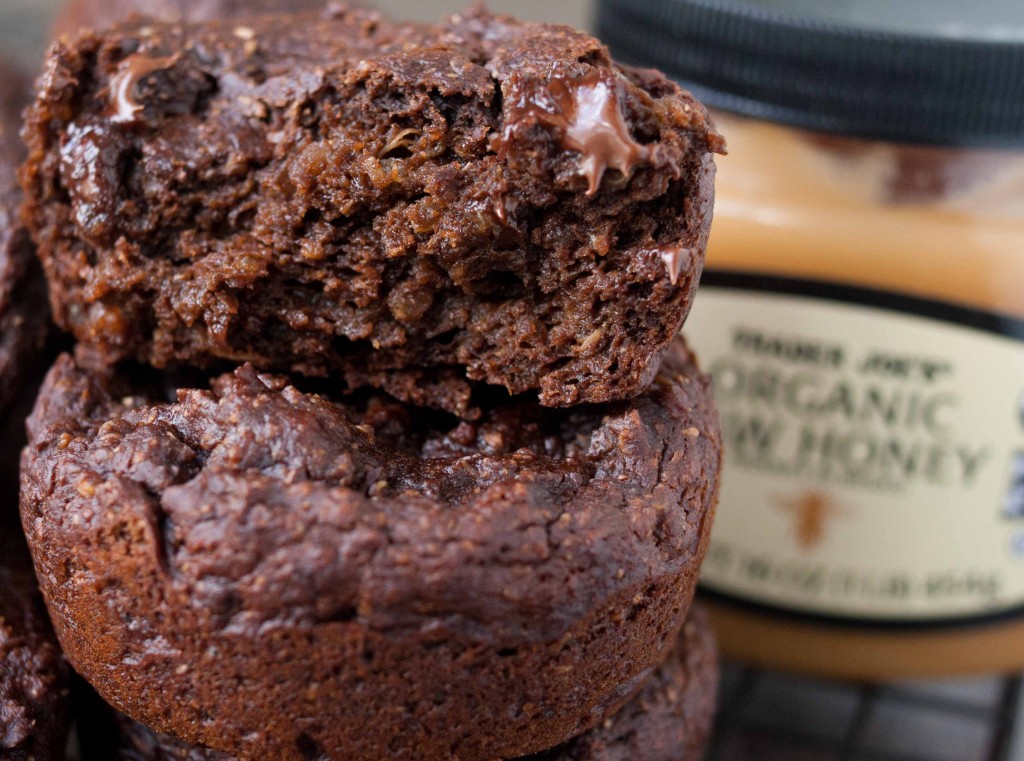 I made this a few times, as the first batch the ratio of wet to dry ingredients just did not pair correctly. I didn't want to give up, and with the motivation from my sister Jackie, I really wanted to make this recipe work. I tried again with different ingredient pairings and it was a success!
I first used raw honey in the trial batch. Then decided to use maple syrup in the second batch, THEN in the last batch I decided to mix them. All three batches were perfectly delectable on their own and I would say one cannot go wrong when choosing either or even both.
Don't forget about how this is a vegan batter! As long as you choose the maple syrup instead of honey of course. No eggs in here, so no need to worry about salmonella incase you eat a tad too much of the batter

.
Trader Joe's has an excellent price for maple syrup, so expensive everywhere else! I unfortunately do not live fairly close to a TJ's (sad panda), but luckily my parents make frequent trips to and fro North Carolina and brought me back a ton of TJ's ingredients. I felt as if it was my birthday or something… I used TJ's white organic quinoa in this recipe, just because I wanted to save the tri-color quinoa for a cooking occasion that their color would be more visible. Quinoa is so fun to me! Either would be delicious though.
The flax seeds add wonderful health benefits of omega 3 and 6. I noticed on their website that TJ's has blueberry whole flaxseeds! I'm definitely going to have to try that soon, until then I can only dream…
Another benefit of this recipe is that if you get some unrefined coconut oil on your hands, feel free to rub it in or on other places of your skin as a moisturizer =). Good news, cold pressed/unrefined coconut oil is good for cooking and baking up to 350 degrees. I cannot cook nor bake with rancid oils. I noticed in TJ's recipe contest guidelines that oils and binders did not count as ingredients, but TJ's does sell a virgin coconut oil, for a very good price indeed.
I've acknowledged that even if TJ's doesn't choose my recipe, I will forever be making these muffins as a goto delicious, healthy, and definitely unique treat for my loved ones and friends alike.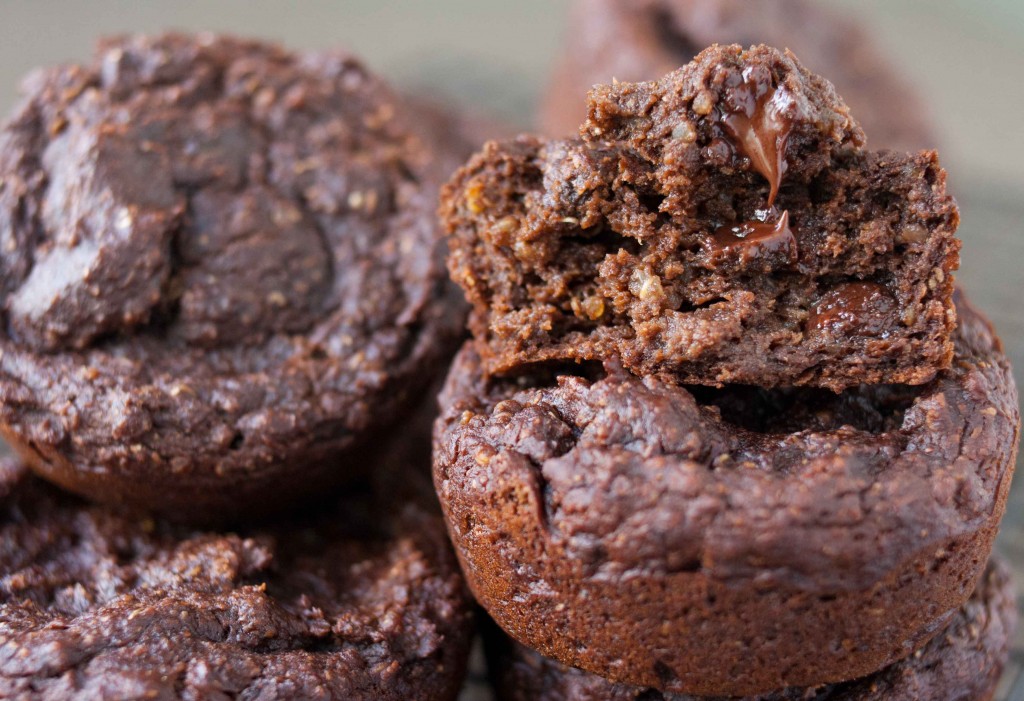 Mmm look at all that melted chocolate goodness =)
Makes approximately 14 good sized muffins (depending on your muffin pan)
Prep: 15-20 minutes
Bake time: 20-30 minutes
Dry:
1 1/2 cups TJ's white whole wheat flour
1/2 cup TJ's unsweetened cocoa powder
1 teaspoon baking powder (I used gluten/sodium-free)
1 teaspoon baking soda
Wet:
1 cup cooked and cooled TJ's organic quinoa
3/4-1 cup honey or maple syrup (use TJ's maple syrup to make this vegan)
1/2 cup TJ's unsweetened vanilla almond milk
1 medium-sized ripe avocado
1 large, very ripe banana
2 tbsp coconut oil
1/2 cup TJ's semi sweet chocolate chips
Flax egg:
1 tbsp TJ's flax seeds, grounded
3 tbsp water
Directions:
Preheat the oven to 350 degrees, or  do as I do..wait until after preparing all the ingredients to save electricity =).
Add a tablespoon of freshly ground flax seeds into a small bowl, then add 3 tbsp of water. Whisk thoroughly and let sit in the fridge for at least 15 or so minutes, until the consistency thickens. This is your vegan binder, a substitute for eggs.
Combine all the dry ingredients into a medium sized bowl and mix together.
Puree or mash by hand the avocado and banana. I used a magic bullet and had to add a few splashes of almond milk to get it going, but you most certainly can use the old-fashioned way of mashing the two manually. Just make sure to thoroughly mash the avocado or you may get pieces of it in your muffin, unless you are ok with that!
Once mashed, combine with the rest of the wet ingredients in a separate bowl. I only used 3/4 cup sweetener but feel free to use a cup if you prefer it sweeter! I just am not a fan of sugar overload. The chocolate chips really do a number in here anyways.
Combine the thickened flax egg to the wet and mix all together. Then add the wet ingredients to the dry. Don't over mix!!! I stress this so much with any baked good. Just mix until all is combined, it's ok to have a few lumps.
I usually preheat now, and then grease the muffin pan/wash the dishes in the mean time. If you're like me, preheat to 350 degrees now and spray a muffin pan with non-stick cooking spray or some sort of heat-sustainable baking/cooking oil (sunflower, safflower, coconut oil, etc).
Bake for approximately 20-30 minutes, or until a toothpick comes out clean. The insides may seem a bit undercooked but that's ok!!! Once they cool, they become super fudge-y and dense. Even after being placed in the refrigerator overnight they become so moist and dense. These muffins truly remind me of brownies, I was contemplating a name change but overall muffins suited these babies best.
I cooked one batch for around 25 minutes, in the end they turned out the most moist. The second batch was 30 minutes and then the third was 35 minutes, still definitely all devour-able, but I'd recommend not cooking over 30 minutes. If you keep trying to cook them, the outsides will become a little overdone. Remember folks, there is no egg in this batter so need to worry about salmonella.
Once baked, transfer to a cooling rack and try not to eat them all.
Wait until they cool down a bit and eat them all serve and share =).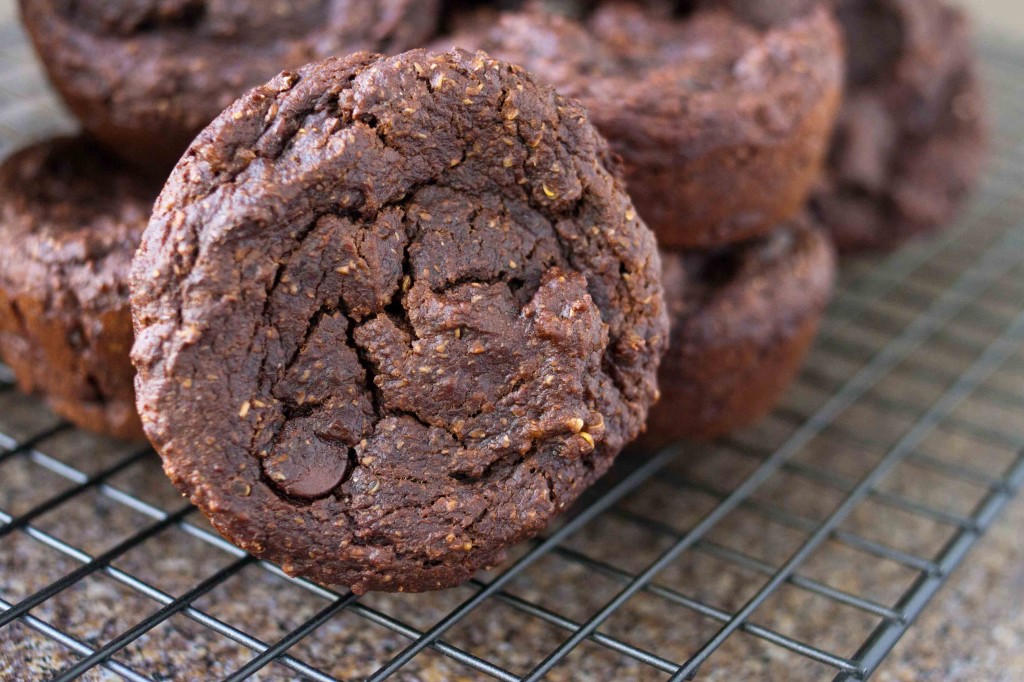 I do recommend storing a few of these in the fridge overnight as their refrigerated texture is awesome and delicious.
So Trader Joe's, I just would like to thank you for giving me the opportunity to expand my creativity and produce something marvelous.
I am very happy with this recipe and hope that others decide to try it as well.