Vegan Spelt and Millet Flour Muffins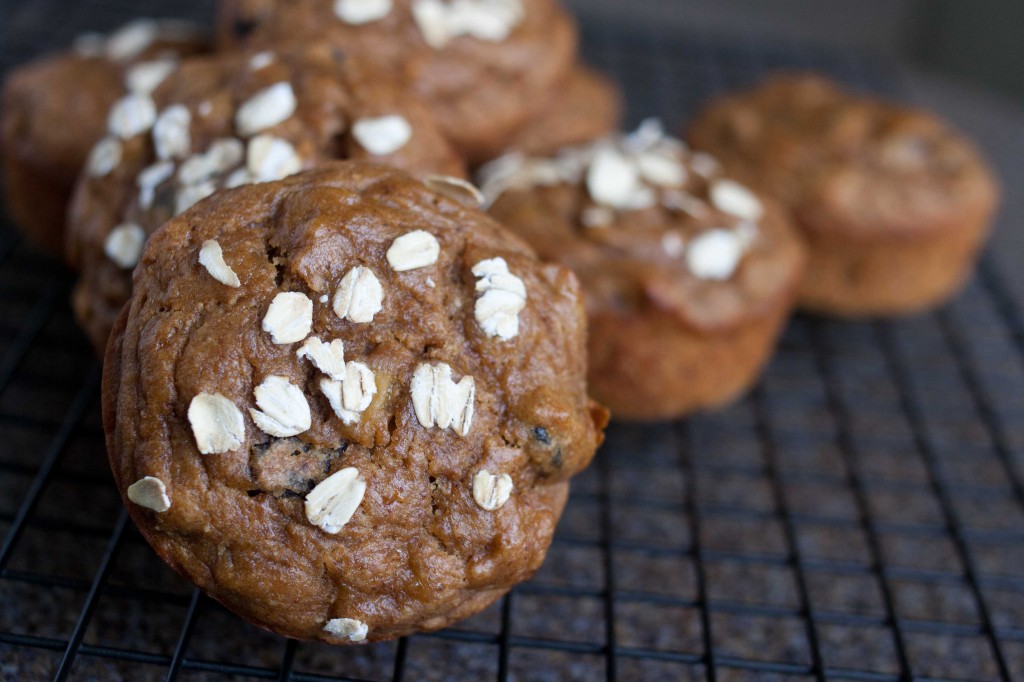 I think that I am the only person I know that would get excited over a shipment of millet and spelt flours. I've been waiting over a week for these goodies to arrive. Along with the flours, coconut palm sugar, gluten/sodium free baking powder, and hemp protein powder bestowed their graceful presence with me today. Today is beautiful.
On a whim of trying to make something delicious and healthy, as always, with my new coconut palm sugar I came up with this DELICIOUS muffin recipe. These are so moist and dense with such intense toasty-caramelized hints from the palm sugar. The peanut butter is subtle in regards to taste, but I think it helps with the overall texture of the muffin (superb). Clearly, these would be good with some dark chocolate chips. Glad I omitted them though, between the raisins and the coconut palm sugar it was even a tad too sweet for me. Definitely going to try 1/3 cup, and eventually 1/4 cup sugar instead and see how it turns out. I truly believe that walnuts or pecans would be wonderful in these.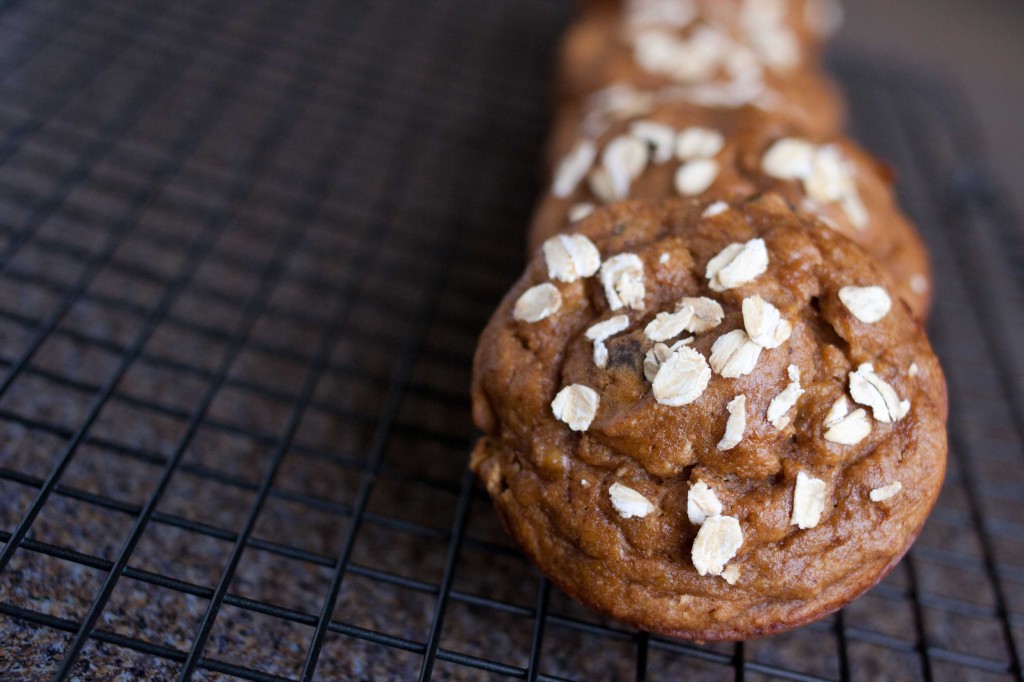 These store great in the fridge for quite a few days. I found the taste to develop wonderfully overtime and blend together fantastically. The tops get really moist and the texture is awesome.
I have a future recipe for you guys with similar muffins to these, but more as a power muffin to give you a good boost and balance of energy. Coming soon

Contrary to the prior statement, I really feel as if I would want someone to bake these for me on my birthday. A birthday treat. Chocolate chips a must, of course though. Maybe some sort of frosting? Argh sugar, stop please.
Moving on, I'm making great uses of my new flours, spelt and millet, my two new friends. I've never made better pancakes (recipe coming soon too, guys). I really didn't think my pancake obsession could increase. Coconut palm sugar in my favorite food item, words can't even describe…
Oh yeah and the cloves add a wonderful spice that you need to experience.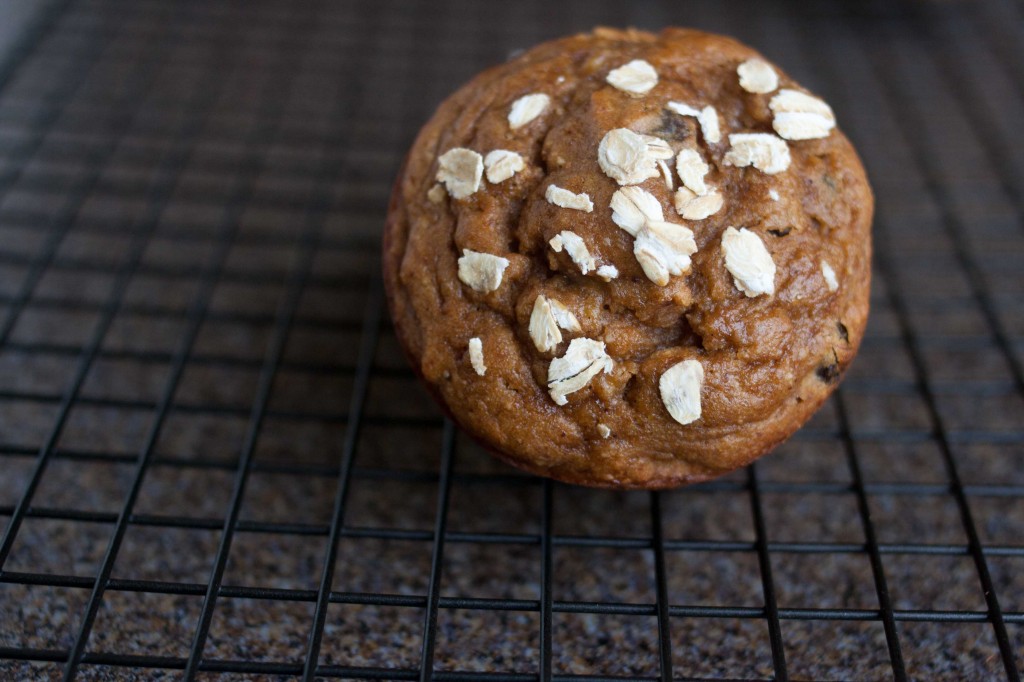 Try this please and thanks.
Dry:
1/2 cup spelt flour
1/2 cup millet flour
1/2 cup coconut palm sugar
2 tsp baking powder (gluten/sodium-free if possible)
1 tsp cinnamon
1/2 tsp ground cloves
Wet:
2 large ripe bananas, mashed
1/2 cup non-dairy milk (I used Dream Blends: Cashew, Almond, Hazelnut milk. Mmm, yum..)
1/4 cup all-natural peanut butter (no salt/sugar added)
1 tbsp sunflower oil
1 tsp vanilla
1/2 cup blueberries (optional, but would definitely recommend!)
1/4 cup raisins, nuts (optional)
Top with oats or sunflower seeds for decoration
Cook time: 22-25 minutes at 350 degrees
Combine all the dry ingredients in a medium sized bowl and set aside. Mix all wet ingredients together in a separate mixing bowl.
Mix in the wet to the dry carefully.
Preheat oven to 350 degrees. Then get out a muffin pan and grease (high-heat cooking oil)/spray it. These made 8 large muffins for me, you can use any pan.
Fill each up to 3/4 of the way.
Put toppings of oats or sunflower seeds or whatever you desire. (Tis optional).
Place into preheated oven. (Not optional)
Mine cooked for exactly 24 minutes. Yours may range from 20-25 minutes depending on the size. Just check around 18-20 minutes with a toothpick to see if nothing sticks.
Remove from oven once baked and set on a cooling rack.
EATTTTTTTTTT.
End.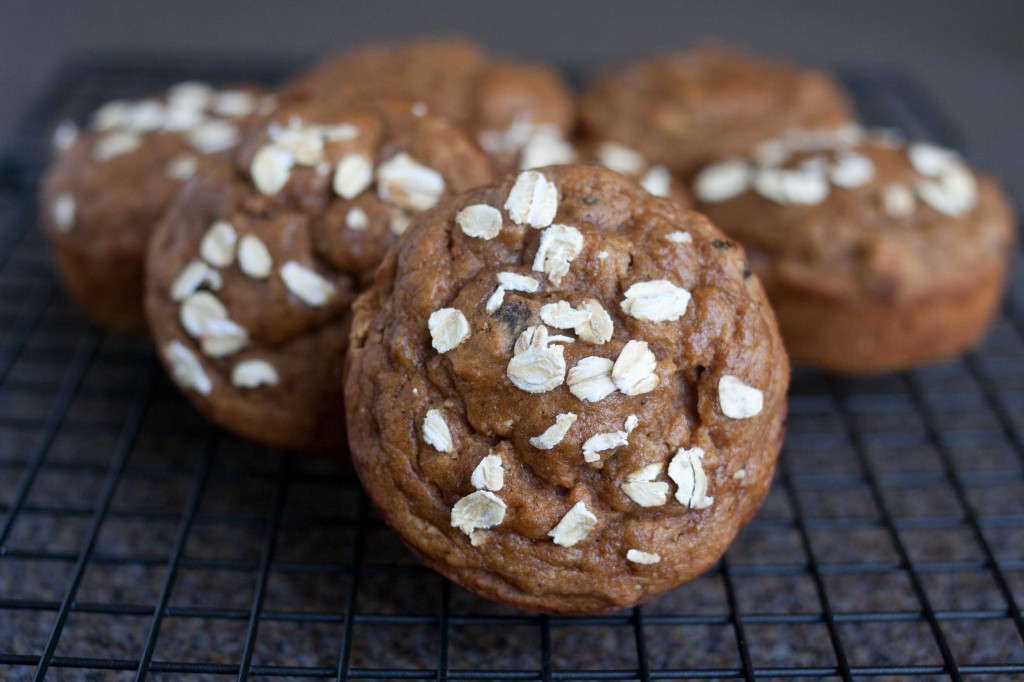 Another benefit to these muffins: Makes your house smell purrfectly yummy.