Toasted Sesame & Basil Mint Mocha Crunch Bark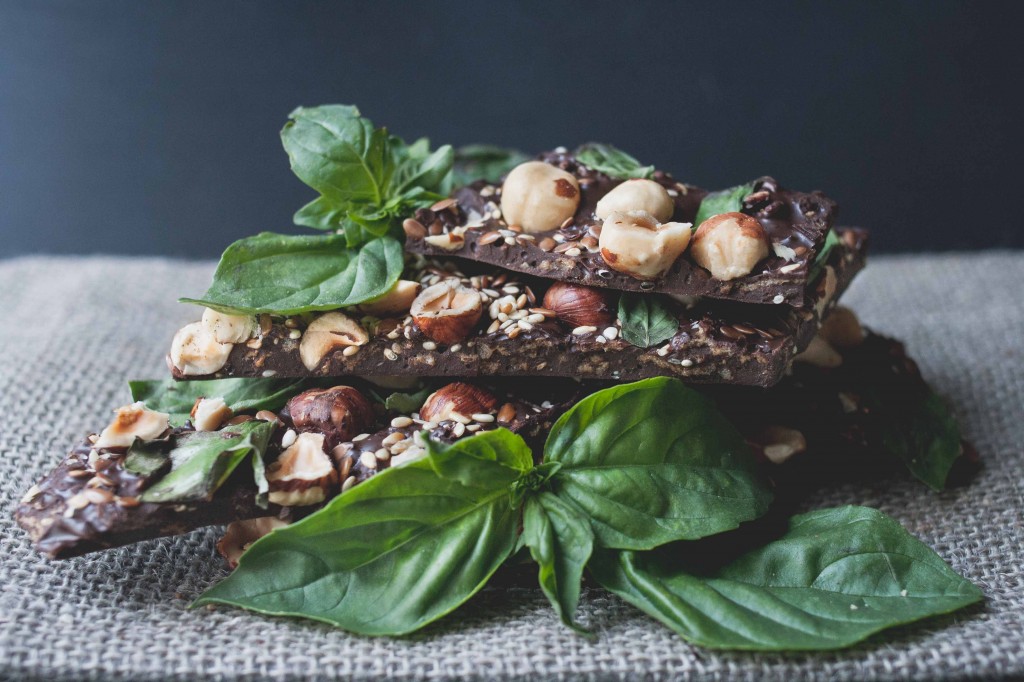 Basil & mint.
Totally digging this flavor combination lately.
I stumbled across this herb pair thanks to my desire to recreate my mint chocolate bark as well as being hooked up with some damn good basil from my really awesome friends at Swallowtail Farm.
I never really had basil like this, or perhaps I just never was able to appreciate the flavors. So aromatic with each bite, the flavors filled my palate…I tasted mint.
And that was that, basil mint chocolate was to be done.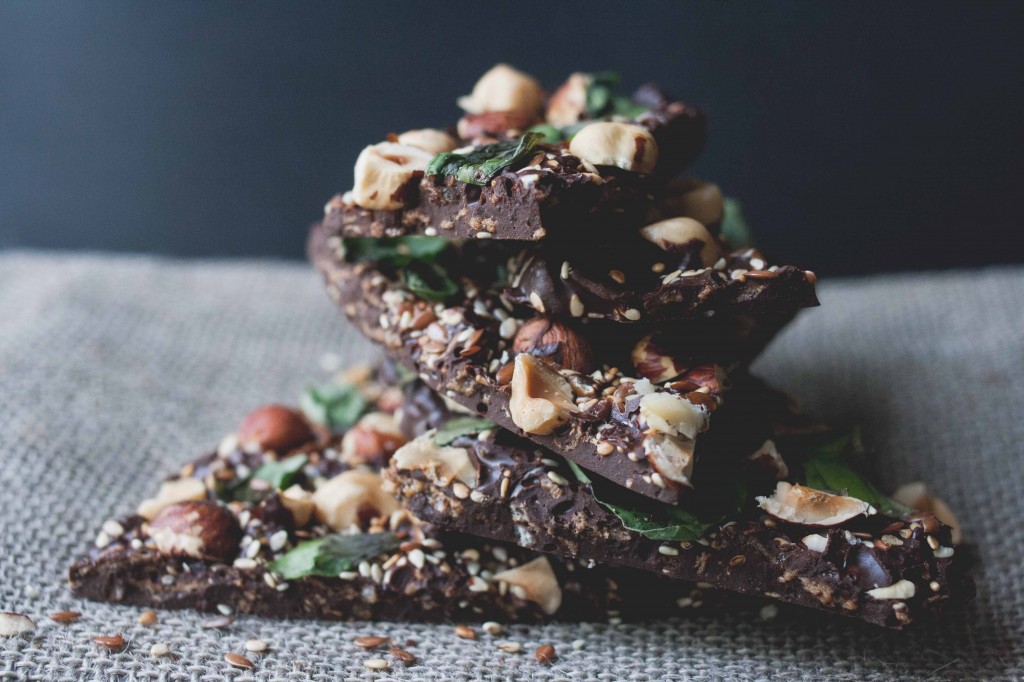 I wanted to keep the original mint choc. bark base (vanilla, peppermint, crunchy cereal) but I felt some coffee was necessary to steer in the mocha direction, as well as flaxseeds because well why not…I am glad toasted sesame seeds came to mind with this recipe, because I really feel they pulled everything together. The sesame seeds had a very intense flavor, I used 2 tbsp, so I gave the option of cutting back in the recipe. I enjoyed what they brought to the chocolate, but perhaps others may be more partial to a subtle sesame touch.
You should toast these, if you don't they probably won't do much for your chocolate in regard to flavor.
I choose roasted hazelnuts because they have cocoa notes anyway, and paired with coffee and toasted sesame seeds, I couldn't even think of a better nut to use. You can use any nut really, but I would recommend roasted/toasted for ultimate flavor pairing.
The flakes of himalayan salt I sprinkled throughout the chocolate added a really nice, subtle touch..Hints of salt in my chocolate make me always crave more..I don't know how that addiction is created..Oooh neurotransmitters…?
The flavors really developed after the third day, so I'd say make this recipe a bit in advance if you can. I really do recommend, as the vanilla, mint, and mocha flavors really come through after day two and more so day three..The sesame seeds more obvious after day one.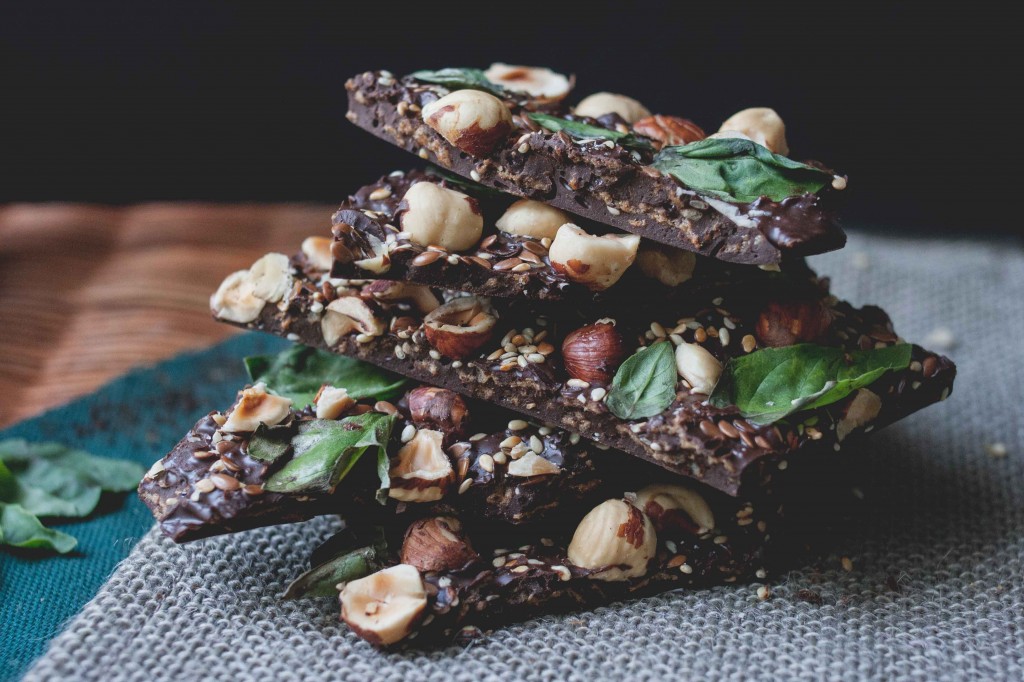 I found myself adding fresh pieces of the basil herb with each bite of chocolate. If you've never had basil and chocolate together, I would highly recommend. It is quite delicious, I'm glad I am aware of this combination..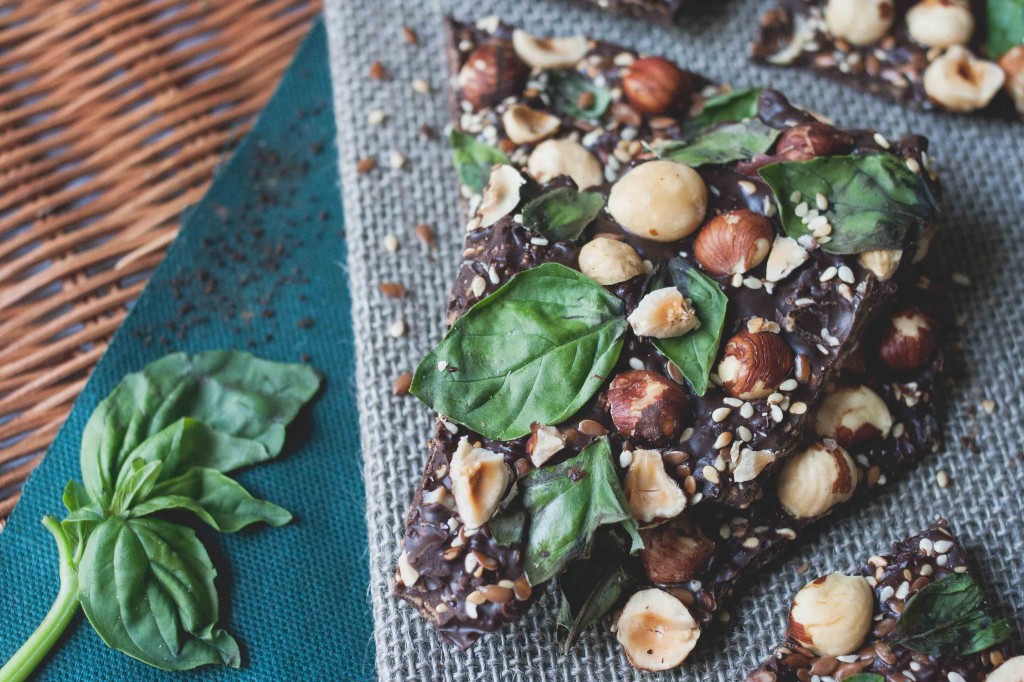 This chocolate will store for a while, but the basil shall not. You can always peel off the herb after a few days worse comes to worse, and just add fresh pieces of basil when you're wanting to eat it.
Ingredients:
2 cup dark chocolate chips
1 cup crunchy cereal (I used Erewhon buckwheat and hemp cereal)
1/2 cup roasted Oregon hazelnuts (or roast your own), chopped in halves
1-2 tbsp toasted sesame seeds (toast on skillet, med-high ~45-90 seconds until golden brown + toasty)
1 tbsp whole flaxseeds
1 tbsp ground coffee
dash of himalayan salt (sea salt or whatever works too)
~1/4 cup fresh basil
1/2 tsp mint extract
1/2 tsp vanilla extract
Directions:
1. Place sheet of parchment paper on a cookie sheet or something similar
2. Melt chocolate in anyway you please. I used a ghetto homemade double boiler, which consisted of a small saucepan with about 1/4 capacity filled with water. Bring water to boil then reduce heat to low. Stir chocolate sporadically, not too much, until melted and keep heat on lowest setting.
3. Add in vanilla and mint extracts, ground coffee, 1 tbsp (or 1/2 tbsp if using less) of the toasted sesame seeds and stir until combined.
4. Add in cereal and stir once more
5. Turn off stovetop. Pour and spread chocolate onto parchment paper. Use back of a spoon to spread out, until about 1/4-1/3 inch thick (or whatever you want really)
4. Sprinkle remainder 1 tbsp (or 1/2 tbsp) sesame seeds and flaxseeds on top of chocolate.
5. Add dash of salt now if desired
6. Place hazelnuts on chocolate and gently press down a bit so they stick in the chocolate
7. Top off with basil leaves. I picked small ones and gently pressed them into the chocolate spaces. You can use any size and just tear smaller pieces to disperse basil or larger pieces to keep the whole basil leaf. Decoration preference only really.
8. Place in fridge until solidified
9. Break up into pieces of desired size and store in air-tight container in fridge
Let sit out a bit to room temperature before serving, if preferred.
Share & enjoy