Gluten-Free Sweet Potato, Carrot, and Ginger Juice Pulp Muffins (vgn)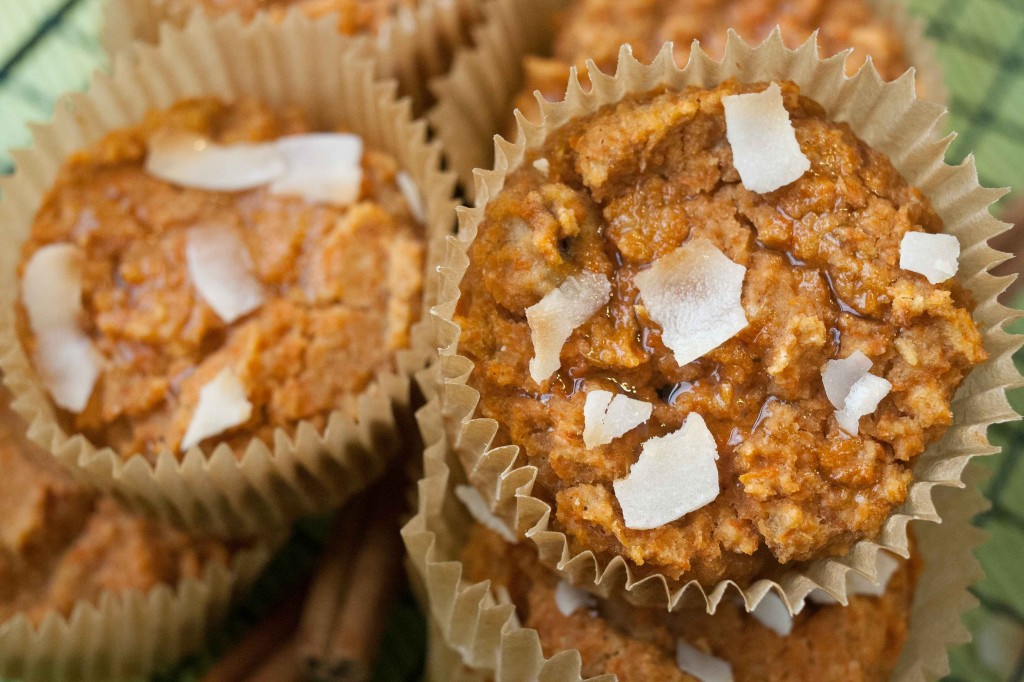 So as you guys may already know, I recently partook in a juice fast which consisted of juicing for three days straight. 72 hours of a non-stop surplus of pulp. Pulp all day long!! Instead of feeding my trash can with nutrient-laden juice remains, I decided to freeze the pulp and put it to good use. I despise wasting anything that could be used otherwise. Therefore:
Muffins.
Muffin overload in my kitchen post-juice cleanse.
I decided to make some scrumptious goodies with the various pulps that I acquired over my 3 days of juicing. Sweet potato, carrot, and ginger definitely had to be used. Juices that contain a lot of fruits, carrots, even some greens would be great for muffins. So don't be afraid of that kale, carrot, beet juice you made because that pulp would produce delicious and healthy muffins that your body would love.
These muffins are oil free, dairy free, gluten free, and vegan. Umm seconds thirds please?
I stuck to gluten-free flours for my muffins, but feel free to use whatever flour you'd like. I also made these with almond and spelt flour in the past and they turned out lovely. You may use this recipe as a base for any of your various juice pulp concoctions, but keep in mind to perhaps switch up the spices. Pumpkin spice may not go well with a spinach, carrot, orange muffin. Cinnamon, cloves, nutmeg, or cardamom, are some good variations of spices to use, or you may leave them out completely.
I used unsweetened vanilla almond milk in these so I disregarded adding in extra vanilla. Keep that in mind, unless you'd prefer extra vanilla muffins.
The mashed banana is an egg substitute. I thought it did great here, but you may use a flax egg instead if you'd like. I've used flax eggs before in this recipe and turned out great. I love a nutty flavor addition to muffins anyways.
Oh yeah, I tend to use all of the pulp from the juice I've made which may be more than 1 cup. You may use more than that, but I'd recommend at least 1 cup pulp. Also, keep in mind the variance of texture, wet-to-dry ratio, and cooking time when adding in more wet pulp.
The unsweetened coconut flakes were a last minute addition that I knew I just had to throw in. Use 1/4 cup for the batter and another 1/4 cup to sprinkle on the tops. Or you can do either or. Also, I really would suggest raisins (or golden raisins if you have access) as they would be a perfect touch to the spices in here. If I had some I definitely would've added. Raisin cravin'.
Drizzling coconut oil once out of the oven and slightly cooled is an incredible idea to take these muffins to the next step of healthy and superb vegan muffins. These are truly a healthier muffin alternative that retains flavor and moistness. These would be great as an on-the-go breakfast muffin, or simply an all day type snack deal.
Even if you're not a fan of coconut flakes, you may still enjoy this muffin extremely well. Just look! Mmm…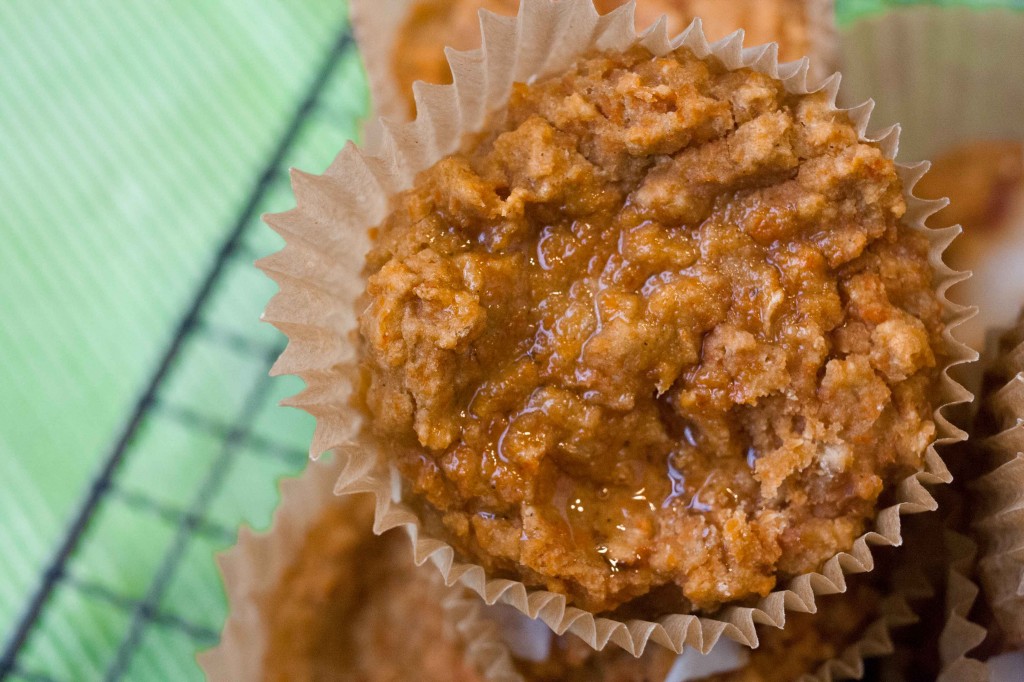 They're good with almond butter too!
Ingredients:
Dry:
1 cup millet flour
1/2 cup garbanzo bean flour
2 tsp baking powder (gluten/sodium-free if possible)
1.5 tsp pumpkin spice
Wet:
1 cup non-dairy milk
1 cup juice pulp (I used juice from 1 medium sweet potato, 4-5 carrots, ginger chunk)
1/4 cup mashed banana (about 1/2 banana)
1/4 cup maple syrup (coconut palm sugar and honey works too, honey not vegan)
1 tsp vanilla
1/4-1/2 unsweetened coconut flakes (optional)
1/4 cup raisins (optional)
Combine all dry ingredients in a medium bowl and mix well. Combine wet ingredients together and incorporate into dry.
Preheat oven to 350.
Line muffin pan with muffin liners or nonstick cooking spray.
Fill muffins about 3/4 full. These muffins can make 10 good sized muffins or 12 slightly smaller ones. Your call

.
Place muffins into oven once heated and bake for about 20-25 minutes or until insides are cooked to your preferred texture. Toothpick will come out clean.
Remove from oven and set muffins on cooling rack.
Drizzle with coconut oil for a splendid treat.
Now this is what moist looks like. Sink yo teeth in…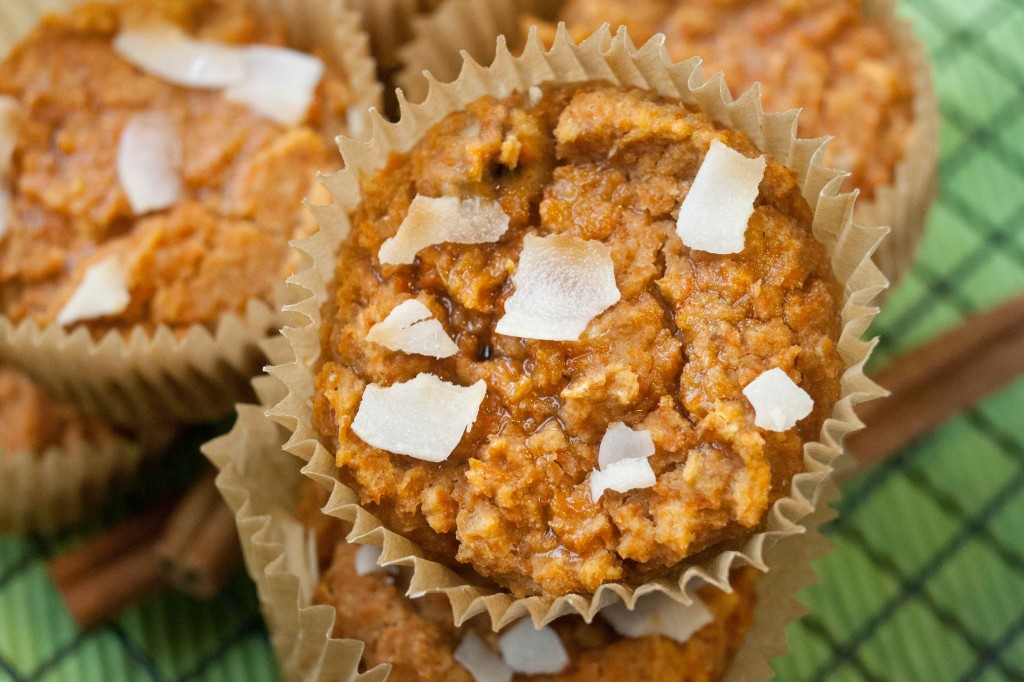 I actually decided to leave three muffins for the next day. Self-control. (Well I'm working on it…)