GoBites!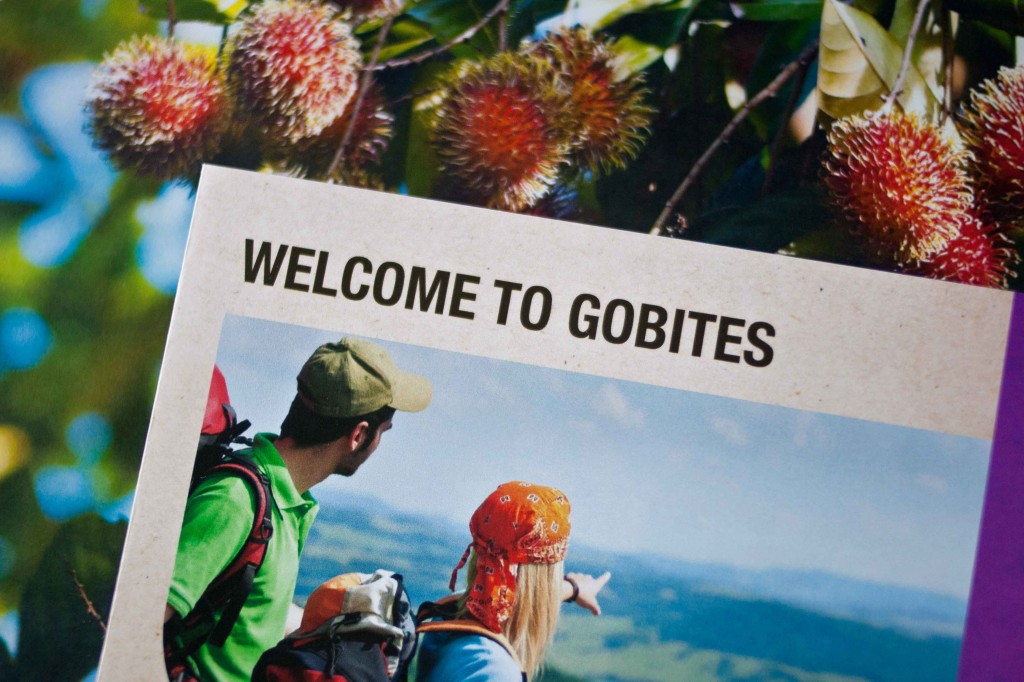 So I recently stumbled across this company called GoBites. They're having a free sample sorta deal going on where all you pay is shipping ($4) for a variety of four of their snacks.
I was a bit wary at first, but definitely curious nonetheless. I looked at the menu, ingredients, and nutrition facts and was hooked! They provide perfect portion sizes for when you need that extra boost throughout the day. GoBites is certified organic too.
They provide such unique ingredients! Jack fruit, mulberries, rambutan, cacao nibs, white figs, apricot kernals. GAH! I was happy with my samples. I also appreciated how they sent a print out of the nutrition facts for each of the GoBites that I received. I believe I specified gluten free and that I was on a low-glycemic diet. I received:
Chocolate Monkey: (not pictured because I ate it too quickly). I loved the canvendish bananas in this! It wasn't just banana chips that really do not taste like bananas at all. They were chewy and delicious. The chocolate chips were wonderful too! Rich and dark chocolate flavor. I saved some of the chocolate chips to put in my oatmeal

. Came with yummy raw cashews too.
Sweet Siam: (not pictured as well because I brought it to class and was hungry!). I really enjoyed this one. The rambutan (never had it before) was delicious. I saved those pieces for last because they were my favorite. I love the texture of dried fruit. This also came with golden raisins. I honestly feel as if I've never had such a sweet raisin, wow so yum. The walnuts definitely did not let me down.
Antioxidant Mix:
Enjoyed the flavors of this one a lot! Sweet, tart, and salty. I thought the pomegranates were unique, as the thought of roasting or dehydrating pomegranate seeds had never crossed my mind. Dried pineapple always a lovely, sweet, and chewy delight. The other mixture of nuts fused perfectly, in my opinion.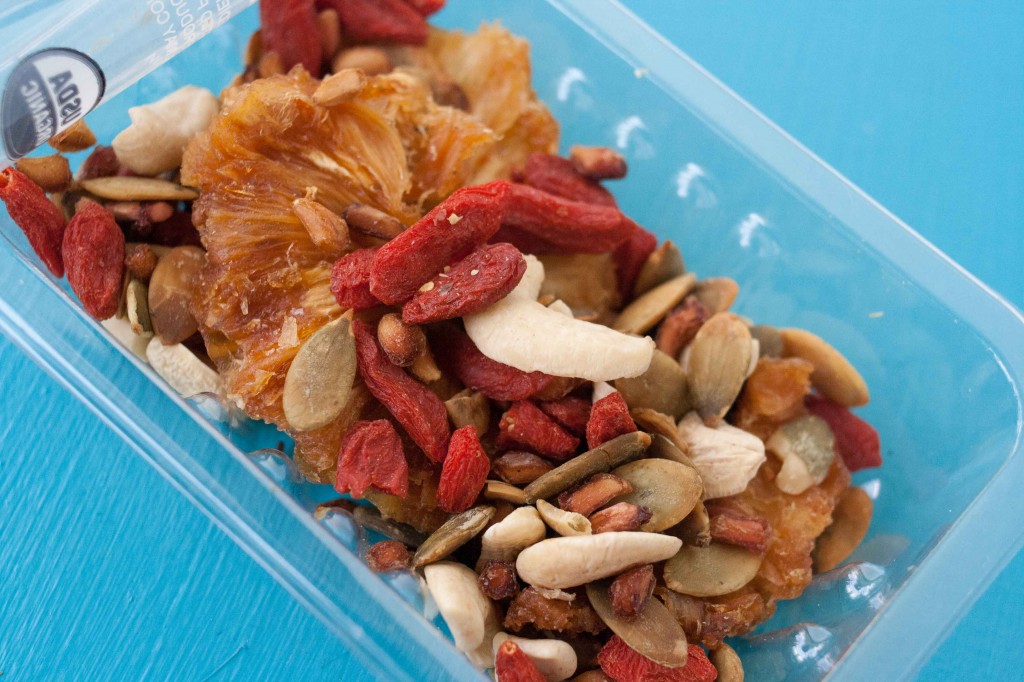 Path to Tibet:
Omg wow. I did not expect this trail mix to be this good. My first bite was a dry roasted almond and SO good! Crunchy, whole, and wonderful. No heavy oil taste, nor salt which I am very happy about. I dove in for a mulberry next. Never had one of these babies! So spicy and awesome. I ate each piece of this mix on its own because every bite was savor-able. I could taste each little sunflower seed. So fresh. Every vibrant red goji berry filling my body with antioxidants. The golden cherries in here added a nice tartness to the mix. Path to Tibet mix has 50% DV of Vitamin C, 30% Vitamin A, 10% Calcium, and 15% Iron!!! 5g fiber and 8g protein, among the other good nutrition facts. This is what you should be feeding your children! Not fruit roll up or other processed, sugar-filled detrimental stuff.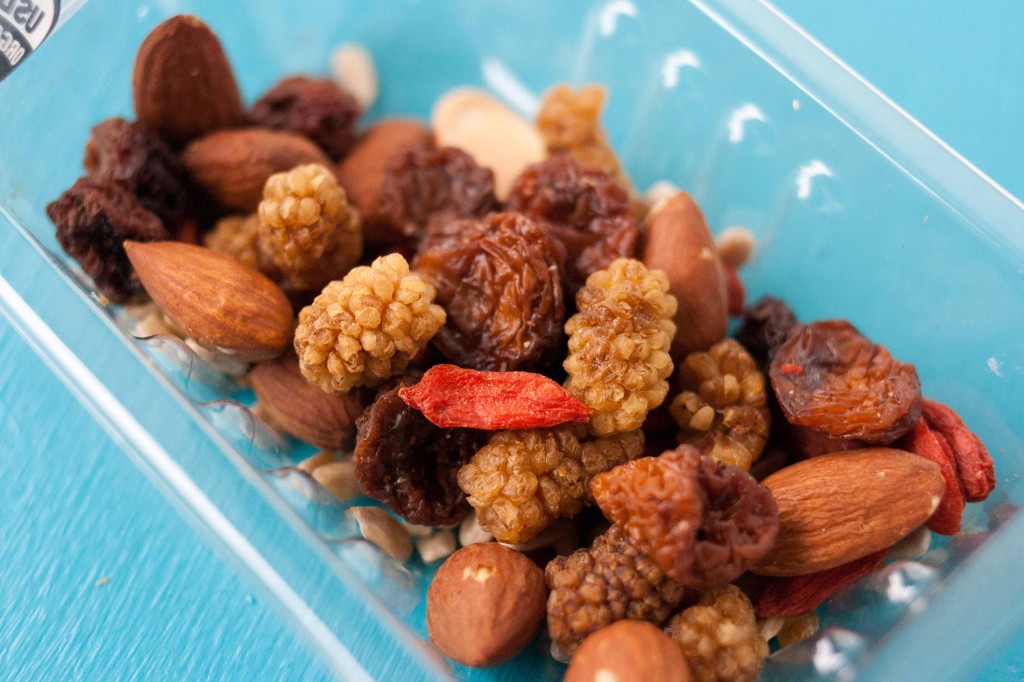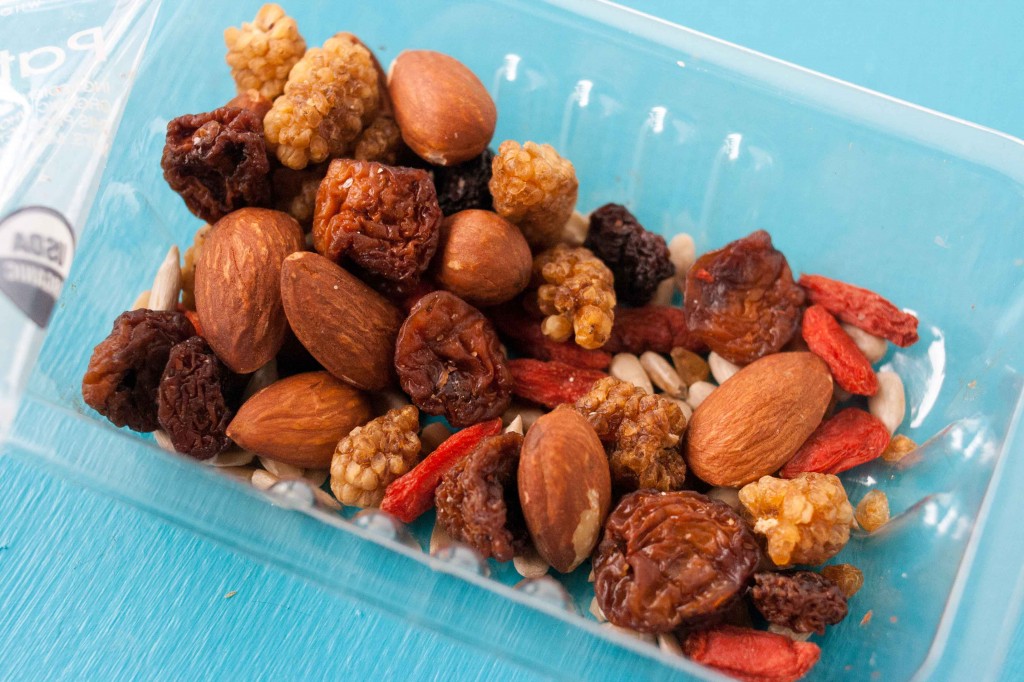 Check out the menu here. You can see the nutrition facts and ingredients if you click on each picture. I also noticed that this company is from Miami…Close to my hometown in Ft.Lauderdale, hello

I'd love to try the Hanging gardens, The Silk Road, Jack of all Fruits, A Nut from Ipanema, and Mayan Treasure next. Honestly, I would love to try them all as they all look wonderful.
I am really appreciative of what GoBites is doing: providing a variety wholesome organic snacks to those who want it. Everytime I am in a rut of needing an on-the-go snack, but do not have time to make my own bars or trail mixes, I opt for packaged trail mix. The problem with most mixes is that oils, sodium, and sugar are added in for taste (I beg to differ). GoBites does not do that thankfully. Finally somebody understands me!
There is hope for the healthy!