Wheatgrass and Some Other Friends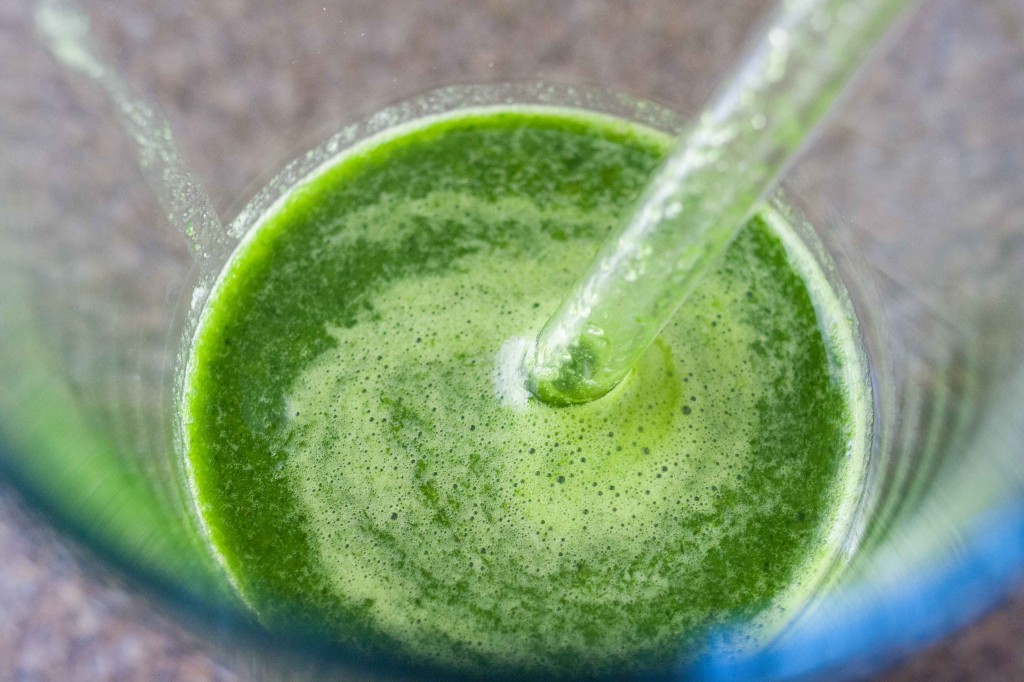 I'd have to say, today's juicing was definitely more my style. Not too sweet, packed with greens, and oh so spicy from the lovely ginger.
After yesterday's sugar overload, I decided to take it easy on the fruits and use more greens. I was a bit skeptical if this was even going to taste good but have no fear my friends, it tasted amazing. The kiwi and ginger work perfectly together. I probably could've even left out the apple..I'll have to experiment tomorrow. I think next time I will add in a cucumber or celery for volume, nutritional benefits, all while staying low glycemic. This smoothie did turn out a bit small, but I found it to be a perfect pick-me-up and a safe choice after consuming too much juice yesterday.
I was really excited to finally use wheatgrass too! Wheatgrass is amazing for you. I know that you should start off taking wheat grass in small amounts (1 oz at first) so your body can get used to it, so don't over do it peeps. I have been consuming wheatgrass powder everyday for over two months, but I'm going to try incorporating fresh wheat grass juice instead everyday if I can as I feel the fresh juice would be more potent. Read about the benefits here.
Watch this guy juice wheatgrass as well as talk about the benefits. The fresh coconut water and wheatgrass juice combo at the end looks amazing, I need to get on this.
Like the guy says, wheatgrass is medicine to him. My foods are my medicine. If I'm sick you won't see me running to the store to buy vitamin C pills, I'll be buying citrus fruits (among other vit. C-rich foods) and running to my juicer. I have a pharmacy in my own home!
For summer classes, I have to wake up at 7 am Monday-Thursday. Tons of fun, I know. But I've been drinking freshly made juices everyday, along with eating raw overnight oats for breakfast of course, and I feel fantastic throughout the day. My energy levels are great, except sometimes in chemistry but what do you expect..2 hour chem class at 8 am can be a tad strenuous. Anyways, I find myself more eager to learn and be productive throughout the day. I feel as if I've finally found some balance with my eating habits and my body.
After class today, I decided to go for a run and ended up being outside for over an hour! Don't really know where the time went but it was beautiful outside. Simply walking and listening to some of my favorite music lately- The War on Drugs, Blind Pilot, Bon Iver, and whatever random jazz came on.
I even saved an earthworm's life! Hah. It was wiggling under the hot morning's sun on the pavement so I picked it up and put it back in the dirt. This was the second earthworm's life I saved this week, felt good.
Here's an amazing song by another one of my favs, Iron and Wine.. I used to be a bit skeptical of his new album when it came out last year but I actually gave it a chance and it's beautiful. He's amazing live…Not that I had the wonderful opportunity to see him yet, but so I've heard/seen youtube videos.

Serves 1:
1 kiwi
1 small apple
4-5 large kale leaves
handful of wheatgrass
small chunk of ginger
few sprigs of cilantro
Get your juicin' and health on.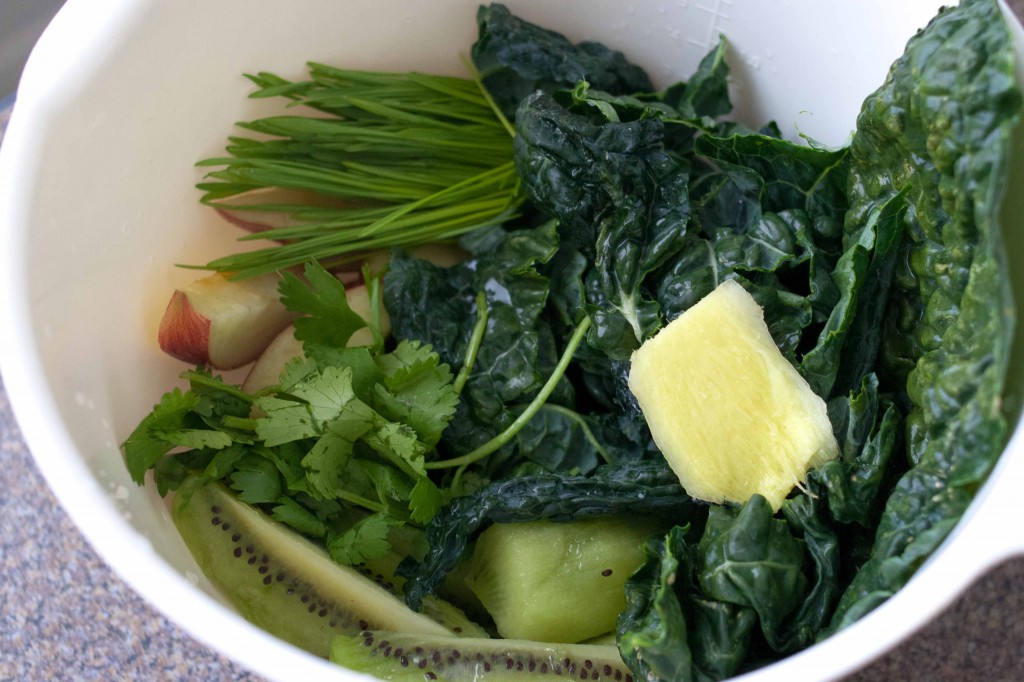 Variety is key, but I'd like fresh wheat grass and ginger to be staples in my juices. Ginger has really been helping with my stomach it's awesome.
Hope you find the ingredients beneficial to your body!