Banana Nut Butter Muffins (Vgn option, Dairy-free, Oil-free, Refined Sugar free)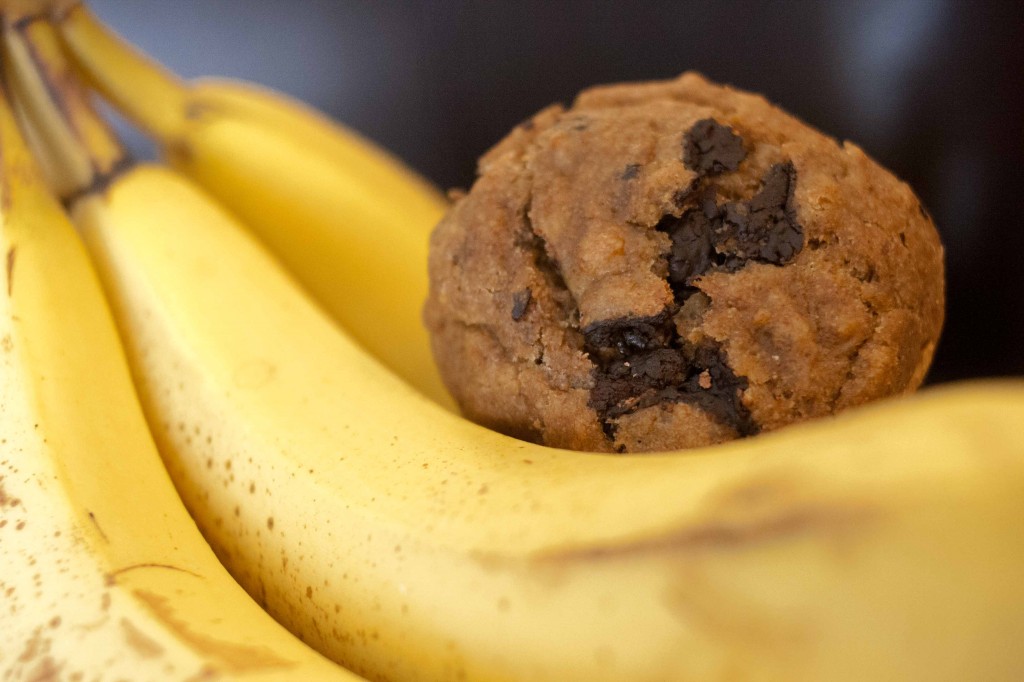 Man, I seriously have been eating some form of banana bread for the past 5 days straight. Ha. Don't really know what sparked the craving but it definitely assisted in my search for a quick and easy, healthy, yet tasty muffin. Definitely didn't want to use any oil and wanted to keep the sugar content low. 100% whole grain flour base with very bittersweet chocolate (more antioxidants!), so yum and not sickeningly sweet.
There was a lot of coffee leftover so I thought might as well add it in to make a coffee banana bread! It didn't have an intense coffee flavor, so I'd say you can definitely omit it. Just add a bit more non-dairy milk as necessary.
Next time definitely adding walnuts! Ooh so good.
I ate about 6 of these the first day and overall I ate the whole batch except for 3, lol. I cannot control myself around healthy goods. These held up very well in the fridge for a few days (I'd even recommend doing so) and super moist. I'm glad I found a staple banana bread sans eggs and oil, with little added sugar.
I also felt really energized throughout the day…These would be a great breakfast or pick-me-up snack.
Dry:
2 1/2 cups whole wheat flour
1 tsp baking powder (gluten/sodium free is possible)
1 tsp baking soda
1 tsp cinnamon
1/2 tsp nutmeg (optional)
Wet:
3 large very ripe bananas, mashed well
1/2-1 cup non-dairy milk (start with 1/2 cup then increase if needed)
1/2 cup raw honey (maple syrup to keep vegan)
1/2 cup unsweetened applesauce
1 cup coffee (optional but add more milk if omitting)
3/4 cup peanut butter (almond or any nut butter would work)
2 tsp vanilla
1/2 cup 90% cacao pieces (any dark, semi or bittersweet chocolate will do)
1/2 walnuts (optional)
Combine the dry and then combine the wet separately (excluding chocolate chips and nuts). Mix the wet in the dry and then combine. Fold in chocolate chips and nuts now, if desired.
Line muffin pan with liners or non-stick cooking spray and bake at 350 degrees for about 20-30 minutes. Ready when slightly browned and toothpick comes out clean.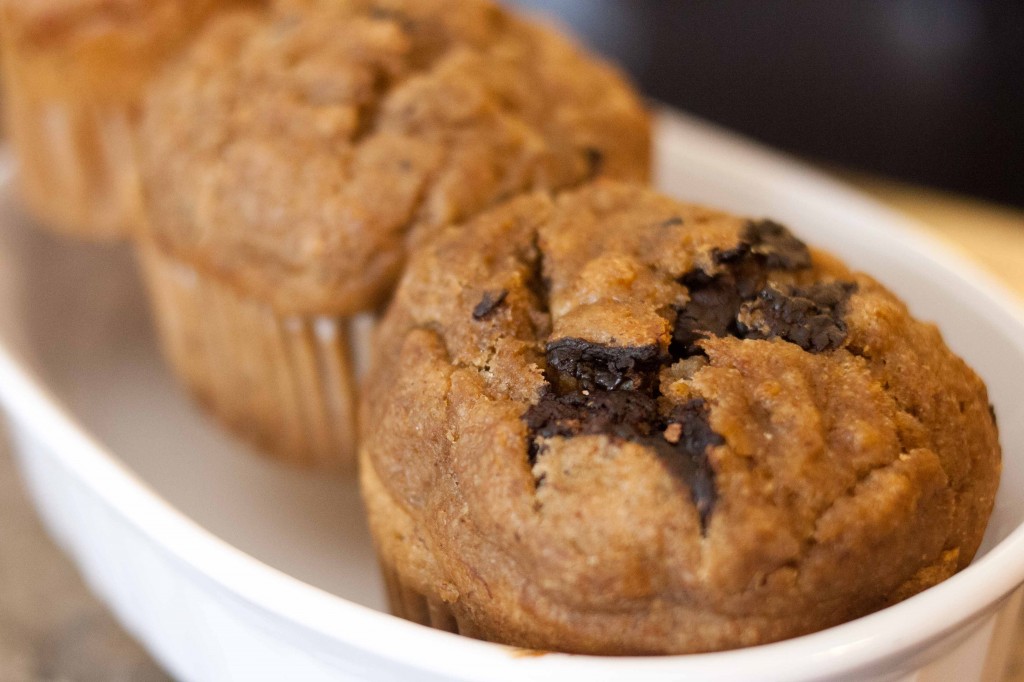 Not quite sure what was going on in this pic, ha, but I liked it for some reason. Kinda reminds me of a caterpillar. Made of muffins.
Mmm swell.