Flaxseeds, Omegas, and Our Health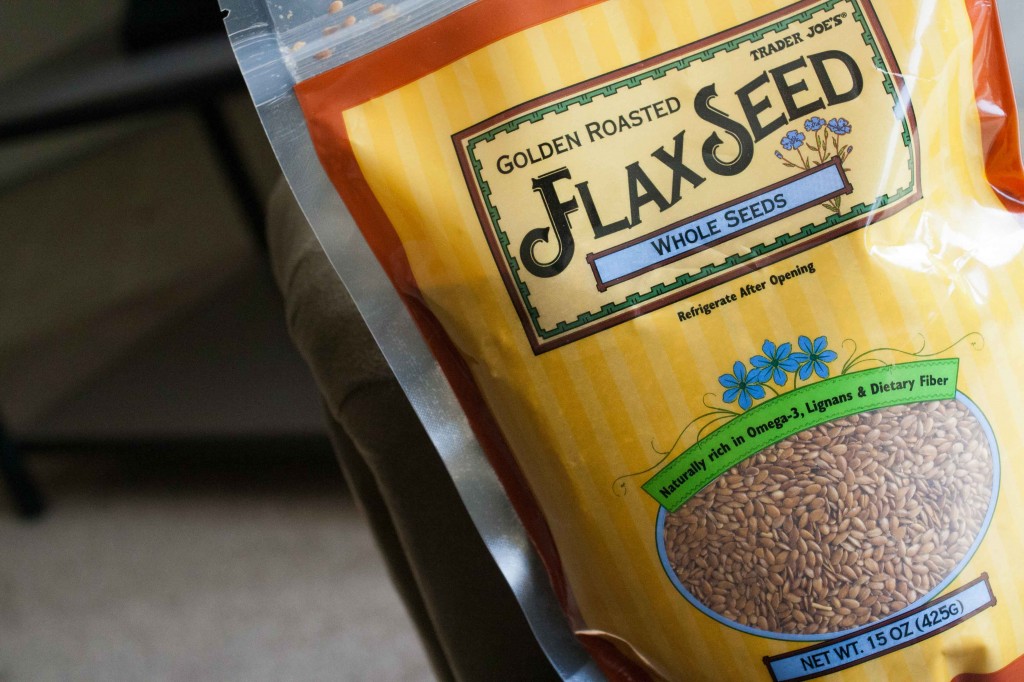 Salutations readers, I'd like to throw out on the table some information about flaxseeds and their essential fatty acids that are well, essential to our health.
Flaxseeds are composed of the essential omega-3 fatty acids, fiber, and lignans. Lignans are found in several plant based foods. A high concentration of lignans present in one's diet has showed positive correlations of reduced risk of hormone-related cancers, osteoporosis, and cardiovascular disease. I must note that these claims are still unclear though. Most of the oils in flax seeds are ALA or alpha linolenic acid, similar to the fatty acids found in salmon and other fish.
ALA is a precursor to EPA/DHA, therefore it is the shortest and simplest fatty acid containing 18 carbons. EPA is created with an addition of a double bond (desaturation) as well as another pair of carbon atoms (elongation) to ALA. If another pair of double bonds/carbon atoms are added, then it becomes DHA (supports retina health, brain functions, cognitive performance, etc).
The essential fatty acids found in fish are EPA and DHA. Some studies have showed that our bodies can convert ALA into EPA/DHA, thus providing benefits of both. It's also mentioned that the conversion of omega-3′s isn't too efficient and does not provide all of the EPA/DHA benefits that are necessary. For those who are vegetarian, vegan, or simply just do not eat fish, flaxseeds are a great source of getting in your omega-3 essential fatty acids. It is important to note that maintaining a proper ratio of omega 3 to 6 is crucial. One must have a low ratio of omega 6 to 3, as the opposite can cause an imbalance that can lead to diseases and other negative affects. Plant-based diets (especially western diets) can have the tendency to provide a bit too much of those omega-6′s. Products containing vegetable oils, such as soy, corn, cottonseed and grape seed oils, as well as whole wheat cereals and breads have high amounts of omega-6.
It's of the utmost importance as well to avoid hydrogenated oils because it can inhibit how our body produces EPA/DHA. Also, hydrogenated oils are filled with trans fatty acids which can cause a number on our health. Hydrogenated oils are typically found in mostly anything prepackaged such as cookies, butters, nut butters, chips, crackers, baked goods, etc. Hydrogenation is the chemical process in which hydrogen is added to oil which solidifies it, voids it of its nutrient properties, and extends the shelf-life of these products.
Always check the ingredients to see whether or not the product contains omega-6 (look for the vegetable oils)  and/or hydrogenated oils. Try and sub out these omega-6 oils with monounsaturated oil choices (olive, canola oil, etc). Hemp seeds and walnuts are a good source of omega-3′s too. Not to forget to mention about the lovely chia seeds of course…
Diets rich in omega's can help lower LDL (bad) cholesterol, heart disease, cancer, inflammation, as well as several other diseases, infections, and possible heath concerns.
On another note, make sure you grind these babies up. Ground flax seeds are far superior for providing nutrients than that of whole flax seeds as well as flax seed oil. Whole seeds just don't do the trick and the oil lacks the fiber and other lignans that your body will be thanking you for later. Our bodies cannot extract the nutrients from the whole seeds unfortunately. If possible, get some whole flax seeds and then grind them yourself. Make sure to store flaxseeds in an opaque, sealed tight container in the fridge or freezer. I put mine in the freezer. The opacity prevents the light from speeding up the process of rancidity of the flaxseeds.
As for pre-ground flax seeds, overtime oxidation can deplete the nutritional value of your lovely pre-grinded seeds, tear. Grinding them yourself can be easily done in a coffee grinder or food processor, that way you have freshly ground nutrients with no worries for nutritional content being lost! Wooo hoo justice. Also, sometimes how the whole seeds are processed can deteriorate the nutrient content. Sigh corporate america, just tryin' to make a buck!
Roasted flax seeds are a common occurrence in the flax world and I too had the question of whether or not roasting would diminish the nutrients. Turns out that roasting the seeds actually diminishes the moisture level in the seeds, which in turn enhances the nutritional content. Yay =)
Also for a healthy egg-substitute in baked goods, try flax egg. What? Yes, flax egg.