Non-Dairy Yogurt Review
Some reviews of non-dairy yogurts for your curiosity.
Generally there are a variety of each seed or nut yogurt alternative, be aware of the ones that have a large amount of added sugars.
First off, SO-Delicious: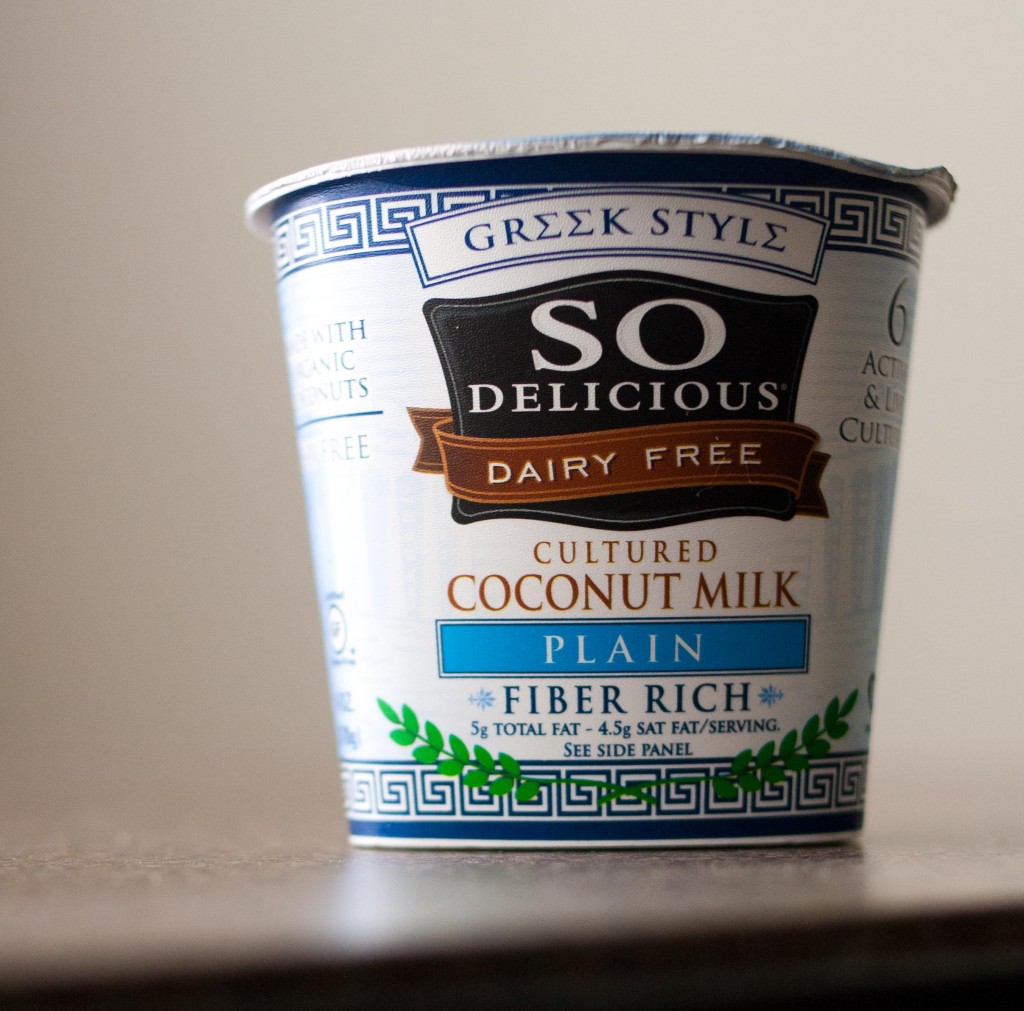 I choose the plain because it had the least amount of sugar and the "greek" because I enjoy greek yogurt. It tasted really good, I thoroughly enjoyed the hint of coconut. I was not a huge fan of how they have no unsweetened flavor. It wasn't a huge amount of added sugar, but still I'm not a fan of excess cane sugar in my food.
The thickness compared to the other greek yogurt varieties was definitely more like a cross between normal yogurt and greek yogurt. Ha, sorry that seems to be evident, but it's true. It's just a thinner version of the really thick greek yogurts. Maybe that's because it contains less protein perhaps (2 grams)?
I really love how it has added Vitamin B12(35% DV) and D(30%)! Included too is magnesium (35% DV), Calcium (35%), and Iron (4%). That's great considering there is a slight risk for vegans to become deficient in the B12 and D. Vit D also helps calcium absorption, yay.
Similar to normal yogurts with the beloved live and active cultures but soy free, non gmo, and vegan. Wonderful source of fiber (9g), holy (happy) cow. Yes, 4.5g of saturated fat, but it's all from the coconut's fatty acids.
SO-Delicious has so many flavors. Click the link to view them all.
So overall, if they made an unsweetened flavor (oh yeah and lowered the price) then I would definitely buy again!
130 cal| 5g fat| 4.5g saturated fat| 130mg sodium | 22g carb| 9g dietary fiber| 7g sugar| 2g protein
Amande: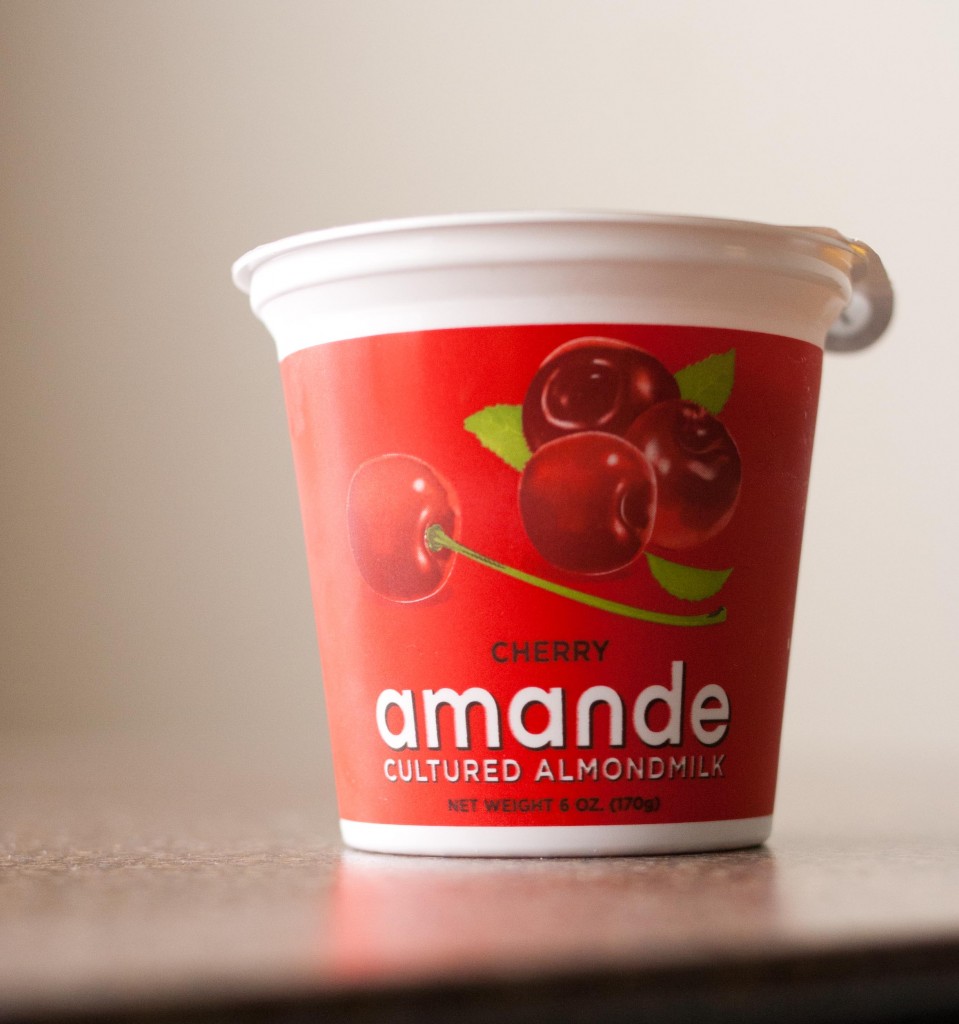 Amande is made with almond milk. I tried the cherry flavor, I love cherry and almonds together, one of my fav combos. It did taste delicious indeed. They have blueberry, cherry, vanilla, peach, coconut, raspberry, and plain.
It's sweetened with fruit juice concentrate too. Not sure how good I feel about the "concentrate" part, but sweetened with fruit juice is a nice alternative to the other sugars out there!
No unsweetened flavors as well here, but they do have a plain (10g sugar). I always will prefer plain/unsweetened though.
Has a nice dose of calcium (30% DV), soy free, and vegan as well which is nice. No artificial flavors or additives which are always a gold star to me.
I would love to try all of these flavors, but probably wouldn't buy them myself because of the sugar content sigh.
150 cal| 6g fat| 0g saturated fat| 10mg sodium | 23g carb| 2g dietary fiber| 14g sugar| 3g protein
Green Valley Organics: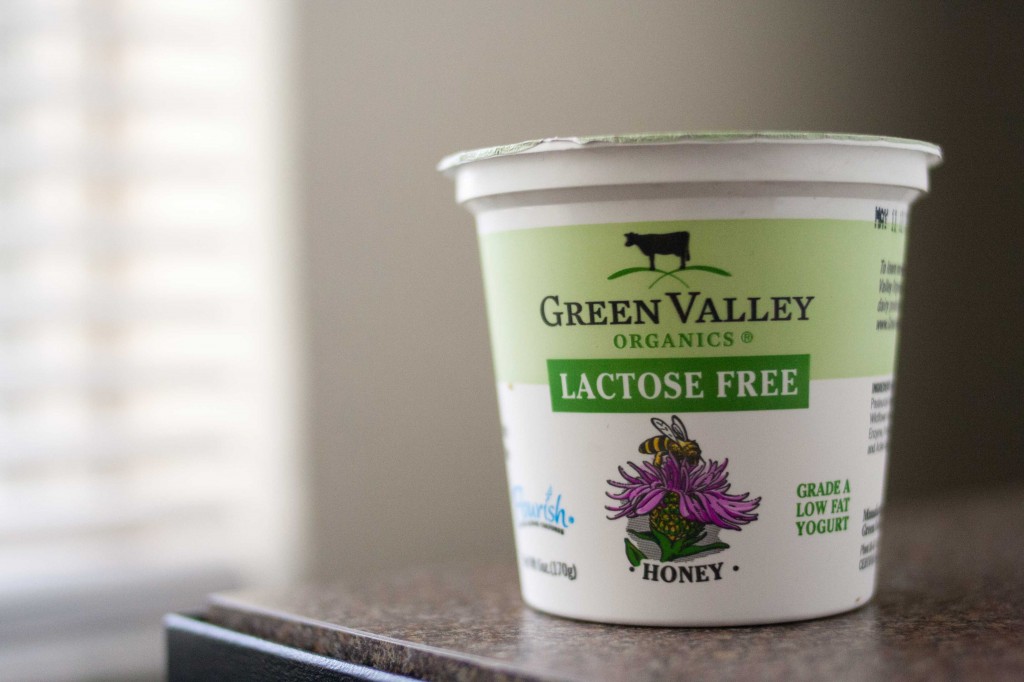 This contains lactase, the enzyme that breaks down lactose (the sugar in dairy products). This is not vegan because it does contain dairy and in this particular one, honey.
I did not see the plain flavor at Whole Foods, so instead I purchased the honey one. Still kind of high in sugar, but this particular yogurt is only sweetened with organic wildflower honey! This specific honey has been my favorite lately. I just picked up some raw wildflower honey the other day and it is divine. Something about it has that extra spice that is just oh too delicious.
Moving on, all of Green Valley's yogurts are sweetened with organic cane juice except the plain and honey flavors. As much as I would like to try the other flavors, there is just a tad too much sugar for me. Especially since I still would like to avoid the evap. cane sugar where I can.
Overall the flavor was very yummy and the consistency was definitely reminiscent of normal yogurts (non-greek). I feel as if many would enjoy this yogurt because of the texture, very smooth.
The plain is unsweetened, but still has naturally occurring sugar (8 grams) from the milk, and has 8 grams of protein! All have 25% DV calcium too. 10 live and active cultures, as well as no preservatives, additives etc. The company states on their website that their farms are certified humane and are powered by solar energy!!! I really like that, Green Valley Organics seems to care more than just about making a buck. It's refreshing to see a company strive to be healthy, eco-friendly, and most importantly make their customers, employees, as well as their animals happy.
Honey:
140 cal| 2g fat| 1.5g saturated fat| 10mg cholesterol | 79mg sodium | 24g carb| 0g dietary fiber| 17g sugar| 7g protein
WildWood Probiotic Soyogurt: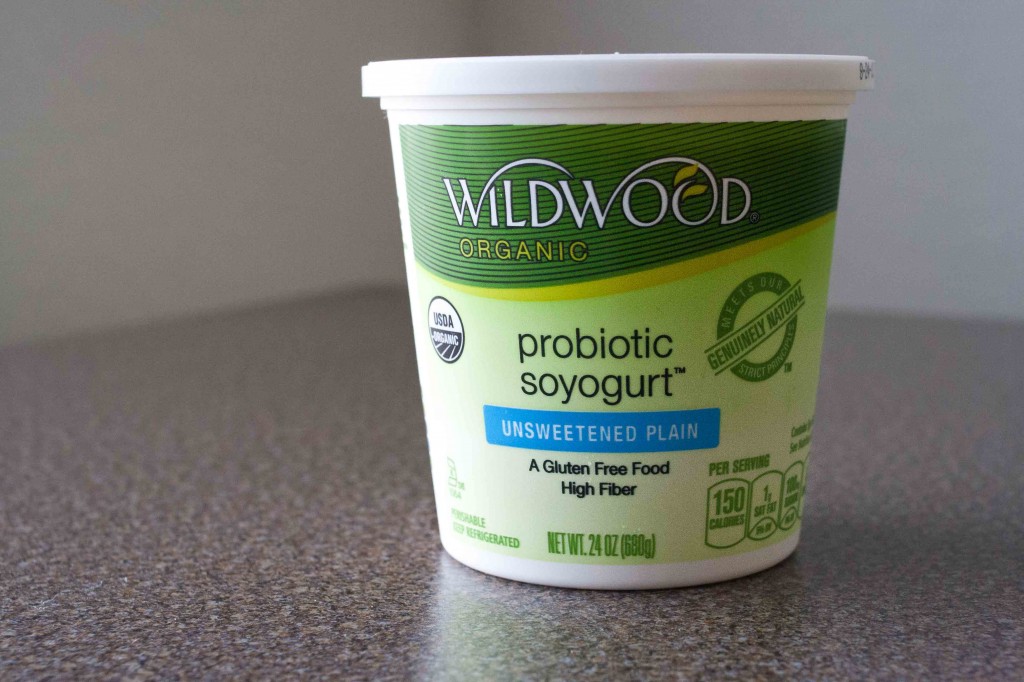 I have to thank my reader Carol for this suggestion! I actually saw it at Whole Foods last time I went, checked the ingredients and nutritional facts and decided it was a go for sure. The texture on this was thin, similar to normal yogurts. I added in some chia seeds to thicken it up a bit as I enjoy the thicker yogurts. Worked great. I could see how this would be a great addition to a smoothie as Carol had mentioned as well. I was happy to find an unsweetened plain non-dairy yogurt, my first score of such kind. I honestly didn't mind the taste plain, but an addition of stevia and some berries definitely helped…
The price on this was a bit cheaper than other mentioned yogurts! Click here to see WildWood's other vanilla flavor.
Low in sugar, high in potassium (390mg), calcium (30% DV), fiber, protein, and a few other vitamins and minerals as well. I must note that the serving for this yogurt is about twice that of the previously reviewed yogurts!
150 cal| 5g fat| 1g saturated fat| 0mg cholesterol | 100mg sodium | 21g carb| 8g dietary fiber| 3g sugar| 10g protein
I feel as if in a year or so non-dairy yogurts will have a larger variety for us to choose from. I have already seen several, but not too many unsweetened plain and lower sugar choices. I really do want to try them all, so I'll be updating this post as time goes by.
If any of you guys have tried some, let me know!