Really Dense Energy Muffins (Vegan)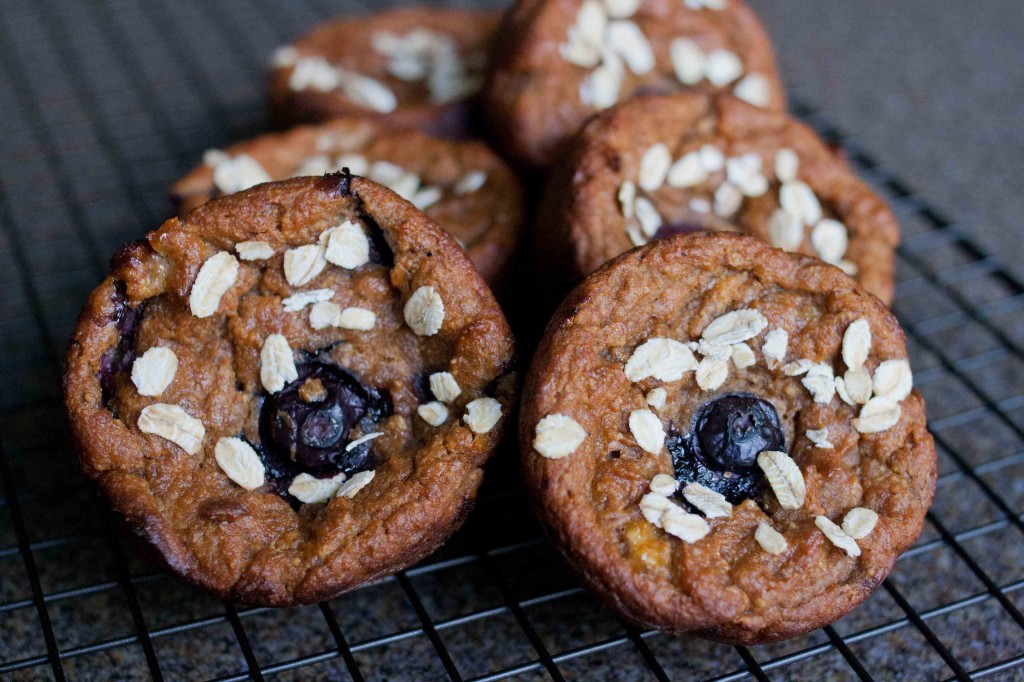 So here's my "power muffin" creation of the recent spelt/millet flour muffins. Check out the nutrition facts below to see for yourself

. Eating one of these would be a great energy boost throughout the day or even as a nutritious dessert. Although healthy, I found myself licking the bowl of what batter was left. I never do this.
I also ended up eating FIVE muffins over the course of one day. I could foresee myself doing this one though.
It's an egg-free batter, so no need to worry about salmonella here.
The word "dense" really is significant in the name.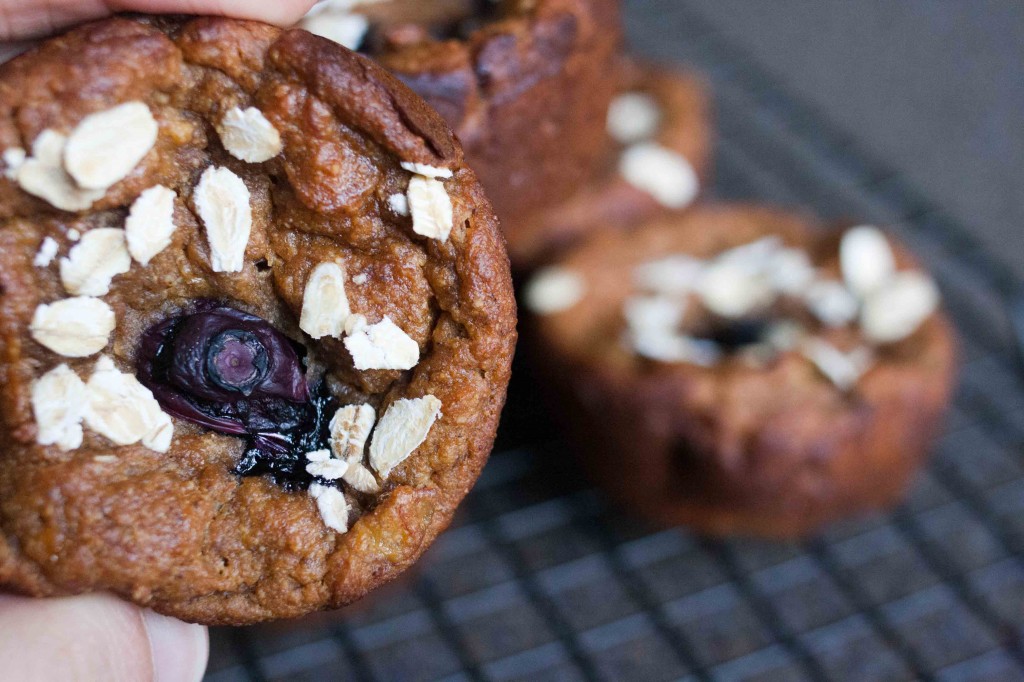 I turned out really happy with these. Less coconut palm sugar worked perfectly here and the texture of these muffins once left in the fridge for a few hours is divine. Keep 'em in the fridge. They're even better the next day and the following few days as well..Texture gets so moist and super dense. At first, I was a tad disappointed because the muffins weren't cooking correctly. Inside still undercooked, but outside starting to brown. I'm thinking this was from the amount of greek yogurt in the recipe, which made it really moist in the end. I also used my new almond flour from Trader Joe's

. Thanks, dad.
Almond flour is known to make baked goods more dense, so maybe it was partially that too. I ended up baking these for 38 minutes (!) when the muffin outsides were begging me to let them out. The insides still confused me and looked a bit undercooked but I left them in their muffins tins to cool before placing on the cooling rack. This cooked them up a bit.
For future recommendations I would suggest to try less greek yogurt and possibly some non-dairy milk instead. Or even sub another flour for the almond. I'm going to try the actual recipe of the previous spelt/millet muffins but with less sugar, and some greek yogurt added for protein.
Oh, and definitely more blueberries.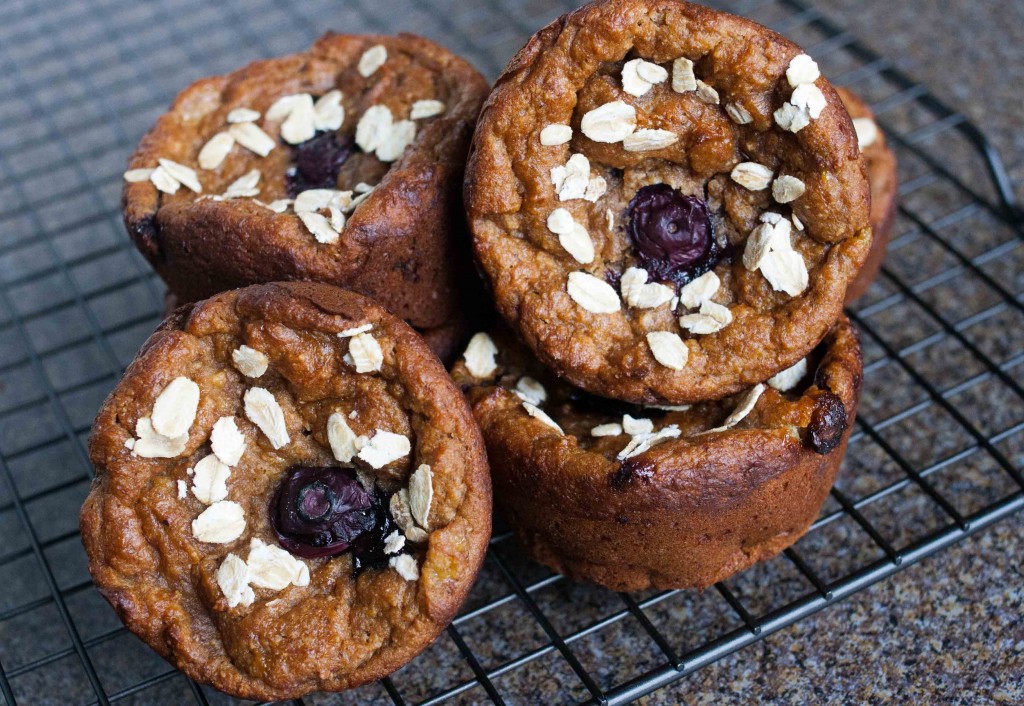 Serves: 8 (or 1-2 crazy kids)
Dry:
1/2 cup almond flour
1/2 cup spelt flour
1/3 cup coconut palm sugar
2 tsp baking powder (gluten/sodium-free if possible)
1 tsp cinnamon
1/2 tsp cloves
Wet:
2 large ripe bananas, mashed
1 cup (8oz) plain 0% greek yogurt (use non-dairy milk or yogurt to make vegan)
1/4 cup all-natural peanut butter (no salt/sugar added)
1 tbsp sunflower oil
1 tsp vanilla
1/2 cup blueberries
Top with oats, blueberries, sunflower seeds, or pepitas for decoration
Cook time: 35-40 minutes at 350 degrees
Combine all the dry ingredients in a medium sized bowl and set aside. Mix all wet ingredients together in a separate mixing bowl.
Mix in the wet to the dry carefully.
Preheat oven to 350 degrees. Then get out a muffin pan and grease (high-heat cooking oil)/spray it. These made 8 large muffins for me, you can use any pan.
Fill each up to 3/4 of the way.
Now's the time to add toppings of oats or sunflower seeds or whatever you desire, if you choose to do so.
Place into preheated oven.
Cook anywhere between 30-40 minutes. I took mine out at 38 minutes, but the insides were still a little undercooked looking. The insides harden up in the fridge so don't worry about that. I would take them out prior to 38 minutes though, some of the outsides got a tad on the approaching burnt level.
Remove from oven once baked and let cool in their tins for a few minutes and then transfer to cooling rack.
Eat now, or I recommend leaving in the fridge for a few hours and then you can eat the whole batch, or just one or something strange like that…
Spreading a bit of raw honey or peanut butter on these is excellent and I do recommend.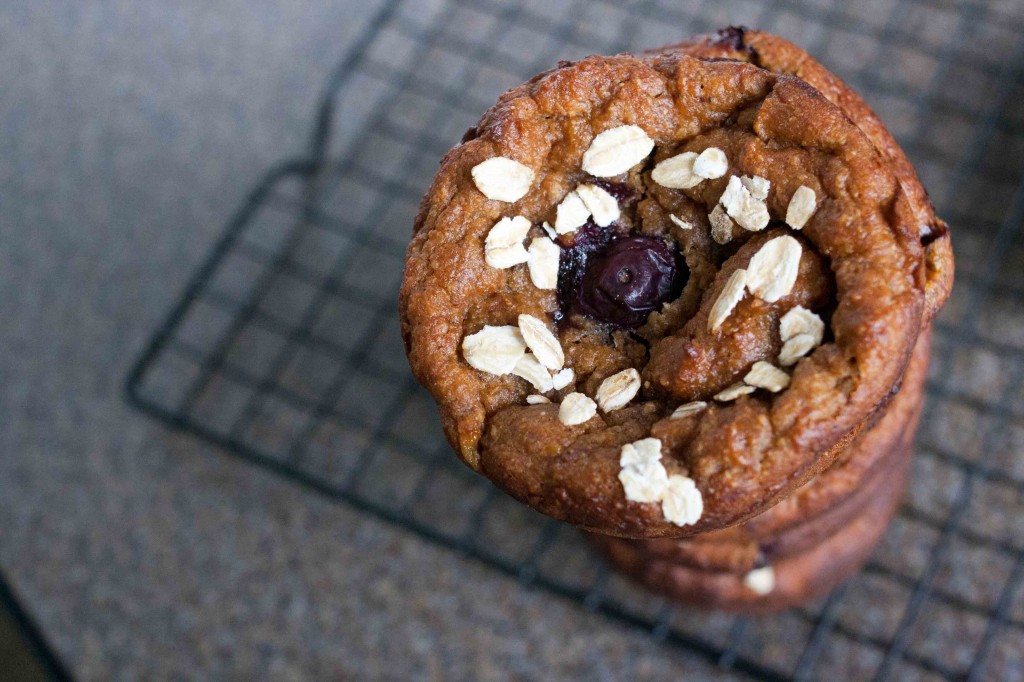 Check out my own personal nutrition label. Ah, I get too excited over these things…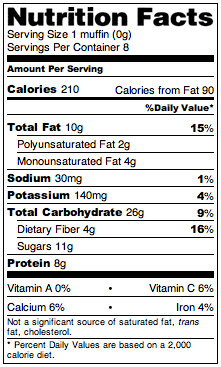 Yeah I didn't know how many grams each muffin was, sorry about that. Just so we're clear, one muffin= one muffin

Keep in mind all the fat is solely from the peanut butter, almond flour, and sunflower oil! Mainly poly/monounsaturated fats (the good stuff).
Just don't eat the whole batch, like I did  >.<