Orange Soy Tempeh Stir-fry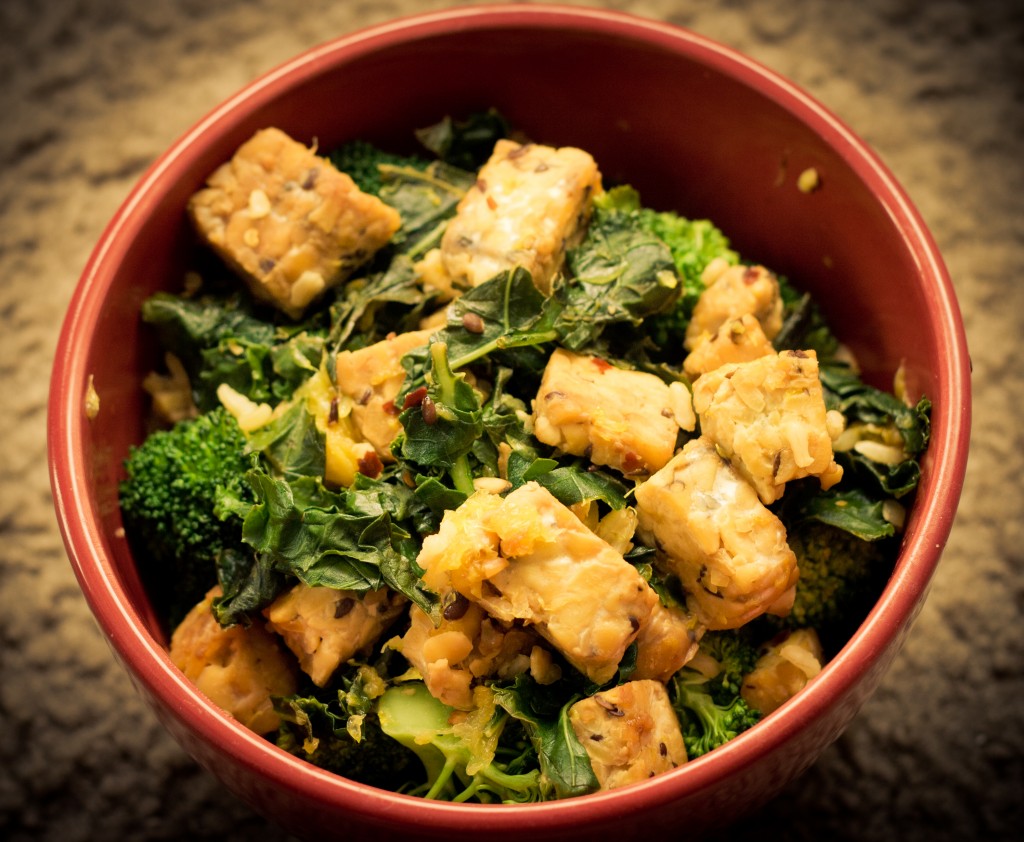 Tempeh, tempeh, tempeh, my new found love. If you haven't already heard, tempeh is a high-protein food made from fermented soybeans. Similar to tofu in the sense of a soy-based product, except the texture isn't soft and mushy and the taste is quite different. Being high in protein and cholesterol-free, tempeh is a marvelous alternative to meat and poultry. I bought my tempeh at Whole Foods for $2.99 per 8oz package. Pretty awesome how it's organic plus it has added flax seeds! No added sodium, no preservatives, just healthy deliciousness.
Now, what sort of sauce would be good here? Something asian-esque I'm thinking, but those store-bought sauces scare me with the crazy-high sodium content and preservatives. Agh. Well turns out you can make a pretty awesome and quick stir-fry sauce using ingredients lying around the kitchen. Soy sauce, garlic, orange, and red pepper flakes. Done.
Now, get to it!
For the tempeh:
1- 8oz package tempeh (cut into cubes)
1/2 orange (cut into little pieces and use the juices too!)
1 tbsp reduced sodium soy sauce
2 cloves garlic
TONS of red pepper flakes, or to taste =)
For the brown rice:
1 1/2 cups quick-cooking brown rice
1 1/2 cup no sodium added chicken broth (feel free to use water or other broth instead to make it vegan)
Vegetables:
2 cups kale
2 cups broccoli
The rice always takes the longest, so I started with that. Combine the servings you'd like and follow instructions according to package. Using chicken broth gives it a nice flavor, a step up from water ya feel me?
Now cook the broccoli as you'd like to. Boil, microwave, bake, whatever, just get them cooked to your likings and let be.
While the rice is cooking/simmering and the broccoli is chillin', heat up a pan on medium with non-stick cooking spray (or even 1 tbsp coconut oil) and add the garlic, soy sauce and oranges. Let heat up a bit and then add tempeh. Cook until slightly browned on each side.
Once the tempeh is done, transfer to a bowl or something of the like. Sauté the kale in the juices of the tempeh mixture until wilted. I added a few splashes of chicken broth to soften up the kale, you may use water to get the same effect. Once done, add the tempeh back to the pan and let them mingle.
How's the rice doing? Done? How's the broccoli doing? Done too? Well what do you know, looks like you're ready to eat mister/madam.
Here's how I did it- Bowl, bam. Layer rice, broccoli, kale and then tempeh. Sprinkle some extra juices from the orange on top if you desire, enjoy…and let your body enjoy it too, as you just injected health into it.