The Granola Diaries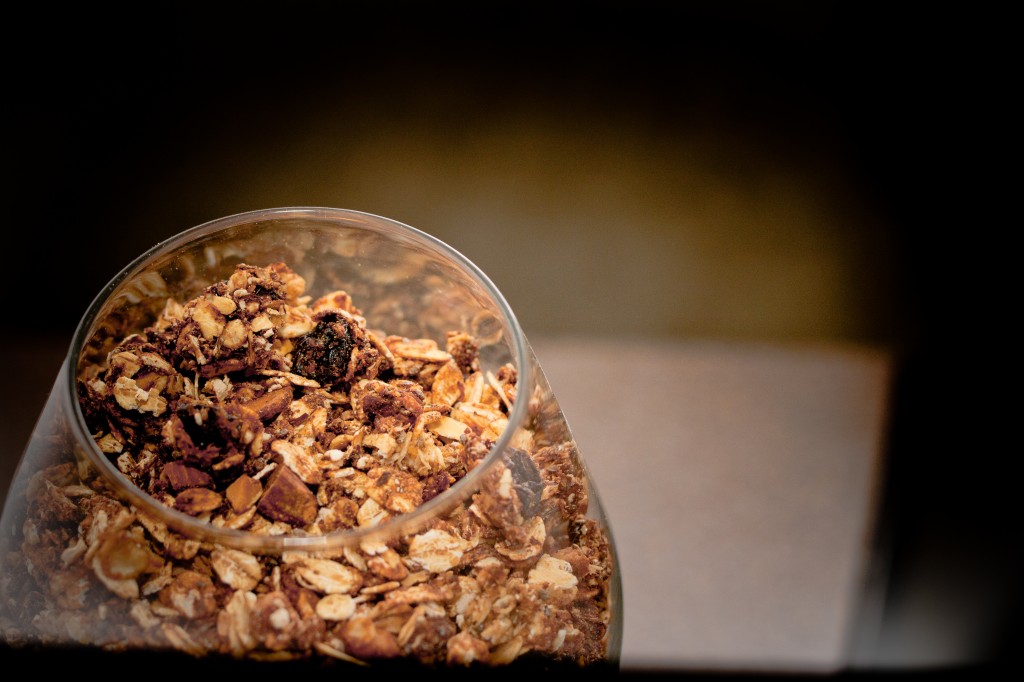 Finally I have begun the process to create the ultimate, healthy, tasty granola. I started out by making a batch and tweaking the ingredients as I went along…
Hokay, this granola is definitely delicious and I love how I can control what's going in it- no preservatives, all natural sugars (from banana and raisins), little-to-no oil, and my favorite- added protein* =D. Tons of health benefits as well from the chia seeds, ground flax seed, and coconut oil, this granola is irresistible to my healthy palate.
Makes approximately 3.5 cups of tasty granola..
Here's the dry:
1 1/2 cups rolled oats (not the instant, quick-cooking kind)
1/2 scoop vanilla protein powder
1/4 cup almonds, chopped
2 tbsp ground flax seed
3 tbsp unsweetened shredded coconut
1 tbsp chia seeds
½ tsp cinnamon
and the wet:
handful of raisins
1 tbsp all-natural peanut butter
1 tbsp vanilla extract
1 tbsp coconut oil
1/2 ripe banana
½ cup unsweetened apple sauce (optional)
Mix all the dry ingredients together and do the same for the wet in a separate bowl. Melt the wet mixture in the microwave for about 25 seconds. Then add the wet to the dry.
Stir well, until everything is covered and mixed. Spread out on parchment paper on a baking sheet and bake for approximately 25-30 minutes, or until your taste buds approve, at 325 degrees. Stir halfway in between.
Once done, let cool before eating transferring to an air-tight container.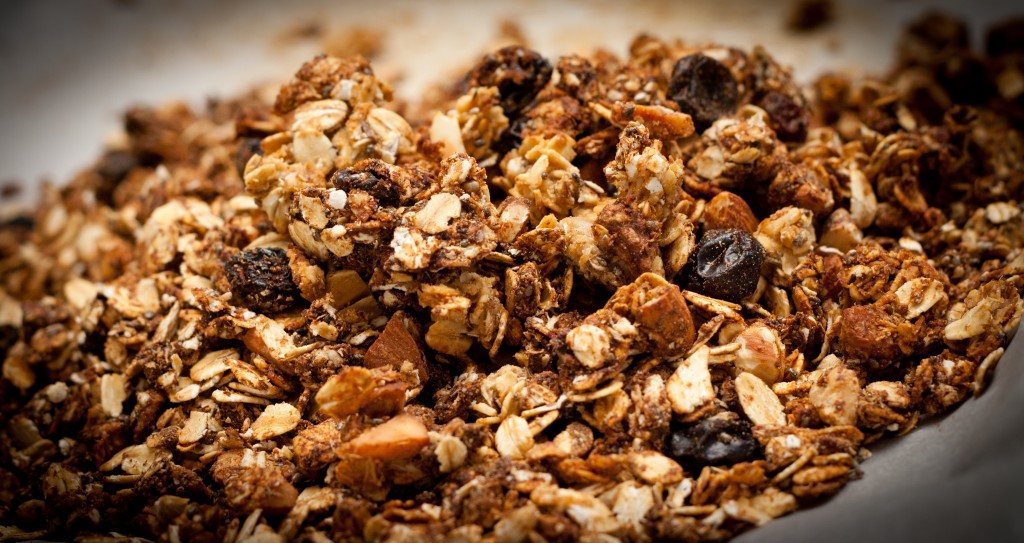 This granola would be swell on top of yogurt, oatmeal, protein shakes, or even plain with some soy/almond milk. A delicious breakfast or snack- add protein powder to your milk of choice, enjoy.
Comments/critiques: So I started off sans the applesauce, and noticed a lot of the oats were loose and chilling by themselves. I for one am a huge chunky granola fan and this did not please me. So I decided to add some unsweetened applesauce to half the mixture. It definitely clumped some of them together, but still I feel as if I can find a better alternative for the outcome I am looking for. The applesauce added an apple taste to it, to which my other ingredients were not prepared for. Adding a bit more cinnamon or even apple pie spice with walnuts would be delicious! Maybe even some orange zest, yum.
Next batch, I will be experimenting with different combinations/ingredients for sure. I will definitely increase the amount of peanut butter, banana, and protein powder. Perhaps different kinds of nuts, as the toasted almonds were delicious here and I bet all nuts would be awesome. There will also be some sort of liquid additive to make more clusters, which I truly adore. Raw cacao powder? Hemp seeds? Dried dates? The possibilities are endless and I can't wait to keep experimenting.
One things for sure, I will definitely stick to my homemade, healthy, cheap and yummy granola from now on.
*Note: I don't use protein powder anymore! This was an older post, back in my protein days

. Feel free to just leave it out.