Oh being a college student and hunger…Where's a mom when you need one?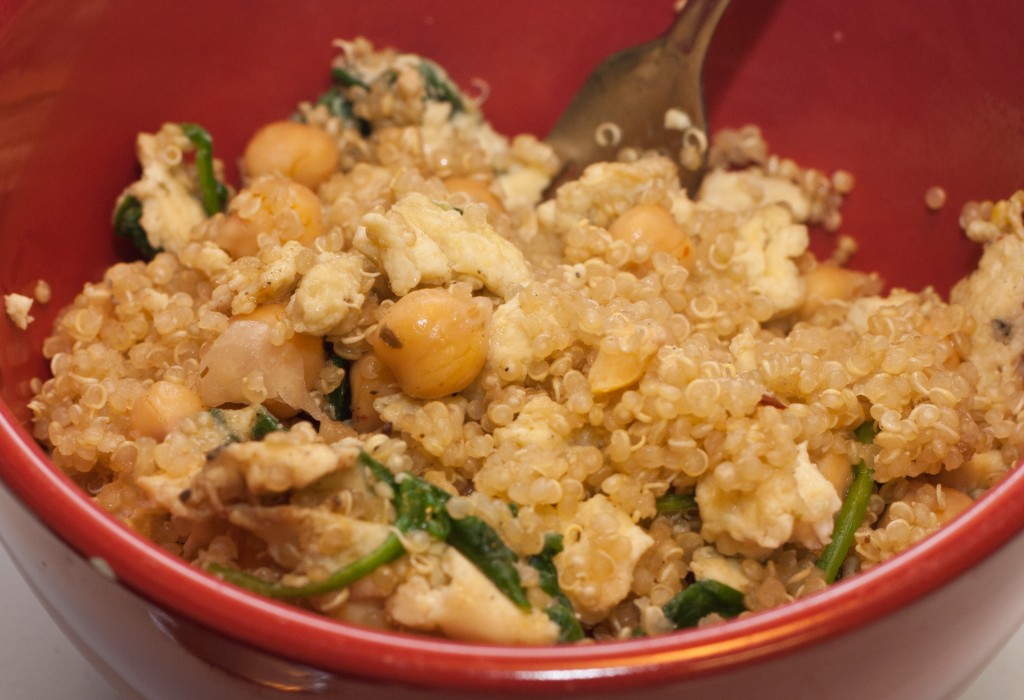 The late time grumbles are approaching. Fourth meal (or about 8th meal for me) is rolling around, grumbly grumbly stomach. Oh no, no food! Oh no, it's too late to go to the store and I am le tired. Well, I have created the ultimate (kinda) dinner for those who want an easy meal and have little food to cook. I found these ingredients laying around in my pantry and fridge, how convenient.
2 eggs
3/4 cup egg whites
1 cup quinoa
1 cup chicken broth
1 cup water
1 can garbanzo beans
lots of spinach
black pepper
red pepper flakes
garlic
basil
chili powder
Start off with cooking the quinoa. This recipe definitely makes leftovers so adjust the quinoa to your likings. I used a cup uncooked quinoa as my eyes are usually bigger than my stomach and I was so hungry that thinking clearly was far less superior than having enough food. I used half chicken broth and half water for the 1:2 quinoa ratio. Bring 1 part quinoa and 2 parts broth or water to a boil, lower heat and cover. Simmer for 15-20 or until done.
While the quinoa is cooking, make the eggs in a separate pan. Sauté garlic and spinach until wilted. Add eggs and egg whites. Season with above spices to your preference and cook until scrambled.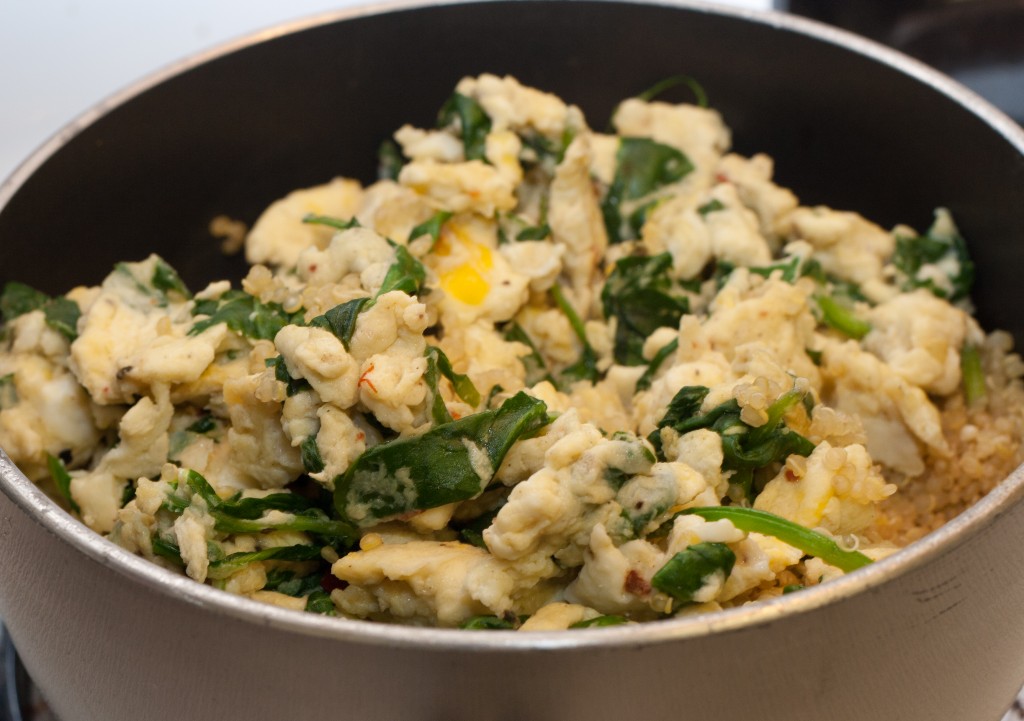 Once quinoa and eggs are done, transfer the eggs to the quinoa pot. Cook the chick peas on the same pan as the eggs, as it adds flavor and you and I both know that washing dishes is a recreational activity that is nice when kept to a minimum. (You may clean off any dried egg bits and all that good stuff prior to adding the chick peas.) Cook on medium until warmed up. I also added the same spices to the chick peas for added kick wooo flavaaa.
Once done, add chick peas to the magical pot of quinoa and eggs. Mix all together and eat, eat, eat!! You deserve it.
I added some dry roasted edamame on top for protein and extra crunch.
Now, some great alternatives and/or add-ons would be:
-Quinoa: brown rice, whole grain pasta
-Chick peas: any sort of beans- kidney, black, pinto, edamame, you get it
-Spinach: kale or watercress
-Any vegetable: corn would be awesome, carrots, broccoli, really any works
-IF YOU HAVE TOMATOES USE THEM PLEASE, let me live vicariously through you as I did not have any. Sad panda.
-You may add some tomato sauce if you are not a fan of the less saucy meals.
-Mix up the spices! Do whatever you want, lemon would be superb depending on which ones you choose.
The world is in your hands with this dish, so use your imagination..Well use your imagination when dealing with the few ingredients that you have

Happy eating, happy stomach, happy life.